I have been looking forward to publish the interview with Baptiste because it has been a guy I have wanted to interview for some time. And with Antoine Lebel`s help with the translating it is finally a reality. This guy have been very popular among the French-Twinks fans and followers. He is quite cute, and he is also Chris Loan`s boyfriend, who is the guy I published a interview with yesterday. Baptiste looks like a guy who really enjoys being naughty. You can know all about that in this interview.
I really hope you will like getting to know more about Baptiste Garcia, and if you want to follow him and chat with him personally the links to his social media profiles are located at the bottom of this interview.
And if you dream to become a porn star like Baptiste and all the other hot French-Twinks models you can apply to become a model for them here:
https://www.french-twinks.com/en/apply-to-model
Also do not forget to visit the French-Twinks main website and find more hot stuff about Baptiste and many other models. Click the banner to enter (18+ content)

A Brand New 2016 SmackyGirl Original Interview – Baptiste Garcia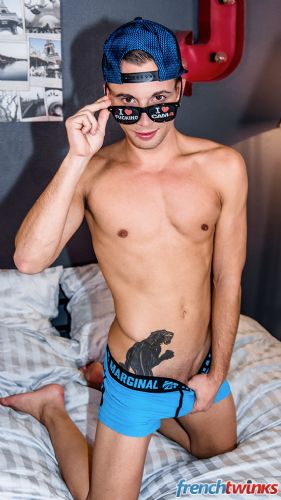 I got to know you through French-Twinks, tell a little us how it is or was to work with them and Antoine Lebel as a Director?
Antoine is a very kind (and a bit crazy) guy. I like the way he implicates us in the scenario / brainstorming before shooting, asking us what, where and how we want to create the performance. I also met my love Chris Loan at French Twinks, so I'm now married with the studios and a star model!
Why do you want to work as a model, how did you become model?
It's a friend who told me about French Twinks and I said why not to try to model there. I just apply for fun and finally I found my way in porn.
What was your first impressions when you walked around on the set for the first time?
My first scene was a solo, so I was a bit stressed; it's really not easy to look sexy and to be hot alone. But I succeed it and it really helped me to feel confident in any situation after.
Have you worked for other studios?
No, I started at French Twinks and I'm exclusive there.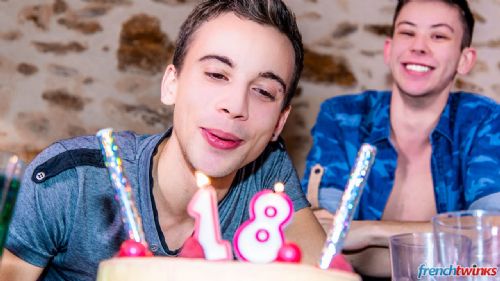 What is the best thing about being a model?
I like the fact to have sex in unusual situations, positions and experiment some new things.
How did you hear about SmackyGirl.com?
Antoine told me about you on Facebook, I had a look at your website and it was fun to see a girl talking about gay porn.
Tell us who you have modeled with? / Who was the most fun to work with?
I had a crush on Jordan Fox (before to meet Chris Loan of course). I like more muscular and older guys but to share another twink with Chris is a new thing that we only do in porn and we love it both.
What is the best advise French-Twinks have given you?
Since I've modeled for French Twinks I learned how to have sex in any situation, under the rain, in the shower, when it's cold lol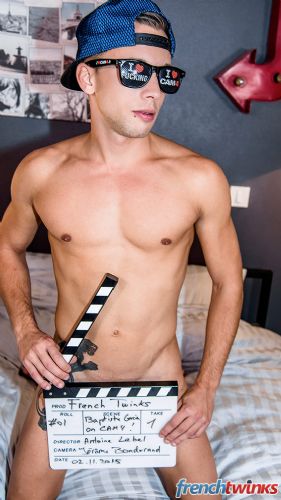 What do you do if you get nervous before a shoot?
I go alone in a room and I play with my ass !
Have you established any new friendship with other models?
The atmosphere is always good at French Twinks, so in addition to Chris I have a good friendship with all others models.
How do you practice before a shoot?
I take care of myself and especially my skin because it's very important, all your small blemish and faults can be seen in a video.
What work are you most proud of?
I'm proud to be one of the only models to do double penetration really easily. I know it's a plus for my career and I love it.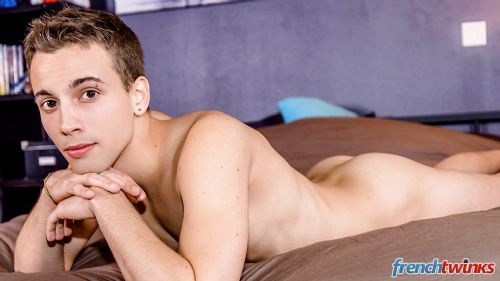 How does your friends and family feel about you modelling?
Everyone knows I'm doing porn and they never judge me. It makes them smiling and some friends are really interested to know all the secrets behind the scene.
How would you describe yourself in 3 words?
A bit crazy, cute and bold
Where are you from?
I'm from Picardie, north of France but I live now in Perpignan close to Spanish border.
How old are you?
I started in porn at 18 and I'm now close to my 20th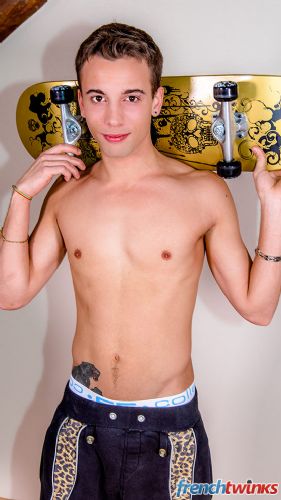 Tell us about Yourself in private, what do you do for fun when off work?
Uhmmm… except sex ?
What makes you sad?
When Chris Loan shave his body for shooting because I love pubic hair and Antoine hates it !
What makes you happy?
I love to spend time with my friends and I'm always happy when I share good time with them.
Tell me what movies and tv programs you watch?
My favorite TV series is "Plus Belle la Vie" a French soap opera that Chris hates lol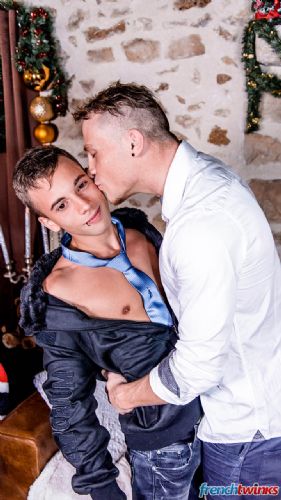 What music do you like to listen to?
I like Reggaeton music.
When is your birthday?
29th of January
Are you in a relationship or have a crush on someone?
Yes with Chris Loan 😉
What is your orientation? Are you gay/straight or bi?:
Gay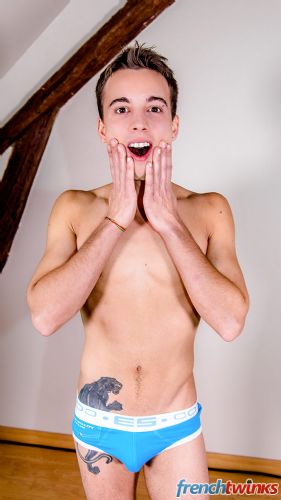 Have you ever been with a girl?
Yes only one time and I have regrets, it was just to try and I didn't like it
Do you live a healthy life?
Yes, I try to eat healthy food and do sport.
If we looked in your refrigerator, what would we find?
Italian ham and cheese
Do you believe its important for a model to be a good role model for teenagers?
I'm still a teenager myself lol But yes of course when you have a public image it's important to show your best.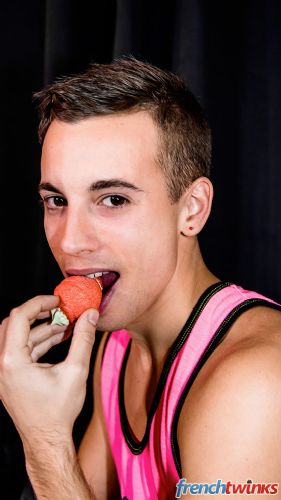 Do you have any personal favorite models you are inspired of or look up to? (if yes) Why has this person so much meaning to you?
Jordan Fox is the model who inspired me to do porn.
Do you have any public pages, sites or blogs online where fans and future work people can follow you?
Twitter: @BaptisteGarciaX  
Facebook: https://www.facebook.com/baptiste.garcia
How was it to be interviewed by SmackyGirl.net?
Great thank you. I hope your followers will love to know me a bit more.
Follow us on: