Get to know the new French-Twink`s model Abel Lacourt, he talks about how and why he got in to porn and much more. If you want to follow and speak to him personally after this interview his links to his social media is at the bottom of this interview..
Its been fun cooperating with Antoine Lebel and French-Twinks studio and his models. He has been a great help with the translating so I can publish new interviews with the new and hot guys he has in his stable ..
If you want to model for French-Twinks, check out this link:
https://www.french-twinks.com/en/apply-to-model.
Also visit their Website to find more of Abel and other hot models

Thank you to my darling hot Antoine Lebel for helping SmackyGirl with translating.
Hope you all will enjoy our interview..
<3
A Brand New 2016 SmackyGirl Original Interview – Abel Lacourt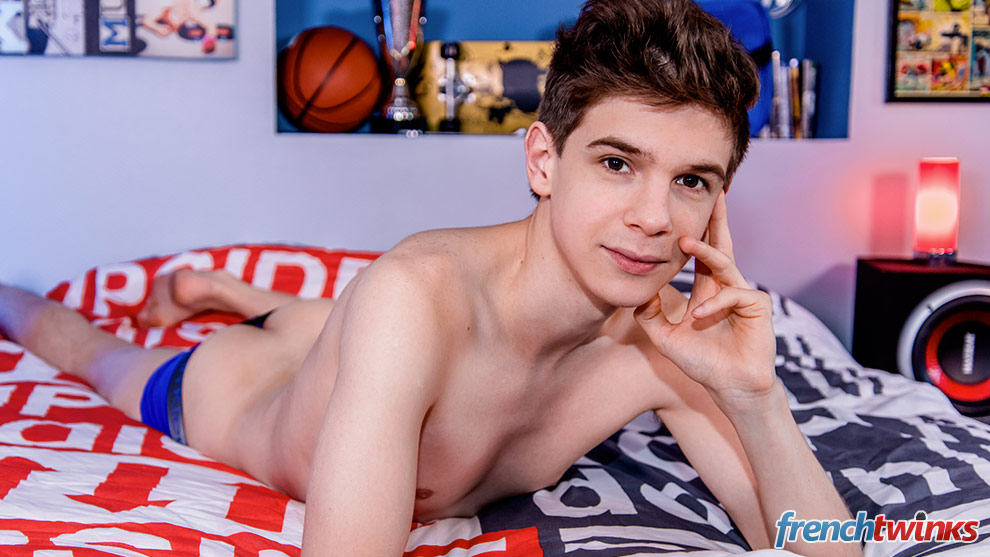 I got to know you through French-Twinks, tell a little us how it is or was to work with them and Antoine Lebel as a Director?
Antoine Lebel is a producer I love to work with, he's really cool and friendly. I don't miss Jerome Bondurand who's the guy of the shadow but also a really nice person and a good director.
Why do you want to work as a model, how did you become model?
Antoine Lebel directly contacted me on Twitter by finding my personal account where I was used to post some sexy and nude pics of myself, just for fun. I already thought about to become a porn model and finally I'm really happy to said "yes" to Antoine and to get the chance to discover this exciting world.
What was your first impressions when you walked around on the set for the first time?
My very first scene was with Baptiste Garcia. I was a bit stressed before the shooting, I was scared to fail and to be broadcasted live on Cam4. Finally it goes easy and fine, surely thanks to Baptiste who is more experienced and makes me feeling good.
What is the best thing about being a model?
I like to be part of a small and close world even if it's often subject to criticism. I'm happy to be a porn model to take more confidence in myself after each shooting, to learn and try some new things, to realize my fantasies and to show to people that you can be in porn and be a "normal person"..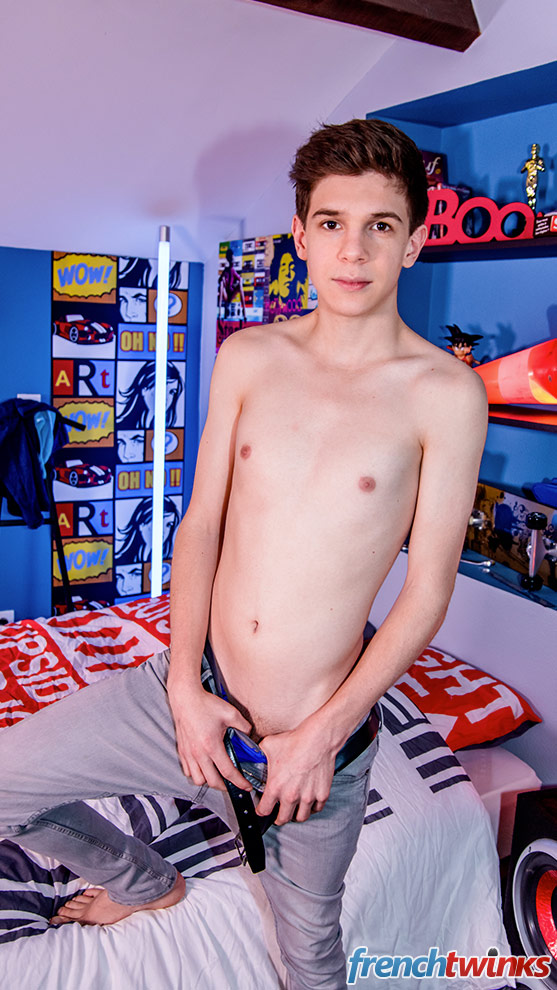 How did you hear about SmackyGirl.com?
Thanks to Antoine Lebel.
Tell us who you have modeled with? Who was the most fun to work with?
I think it was with the star couple of French Twinks: Baptiste Garcia & Chris Loan during the Valentine's day threesome. I like these two guys and I think we have a good feeling.
What is the best advise French-Twinks have given you?
Thanks to French Twinks I discovered that I'm able to be a top also ! It was my real first time as a top and now I feel good with this role, so I'm vers now !
What do you do if you get nervous before a shoot?
I try to relax, close my eyes and think to nothing.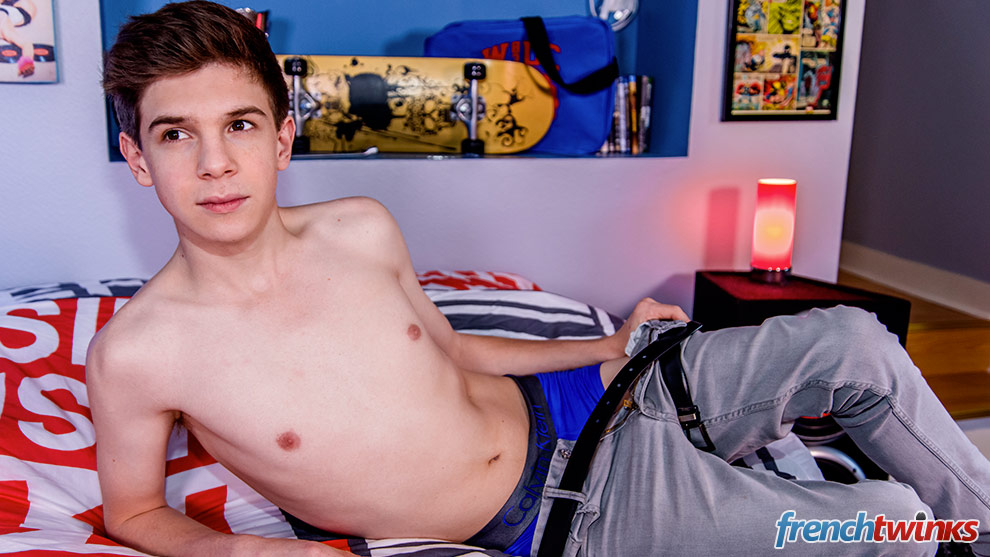 Have you established any new friendship with other models?
I have some affinities with other models but I cannot talk about a strong friendship for the moment, it's too early. Anyway it's always a good atmosphere in the French Twinks House and I feel good with everyone, it's very important to me.
How do you practice before a shoot?
I'm used to take care of myself and my body even out of shooting session. I try to come on the stage as the most attractive I can be, but I'm a very natural person, I just take a shower I'm ready lol
What work are you most proud of?
I'm proud of my cock lol Before to see it in photos and videos I wasn't thinking it were that big.
How does your friends and family feel about you modelling?
My family doesn't know that I'm in porn and I prefer to keep it discreet for the moment.
Some of my close friends know and they were a bit surprised at the beginning but it doesn't change anything in our friendship.
How would you describe yourself in 3 words?
Calm, curious, skinny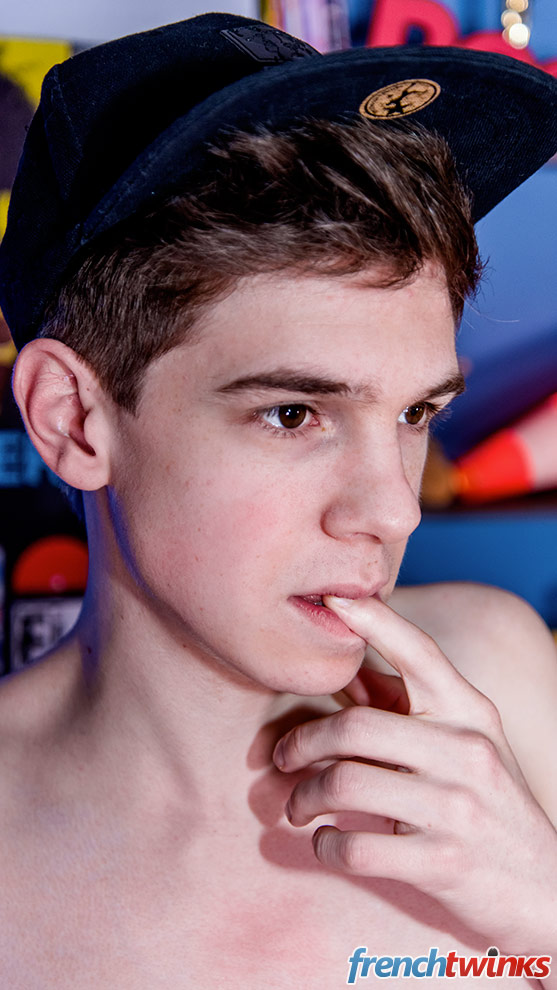 Where are you from?
I grew up near Paris but now I leave in West of France.
How old are you?
I'm 18 years
Tell us about Yourself in private, what do you do for fun when off work?
I like to draw, to go shopping, to go out with my friends and to spend time on my computer.
What makes you sad?
I don't like « close-minded » people and free nastiness
What makes you happy?
Sun shining, blue sky, summer time!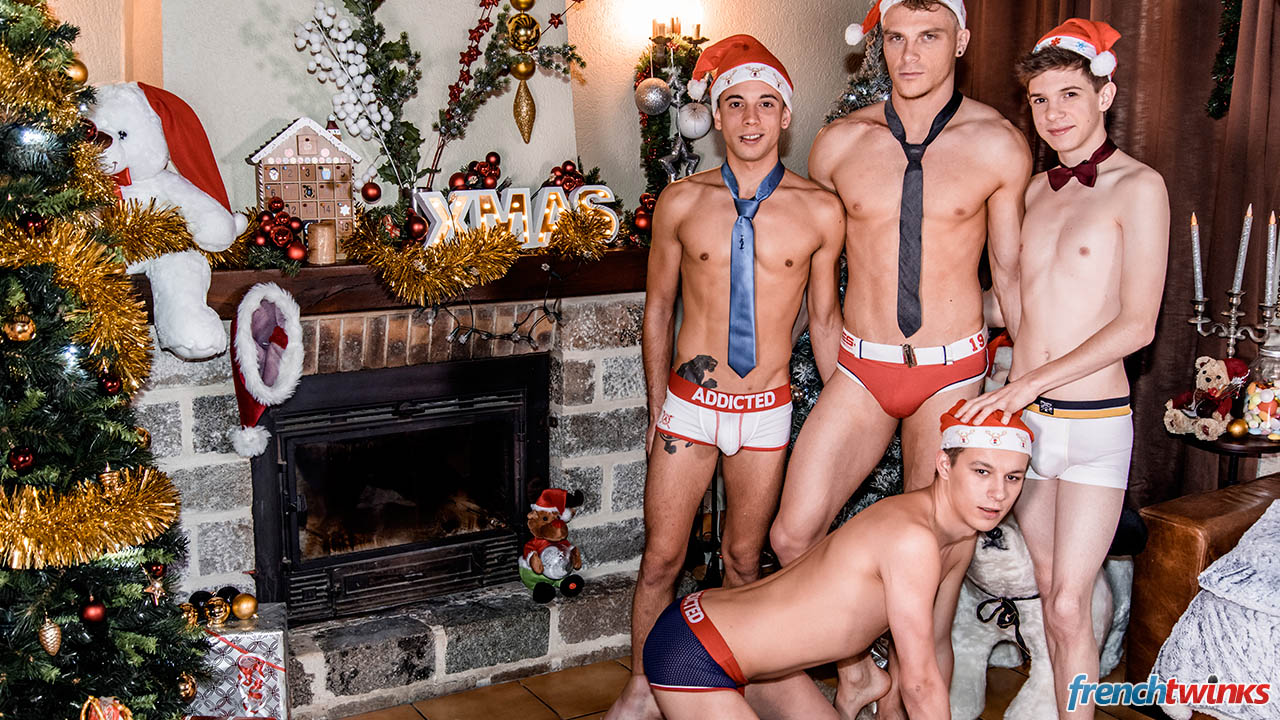 Tell me what movies and tv programs you watch?
I like a lot Games of Thrones and some SF and fantastic movies such as Avatar.
What music do you like to listen to?
I listen to many kinds of music from classic piano to hardrock but I really love Electronic Music.
When is your birthday?
On the 22th of July
Are you in a relationship or have a crush on someone?
I'm single and not in love.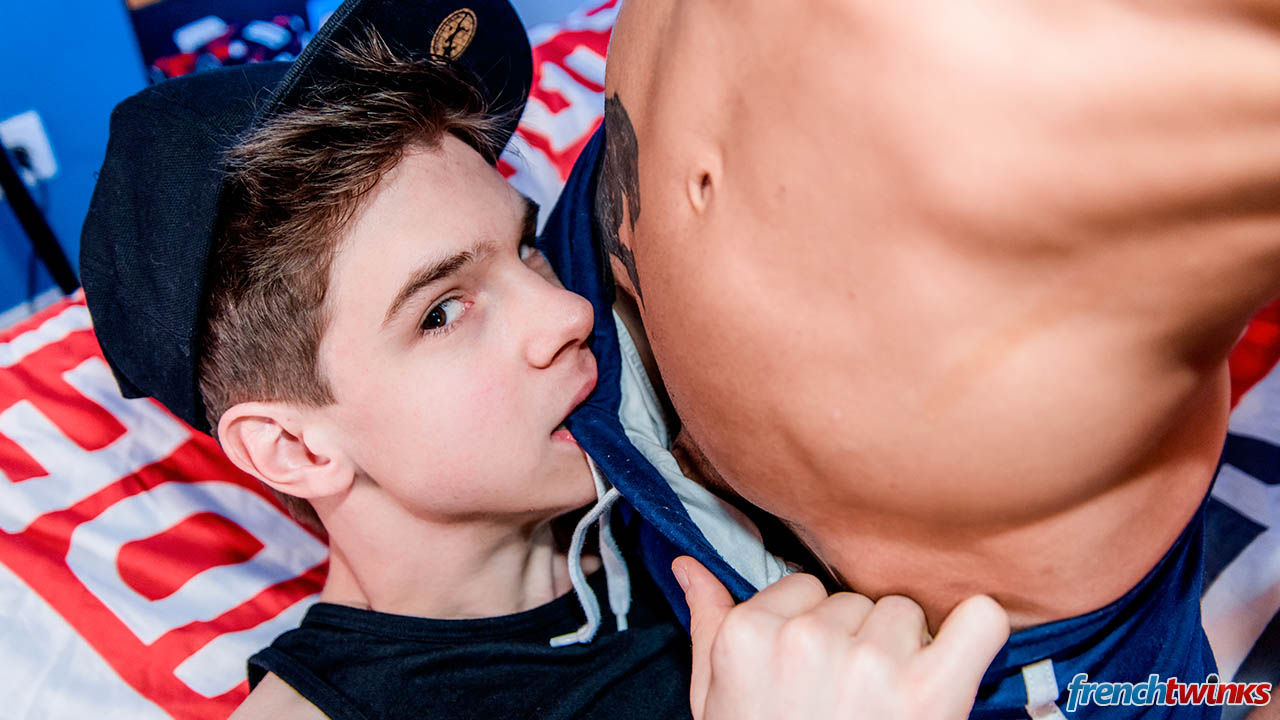 What is your orientation? Are you gay/straight or bi?:
I can't tell I'm totally gay because I never tried with a girl ! But anyway I feel gay.
Have you ever been with a girl?
I never had sex with a girl, just some short flirts when I was younger, but nothing serious.
But to be honest I'm curious to try one time with a woman, just to see how it is and we never know…
Do you live a healthy life?
I feel good in my lifestyle that's the main point. I don't think to have a unhealthy lifestyle.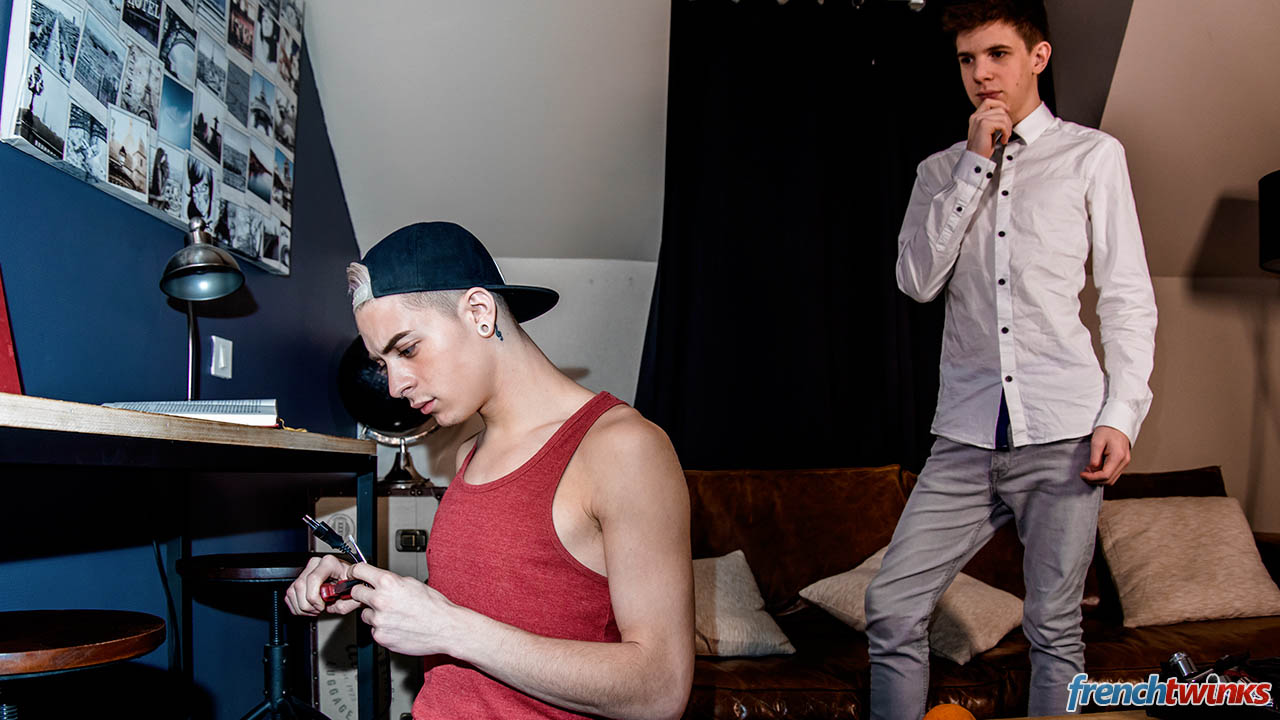 If we looked in your refrigerator, what would we find?
Some sausage maybe ? Vegetables, meat, fish and always white, red and rose French wine !
Do you believe its important for a model to be a good role model for teenagers?
Of course I think it's important to give a positive image to my fans and followers and especially to the youngest one. That's why I'm happy to work at French Twinks because even if we do porn I think we do it in the right way, safe, clean, pro and free to say yes or no. I think it's not the same in all studios.
Do you have any personal favorite models you are inspired of and look up to?
No one, I'm not a big porn consumer.
Do you have any public pages, sites or blogs online where fans and future work people can follow you?
My Facebook is: https://www.facebook.com/profile.php?id=100010970287572
Twitter : https://twitter.com/Abel_Lacourt
How was it to be interviewed by SmackyGirl.net?
Very good ! Question are interesting, thank you SmackyGirl !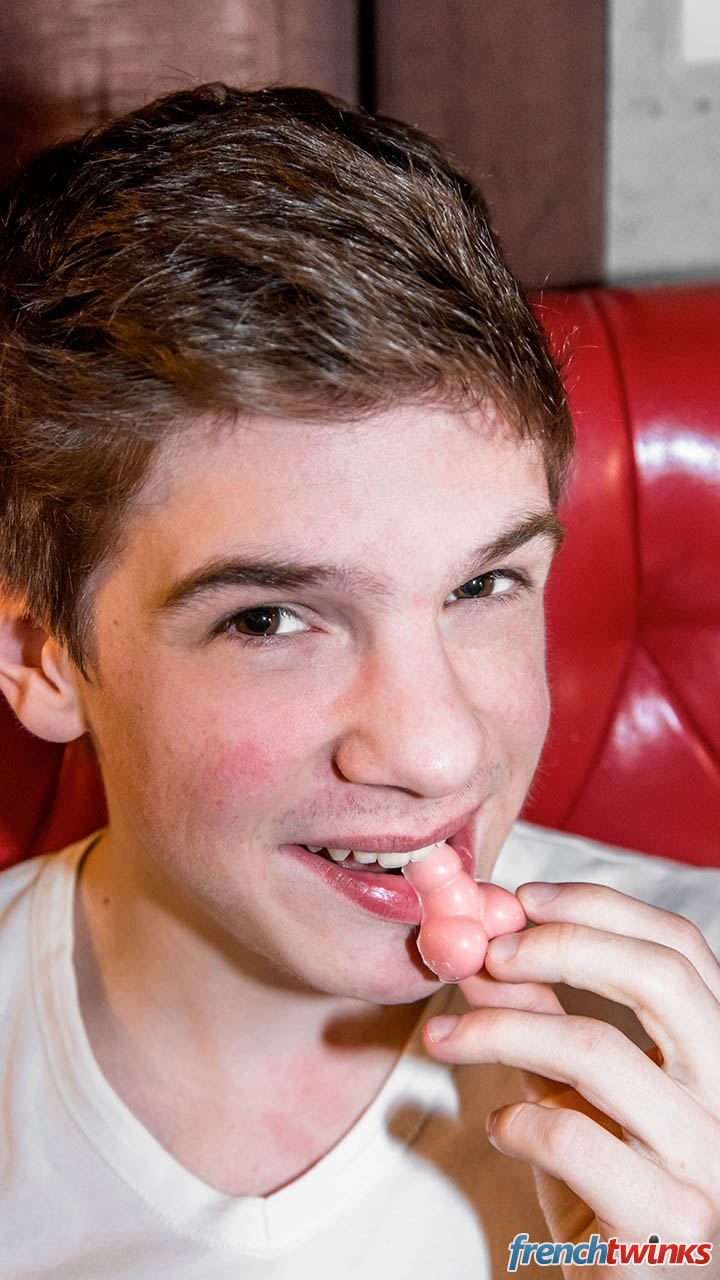 Follow us on: