Most healthy people will go into menopause gracefully and step by step over a longer period of time. I have to be rushed into it practically over night. It began the day I started radiotherapy, and it will be completed when I have my operation and they go in to take out everything from the ovaries, uterus and the cervix. Basically they will operarate and take away everything women need to bare children. I`m okey with that and all. But the symptoms that many women will get over a long period of time while they are changing are starting to come at me with full strengt in a very short matter of time. It is horrible when I have them. If I wasn`t sick I should at least be 5 to 10 years before I would of started to change.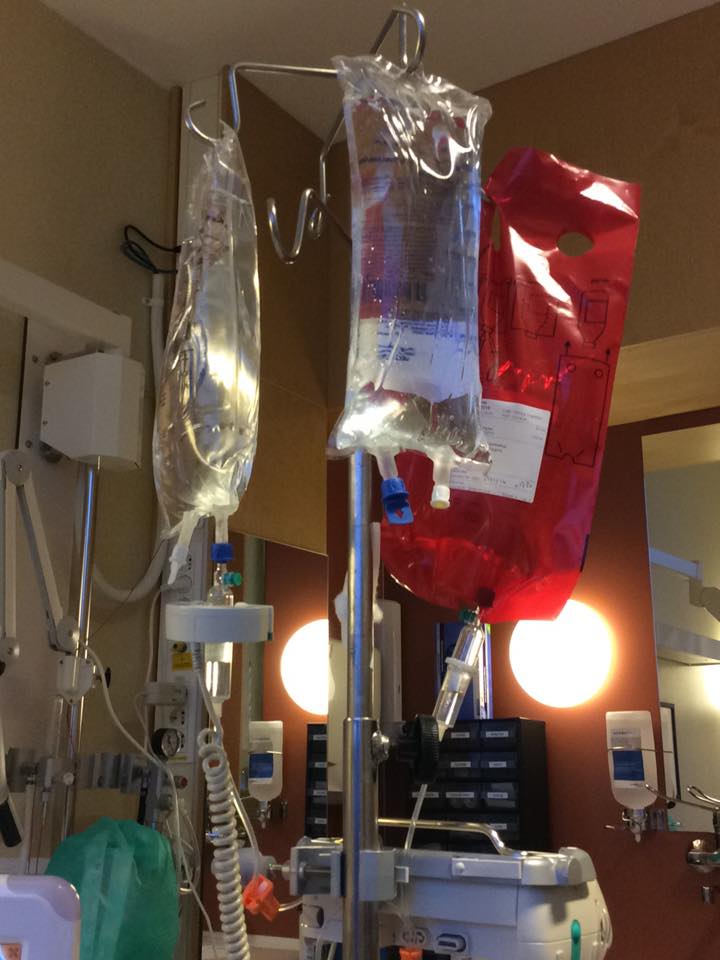 Having now left behind me 3 weeks of Chemotherapy and radiotherapy treatments, I am at a stage where the hot flashes feels like a very hot and intense fever that makes me feel right unwell. I also notice I am a lot more emotional than what I usually would be. I can see something sad or good from someone I know or something new, and end up in tears just by scrolling from my phone online. These last 3 weeks have been really hard. I have been sick once because I ran out of sick pills and wanted to find out if I actually could get sick when the medicine stopped working. And I really did, I was green in my face all night long.. So I am depending on those little miracle pills.
But I am trying to keep the spirit up the best way I can. And if I can`t there sure is a lot of good people out there who take their time off from their own worries to take care of me. I`m really grateful for that.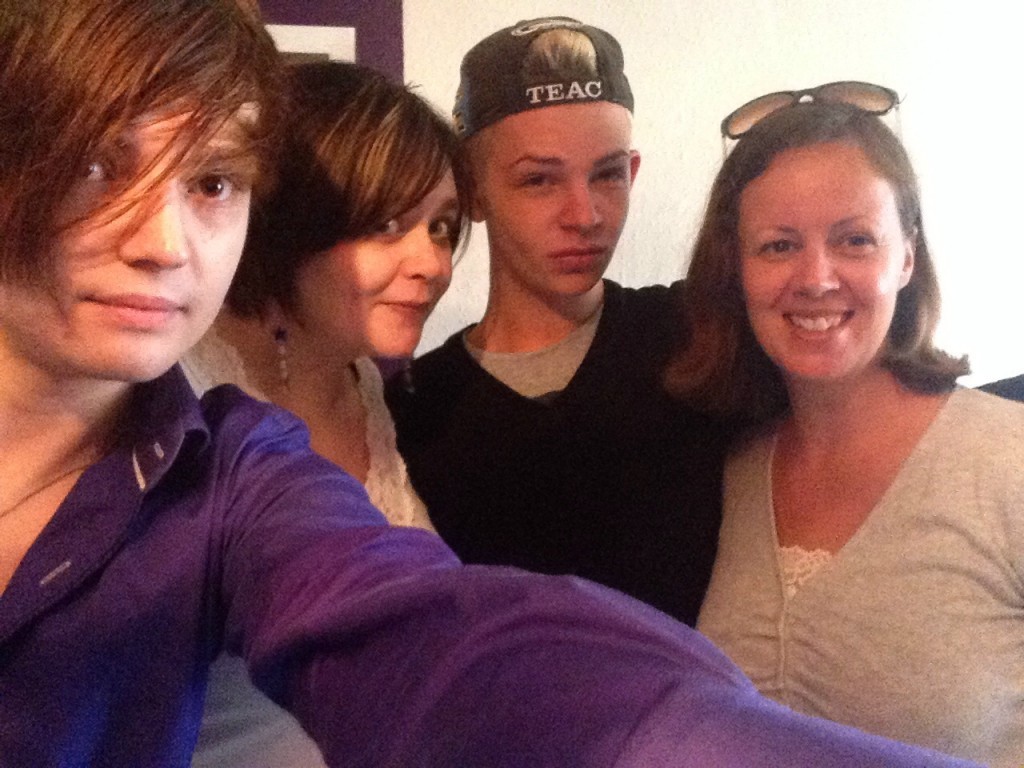 Such as mine and Jays friend Antonia Cridland. Or as I think of her "The Baking Queen" . She really knows her stuff around the kitchen when it comes to baking and decorating cakes. I am waiting to one day see her in "British Bake Off" or something. She would definitely get far there. She is also an author and this is how me and Jay came to know her. Well I did first via Alex Silvers. And one day she came to visit where me and Jay lived at his in England. She had also brought a surprise guest with her too.
We had been talking about her book previously on Skype and how I could help her, and about how she wanted to make a video to better advertise her book. But even though if the two guys who I had in mind that could fit to play the roles of Alex and Nathan didn`t have any chemistry between them it was really nice to finally met Antonia and get to know her.
If you like reading gay erotic novels, I think you should check out her book. They sell pretty good in many London bookshops. I know they have it at Prowlers shop in London. It can also can be bought on Amazon. Just search A.M Cridland Nathan and Alex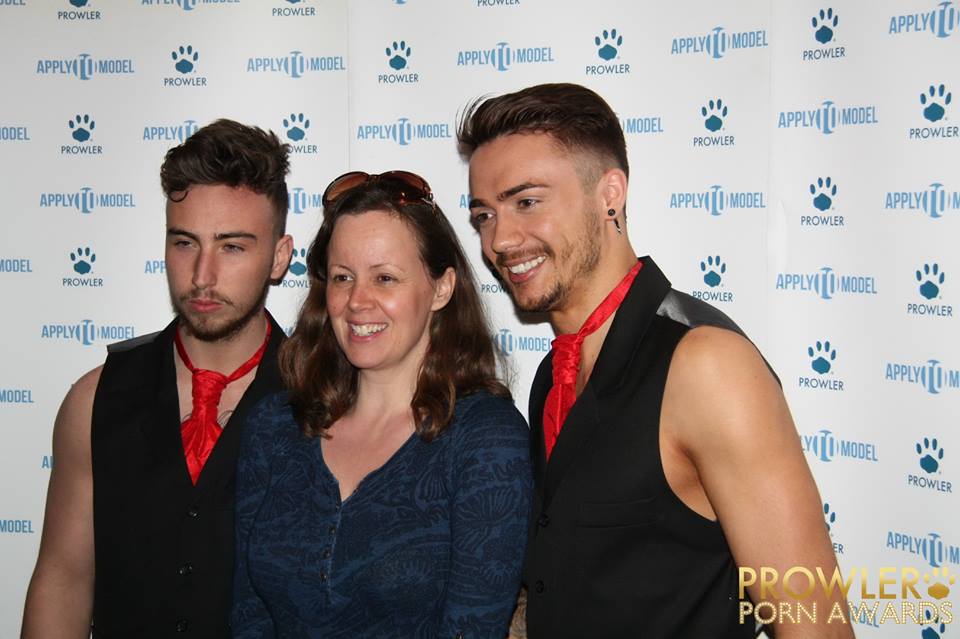 She also joined us for the second Prowler Porn Awards party which is almost two years ago now. We have stayed in contact pretty regular since then. I love her cakes they are very unique. Maybe some day she will let me post a few pictures of them, I know she takes a hell of a lot of orders. So its not just me who has noticed her skills.
She asked me for my address the other day because she wanted to send me a card to cheer me up. I was looking forward and expecting to get a card but I got so much more. Think that is just typical Antonia <3 She also sent a new tea cup and a penguin teddy. I wonder if she noticed all the teddy bears at Jays when she was there. I think he kinda mentioned everyone`s name too hehe. Since I said no to the baby thing with Jay when he asked, he just got loads of teddy bears to adopt as our family and gave them names.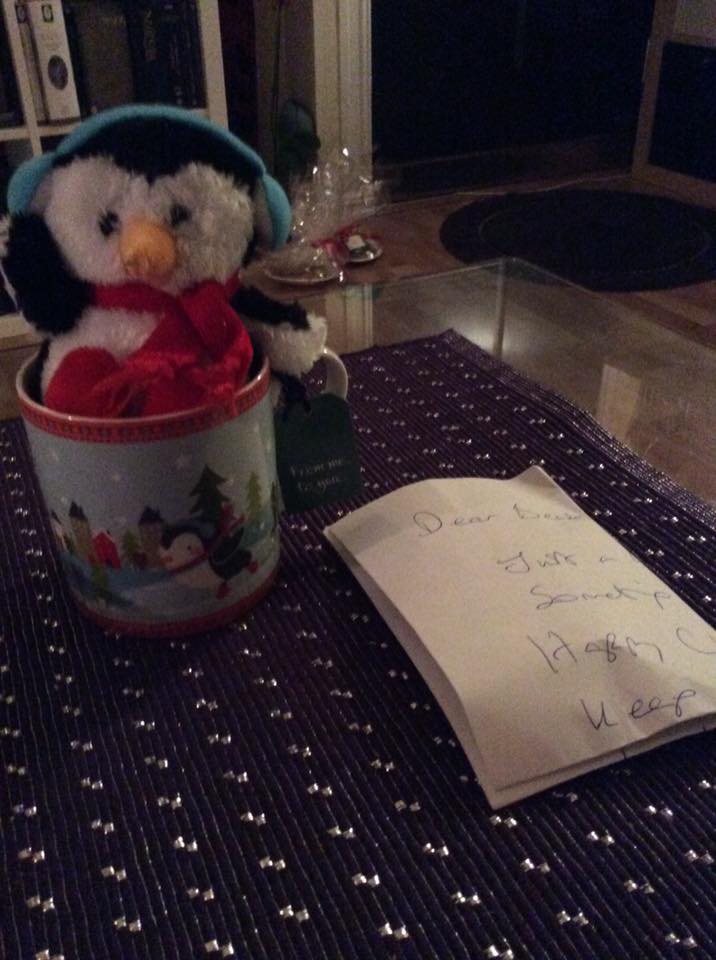 Thank you Antonia, it really did cheer me up. I would have to find a name for that Penguin since Pingu is already taken I need to think a little.. I know when her birthday is, it is the day after mine on January 28th 😉 She might need to watch her mailman closely, he might have a surprise coming her way.
---
I think there is another gift coming Smacky`s way in the mail. I heard my husband at French-Twinks Antoine Lebel might send me one of these.
I know exactly where to stick it!!
Because I`m still working on my memory wall and when I saw one of these I of course wanted one. I love helping French-Twinks. Really professional guys and I love seeing happy models loving their job. I believe the results become far better if people have a job they love.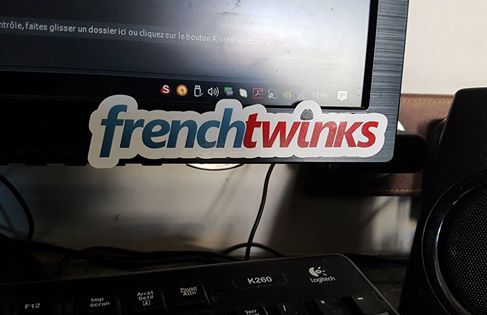 I am really looking forward to picking this up in the mail. Thank you handsome <3
Visit My French Friends Here:
---
I was going to try and sum up this week. And I have to mention George Michael dying. I can`t get over that. I grew up listening to him. My sister is a mega fan or was. I remember she had posters of him all over her bedroom wall and she was always playing his music. This is a tragic loss to millions of fans and for the LGBT community. We have lost a pop God. I will surely miss George Michaels beautiful voice. I`m that old that artist such as him and Prince have followed me from I was very young until today. And their music has inspired and helped me many times through the years. I`m sure their music will continue to follow me through life.
Rest in peace beautiful, I hope you have found peace in eternity.
My favorite George Michael song:
2016 has been a difficult year for both celebrites and other people meting struggles that life has to offer. A lot of people are wishing this year to be over already. I certainly had a few tough times. But I only see it as a lesson, some I have learned more then once. But 2016 haven`t been that bad.
I have also spent it with good people and met many new and made new friendships. Got to mention meting Jay`s friend Caterine and her friend David at the Southwold beach this summer. I had so much fun, and good a chat. And bloody hangover the day after. I wasn`t alone about that I think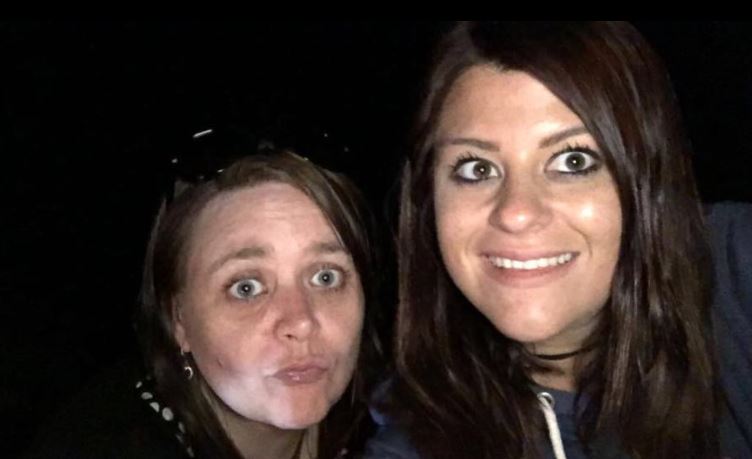 And spending time with Jason who is mine and Jay`s adoptive son. I also got to met his lovely partner. Its sad to live so far away from good friends. I don`t get to see them as often as I wish. And when I am out travelling in England I try and find time to go visit as many as possible. Jay always said that between me and Jason I was his best female friend and Jason was his best guy friend.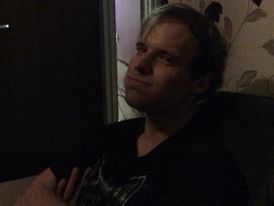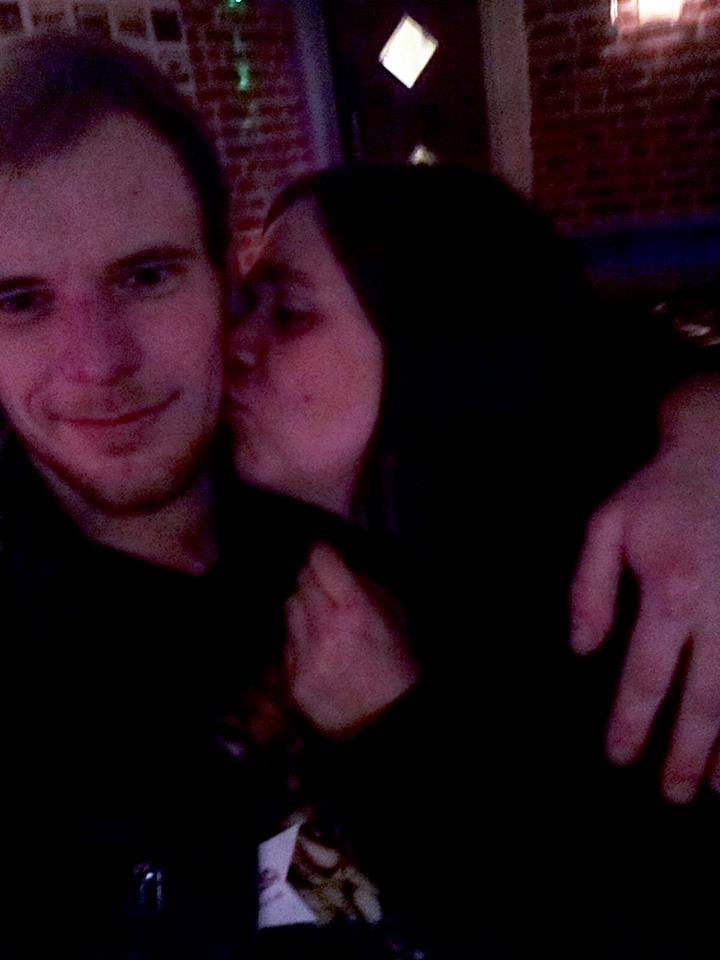 And of course I can`t forget getting to see my Keviee again. I know he was Jay`s boyfriend but Jay just had to get used to me saying that`s MY Keviee. All the stories I could tell ya how much fun we had through the years. Like the time I tried to put Keviee in my suitcase and take him with me home but I was arrested by Jay 😛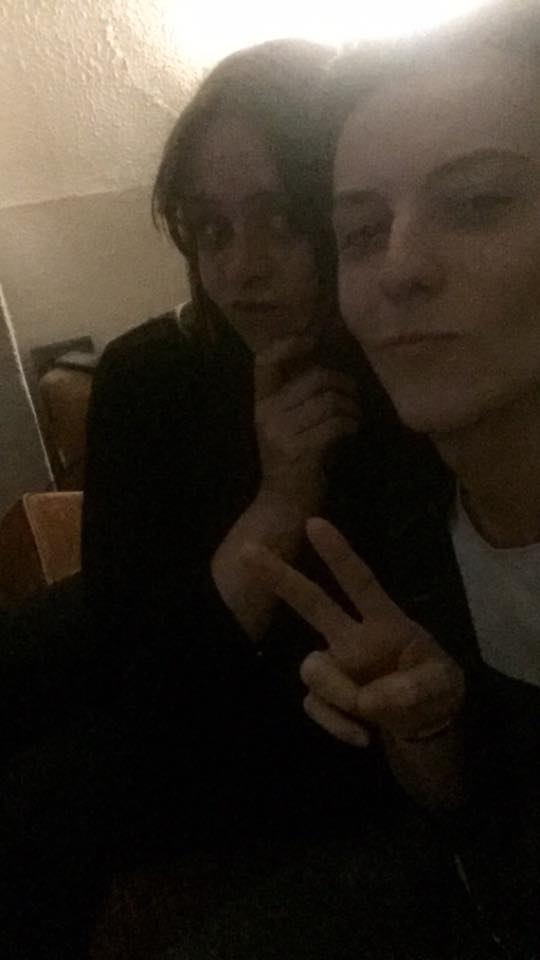 So I had lots of good times in 2016 that made the year worth it. Hopefully I get to see you guys more in the following years. Ill be stranded in Norway while I am being sick. But once I am better I am on a plane to somewhere I`v been before or maybe somewhere new. I don`t like sitting still this long, I am already feeling restless but I gotta get well first before I can travel. My alarm is on 6 am every morning. Because I live so close to the hospital I don`t get later appointments, they are of course reserved for those who have to travel further than me. But I`m not a morning person haha. But I`m well proud of myself for getting up that early.
---
Usually every year I do a post about who has done the best on SmackyGirl and so on. I don`t think I will do that this year because I have been busy with other things and not been as active on my blog as I used to. Roxy Red won this year as well again anyway and was the one model name who had the most searches that ended up on SmackyGirl. Roxy have won this every year as well anyway.. I like it that way.
But I would like to thank those I have been able to work with such as the guys in France. And I hope to work a lot more with them into 2017.
---
Christmas went by and I enjoyed it with my family. I am a bit picky on showing pictures of my family in here. But here is a picture of our tree. We had good food, good company and each other.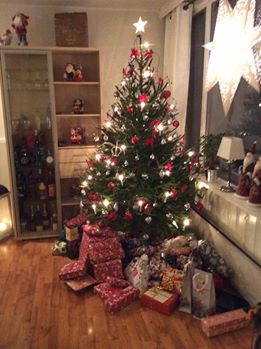 I couldn`t eat much food and felt bad for my sister who had worked hard to get everything perfect. I don`t eat much at all and I am getting yelled at by the hospital. But have they ever tried getting food down when it only comes back up again?
I know they mean well.
---
And with that I would like to wish you all a Happy New Years celebration. Do you have any new years resolutions this year? I might as well do a "Davey James" and do the dry January thing. I`m not allowed to touch alcohol because it can disturb the chemotherapy. I even got lots of wine in my Christmas presents. I will just have save it for February. My birthday is coming up the 28th of January. Wondering what to do for that day. I have some plans and they are all alcohol free lol. Bet no one will come if its no alcohol anyway haha.
New Years I am spending with my Harald hopefully and my neighbors. They can get drunk while I have to be the reasonable one for ones. And have fun with them when they wake up hungover and I`m not..
I bought a gold dress to wear on new years eve. Apparently this is what is in to wear this year according to what the shops are selling.
My Mischa has approved and that counts a lot when a big designer like him thinks my dress is nice. I am mighty impressed with what he has created. If he will allow me one day I will show you the collection he created. Its gorgeous. No matter how you know these guys, many have passions they burn for such as designing, dancing, acting, creating, singing and so on. Many are following their dreams this very right moment, and it is good to see that many are making huge progress. And seeing so many make that dream come true is the best thing about getting to know them and helping them.
Don`t let nothing stop you, go a head.
Chase your dreams
---
See you all in 2017
"Muah"
Smacky
(P.S)
For those who have been so nosey wondering who Harald is.. Yes I know who you are!.
Some of my closest friends haven`t really been paying much attention in class. He is my ex. Here is all you get to see of him for now. I like to keep some things a bit private.
Besides "Diva moment":
!This is a blog about me, not about everyone else Hahaha"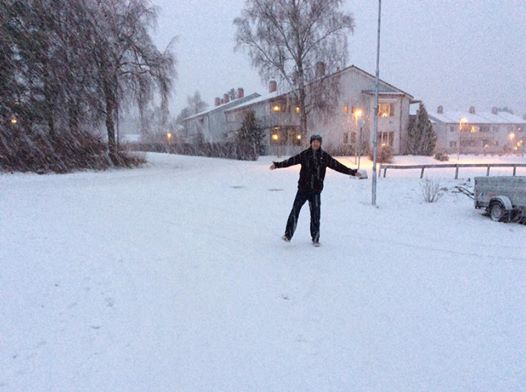 Follow us on: