During Manchester Pride 2014 last summer I visited Manchester for my first time and it was on one of the days I was joined by my friend Julian to cruise up and down the famous Canal Street in The Gay Village looking and taking in the fantastic party Manchester Pride had made for thousands of people coming to attend it. Manchester Pride is one of the biggest gay prides in the UK and every year the Village gets filled with all different type of people not just the LGTB community.
All I knew when I went to Manchester to attend Pride was that I wanted to met people that would leave an impression and a memory to bring with me home to share with my readers on my blog. But that I was going to get to met George Montague and get to speak to him during pride wasn`t in my wildest dreams or imaginations. When I saw him and his flag that was waving saying "The Oldest Gay in the Village" I pointed and said to Julian that this is a person I would like to speak with!! Because imagine the stories this man must have I said to my friend. So I dragged Julian with me and we went up to George Montague to find out who he was and what stories he had waiting for me. Julian by the way managed to get himself a date with a cute red haired boy that was helping handing out flyers about George. I`m not sure how that went with him and Julian that is a story for another blog post.
But meeting George taught me more then enough from the little chat we had from our first meeting. And I got his book which he signed for me and George was very friendly and more then willing to chat about his life stories with me and Julian that day. So much that I nearly felt a bit spoiled getting all this attention. Listening to this man both me and Julian was impressed with the 91 year old man and the stories he had to share with us on that beautiful sunny day during Manchester Pride.
When I came back home and the impressions I had taken home with me from the Pride started to sink in, I decided to read his book and I was already then playing with many questions to do a future interview with him. But I was far from ready to ask him for one. I started to follow him on twitter and we became friends of Facebook. I finished reading his book for the first time last year. But not until last week I was brave enough to ask George Montague if he would have time to do an interview.
I guess I was a bit nervous and star struck to ask someone like George for an interview. Because it requires a lot of research and to be able to give him a interview that is as perfect and professional as it can get. So I went around last week getting help from my friends in the LGTB community such as Mister Ben Willis at Twisted XXX Media. And also my friend, blogger and model Scott Williams came to my rescue with what they knew and had heard about George. And at first they also encouraged me to go a head and do the interview. And that really helped! So I sat down for a second time to enjoy reading George`s book about how it was growing up as a homosexual from 1923 till today.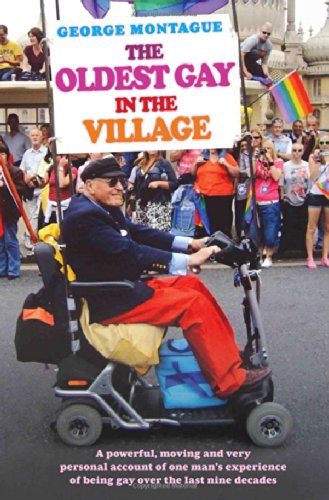 I`m going to make my introduction short today and let George instead tell you some of his story himself. George messaged me during the interview saying he really enjoyed doing this and in the first photo below you can see him answering my questions on his computer. I hope you will enjoy my interview with George. And when his petition is ready which he explains what is in the interview I will be back with the link and encourage everyone to sign it, so that George can be free from being convicted a criminal just because he was homosexual.
George is an inspiration and I am really proud of this interview and thankful that little SmackyGirl`s Blog got the chance to do this between United Kingdom`s Prime minister sending George a letter and all the mayor TV-Channels, magazines and newspapers that have done stories on George. As when the interview started George was visiting The Guardian to do a photo shoot and he recently appeared in Gay Times Magazine too. And later this year he will be working with BBC on a project for TV as well. Thank you George you made a little blogger very happy!
If you wish to get his book it is available on Amazon here:
Amazon.com
When did you start to write your biographic and how long did it take to write it?

As soon as there was a computer I could use the key board of, for I am still computer illiterate and a two finger typist, it was an Amstrad, with the help of my No. five lover Asif, since then No. six and now the love of my life Somchai No. seven without whom there would have been no book or illustrations. 25-30 years in all.
Why did you want to write a biography?

Following my expulsion from the Scout Asso. upon my conviction for Gross Indecency in 1974, it was assumed I was a Paedophile, as all homosexuals were deemed to be, and continued to be so until this century. That is as hurtful as anything can be, so I wrote the first book, "a Gemini", with Somchai's help, published it in Thailand at my own expense, 1,OOO copies were given away as far as possible to everyone who had ever known me.
That made me feel better, that was the year 2000. Following all the changes of this century I just carried on, Section 28, Civil Partnerships, same sex Marriage, it came to 150,000 words, I mentioned this in an article, suggesting I would pay an Editor To edit it, then it might just possibly be published. A wonderful Lady named Clare Christine working for John Blake Publishing took it up, it all came together, Clare is now my friend for life. I must mention Tim Tate, an independent editor who did a wonderful job of taking my words reshaping them a little changing a few and using those I would have used if I'd had a better education, I was flattered, I told him to cut out anything that would cause someone to put the book down, he did just that, I shall always be very grateful to him and have the greatest regard for him, Thank you Tim.
Would you most likely like the homophobic people read your biography instead of us who are already accepting the LGTB community?

Yes, may be hopefully Translations then all over the world. (I can dream)
How have you seen the changes in rights effect the behavior of the LGTB community today?

Far too slowly, the Wonderful Tom Daley and the rugby player "coming out", but still far too many older gays still "in the closet". We need to be more visible, yes hold hands and kiss in public, even the older ones.
I had a fantastic loving but also a very over protective dad who had the same name as you do. But when he went to bed when I was a teenager that was when I climbed out my bedroom window to met my boyfriends.
When you grew up and started noticing you were drawn to boys. I was wondering how did you and others like yourselves met and socialize without getting into trouble?

In those days it was very different, Boys were just not interested in the opposite sex, we all wore shorts until our mid teens, even then, group masturbation was common we did not touch each other, just see who could "come first", so much better than today's child pregnancies.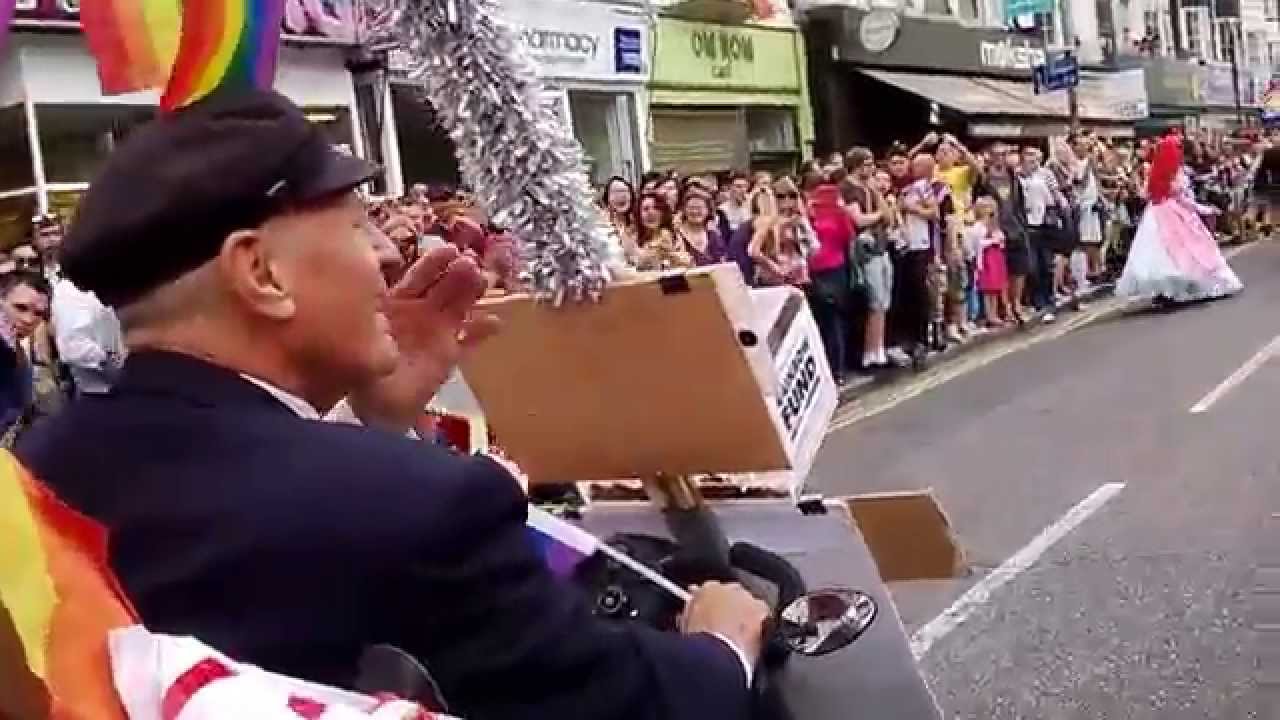 I would got grounded if I got caught. Tell us what punishment would of awaited a Homosexual in those days if they got caught?
The police were only ever interested in adults that were over 21, in those days, they were enthusiastically homophobic, dressing up the youngest copper in civvies to temp us. Arresting a venerable youngster and bully him to give all the names of all he knew that were Queer, if you were on that list you were guilty. If you were caught together in a "cruising place" it was all in the local press, a heavy fine, without good defence a prison sentence and a criminal record. The local papers would carry all details,
Lives were ruined; there were suicides as a result.
When your classmates fantasized about girls or telling you that they had "done" it with a girl you write in your book that you felt the envy over that one of your mates getting to that base with a girl. But did you already then feel you were attracted to boys?

No. I admit I was probably the most enthusiastic "wanker". Most just stopped after just one, I wanted more. But it was just something you did as boys, impatient to grow up, working 48 hours a week, plus Night School, to get through ones apprenticeship and become a "journeyman" a fully qualified craftsman, I did that, but then "THEWAR" I wanted some of that.
The episode where you discovered you're first oral sex with men who held you down in the hayloft. I think that sounded a bit dramatic and if it had happened to me I would of been damaged and traumatized. You didn't mention how you felt about that happening to you when it did?
They were not men just boys my own age, sons of the "beaters" who made the game fly and so shot by the gentry,  as I said we all played about, even in Scotland it seemed, as I said we in England never touched each other, I remember being shocked and disgusted.  I just thought that was dirty, had never seen it done, it must have been well into my first gay relationship with Rodney that I was introduced to the pleasures of it, by then I was about 30. It was as I remember not common, we knew the Americans did it a lot I remember reading about a young yank, it was always the very first thing he did loving 69s as mutual cock sucking is known as so they were referred to as "cock suckers"
You made me laugh when you met a man in Kenya over what you said when you came out and you were done with his "sister". And it takes me back to my question above. You didn't seem to mind at all that men forced themselves on you up on the hayloft, or the fact this man in Kenya didn't sell you thought you bought.. But you still at that point had no suspicions that you are gay? How do you expect me to buy that?

It was following my three years in Zimbabwe, where I had had sex with several Cape coloured girls, three boring weeks in Durban no sex there or onboard the troopship, so even though I had just "had" his so called sister I was still randy, I have always prided myself on Knowing what people are thinking "helping towards my success in life". I just knew he wanted sex with me. I had never had any attraction what so ever to another male, even though often showering naked communally. So this was I suppose my very first "feeling". I thought back to that fellow Cpl who used the word "Brown hatters". Confused is the word, but more than ever determined to find a wife as soon as I got back to "Blighty".
Was there a chaos of thoughts in your mind about who you were when you sailed from Mombasa and came home from after what happened there meeting this mans "sister"?

(see my answer above) I suppose the incident had touched my totally suppressed & hidden homosexuality.
You lost your brother Edward in a motor bike accident. How did you deal with the loss of him? What good memories do you have with him?

I regret I never really got to know him as an adult, I was in the RAF, then when I came home he was in the army. As Youngsters he was never very strong having been very ill for some time, I always protected him.
No crash helmets! In those days I felt so sorry for Mother who had fought to keep him alive when he was so ill. I became a keen motorcyclist, (couldn't afford a car) but joined a club that had training & strict rules about speed and safety.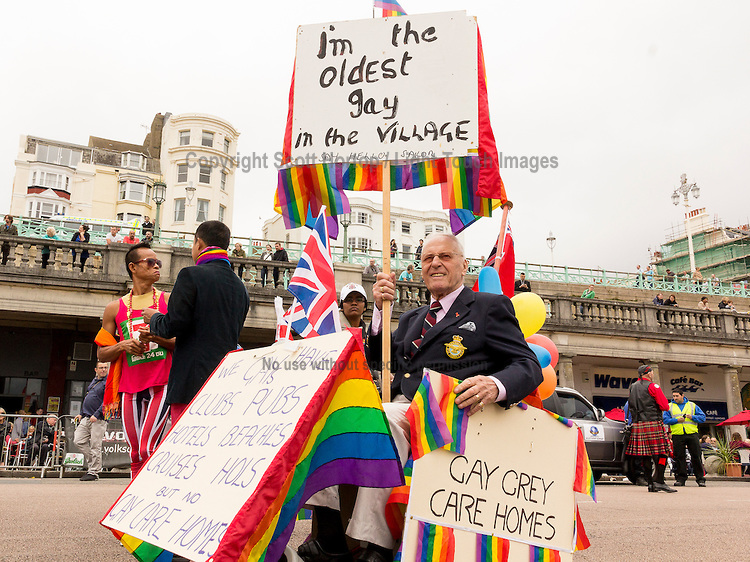 Why did you never tell your mum you were gay? Your mom reminds me of how my own mum is. Don't you think a mother would of understood and loved their child regardless if you came out to her? Because I know I would of if it was my son and I would of been very proud of him.

Homosexuality, in those days was such an aberration, many committed suicide, and Paedophilia was an automatic assumption, How could a heterosexual not want under aged girls, so gays must also like young boys. It is not realised, that if a young guy admits to himself he is gay, he, just like the opposite  sex would, look for someone older than himself a fully grown fully developed male, when much older, then it is younger ones they look for. So whilst difficult for other males to understand, impossible for a woman.
At the age of 34 without a girlfriend sharing a flat with another young male, very upset that a great friend of mine having been found not guilty, was never the less virtually destroyed by the publicity, she did I'm sure have thoughts , when I started to talk to her about my friend she thought I was going to tell her I think, so she said "If one of my sons was like that I would rather he did not tell me.  Several times saying she looked forward to me finding the right girl, getting married and giving her Grandchildren
60 years later things are so different. I adored my mother, most gays do I have found. Not only did I not want Mum to suspect, no one had to. Only one option, get married.
What would you say to today's parents who can't accept their children coming out?

Coming out? Or being gay? Much easier now but it's still a very personal and brave thing to do. It's bound to be a big disappointment to parents, particularly if it's an only child. But, as was thought at one time, it has nothing what so ever to do with anything either parent has done or not done. They must accept, some of us are born that way, nature's way of keeping the population down?
How can we encourage does who are still afraid to come out to come out?

Honesty is always the best policy, surly it is so much easier now, and hopefully it will go on getting more so but never the less a deep disappointment particularly with an only child. Acceptance is the aim.
Your dad was a Policeman and you and others described him as "Too Friendly" to people in his job. Do you regret not coming out to your father?

No not at, all he, just like mother had no idea I managed to "Live the lie" so necessary in those days, even today the OAPs find it impossible accept. But never mind things can only get better. Gay Youngsters have never had it so good. He stopped being a policeman when told off for being too friendly with the general public, when I was about four. Some of those he was friendly with were publicans I think he loved his pints of mild & bitter.
How did you celebrate when the United Kingdom legalized same sex marriage?

Wrote to the PM to thank him, then started to work on Somchai to get him to agree to convert our civil partnership & marry me on my 92nd Birthday, just 50 yards from when I met him 18years ago.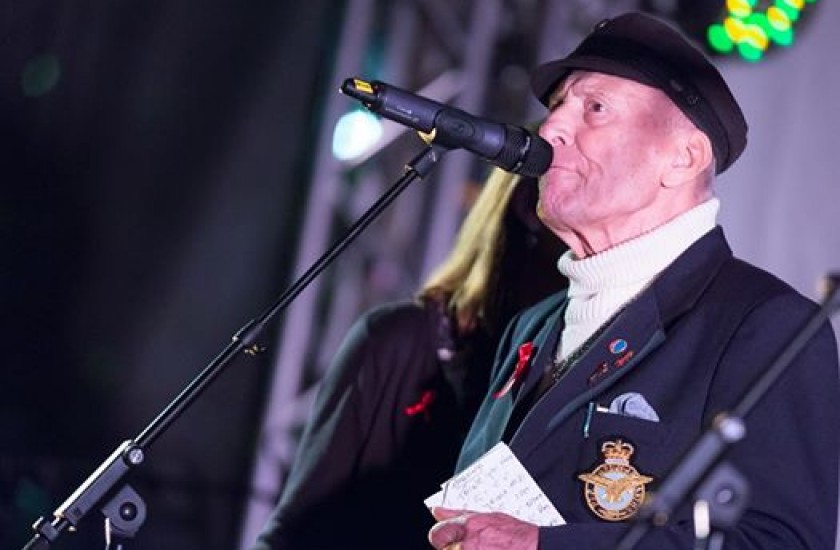 How did it feel to be just a homosexual man, when people also thought this also meant that you were a paedophile?

Although I feel sorry for them for they were born that way too they must have complete self control just like my boyhood hero Lord Baden Powell did. If they do not then the punishment, control, and treatment must be made to work, for the damage they do is irreparable.
I now feel angry for I read so many have disappeared from the records, continuing the abuse. I look forward to the results from the inquiry on sexual abuse when I'm sure it will be shown how irreparable the damage is. And that there is a great difference between the effect on boys that that of girls, I have known two who turned to me for gay love, even though happily married, both natural heterosexuals who were groomed and introduced to the pleasures of gay sex in their very early teens, there is only one word that adequately covers it they were FUCKED UP. Both my wife and I were a help to them.
You got arrested for "Gross Indecency" and for being gay. Tell us how many times that happened and how that felt?
Just the once, and although guilty many times, by just doing and being what I was, ironically on that occasion I was innocent to be gay in those days was to be guilty.
When the big "hunt" to catch those men who were "criminals" and arrested for gross indecency with other men, you mention in your book that these were arrested after having sex with policemen working undercover to get these "sinners". That is very shocking to read about, knowing that these policemen is probably not straight either. Not in my opinion at least, if they can work undercover like that. Why did the law get away with this, and wouldn't it be in its right to get an apology from the authorities for these scandalous times where the law should be ashamed of how they acted towards the LGTB people, when they were doing the exact same themselves?

I did not say the provocateurs were gay themselves, but they enjoyed what they did more than catching real criminals.
When the UK government decided that being homosexual was no longer criminal. Did that make you feel free? Did the population accept this new law right away, or did the hate continue?

I must mention Tony Blair, before he was even PM he said "Homosexuality is not something you decide to be it is just something you are" The sweetest words I have ever heard. I am so lucky to have lived to see things change so much for the better, Those who have passed away also deserve a posthumous, "sorry" to all their still living relatives.
Are you religious and believe in God? Do you think has he ignored the cruelty that has happened to you and everyone else in the LGTB community?

Soon after my parents died I stopped believing. All my life living right next the church I was "brainwashed" Religion! So much of it is so good, Comfort, civilisation, yet so much so bad, it cause's more trouble than anything else in the world. Today it will not accept "us" that we should be allowed to love as others do. Yet constantly covers up paedophilia within their ranks.
In my view now, religion was needed when most were illiterate and the "existence" of hell was a deterrent. I no longer believe in any god, but do not like calling myself an atheist.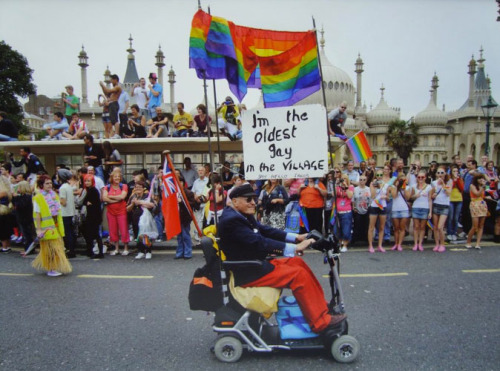 Today some people are talking about creating an own school for LGTB people in an article I found shared on Facebook. But I am having a hard time understanding this as it would be the same as putting a wall up between different races and it would create more racism or in this case more homophobia if people can't learn to live together and accept that we are different. What is your opinion in this? When you are someone who has seen and lived during the World War 2 and seen Hitlers twisted mind against the Jews, and who also has experienced being convicted as a criminal for being gay?
I could not agree with you more.
My way to get young people to understand is to say we, just like the left handed did not ask to be this way but are, and no one can or should try to change us.
I can't entirely follow the title "The Oldest Gay in The Village" I see you work out a lot. And at your age and I am really impressed with this considering you are 91 years old. What is the key to a long, happy and healthy life?

Having left school at 14 not clever enough to be air crew, so became a Physical Training Instructor, if you do that you get into the habit of keeping fit. Just like your car, your body, if not looked after, will not last.
Unlike a car you can't get another one. Priding myself on being logical and practical I have very strong will power, mostly always doing, eating, or not as we are advised is best for us.
Do you still feel just as strong about smoking and are against it?

Even more so, it's not the smoke that does that damage, it's the invisible small 'lighter than air' particles that float at nose level all around a smoker, rest lightly on all clothing, and into the lungs of any child or others within a short distance. Smoking should be made illegal everywhere except in an approved sealed room. With its own air control just as on one has on an aircraft. Even smoking in one's own home if there is every anyone else there should be illegal.
I am again so lucky that I started work for a chain smoker who was never without a lit cigarette even when eating, using only one match a day. No prizes for guessing how long he lived, or what he died of.
Even when in Southern Rhodesia during the war where cigs were 10 old pence for a packet of 50, when I was the only none smoker I was never tempted, even though I had comments like, "don't you like girls either?"
You have a strong interest in music and you have sang in a choir all your life. Tell us a little about what artists you like to listen to and what great concerts you have been to.

Classical Coral music and the solo voice is my greatest, love if asked to do desert Island discs it would be seven of the very best different voices from Treble to Bass if asked for just one it would have to be THE LATE Kathleen Ferrier Contralto, singing "Blow the Winds Southerly. Or Peter Piers tenor, Benjamin Britains, the famous composers, lover, singing any of the tenor solos of Handel's Messiah.
What songs do you like to sing, have you written any songs yourself and do you play any instruments?
All those most popular ballards of the time. Never have taken to pop or jass.
No Not written any, could finger out my songs on the piano, Have written several poems usually about boyfriends but not put into my latest book by the editor here's one about Somchai,
In Thailand the motor bikes buss like bees,
He won't let me out of his sight for these,
He will hold my hand as we cross the street,
Now for me that really is a treat,
You mention in your book about an accident that happened when you were 3, which made you stammer. I didn't notice that when I have heard you speak, what do you think has made the stammering disappear?

My Mother and fathers employer, the local squires wife told my mum "put him in the choir singing will cure it", it did and I've loved singing ever since,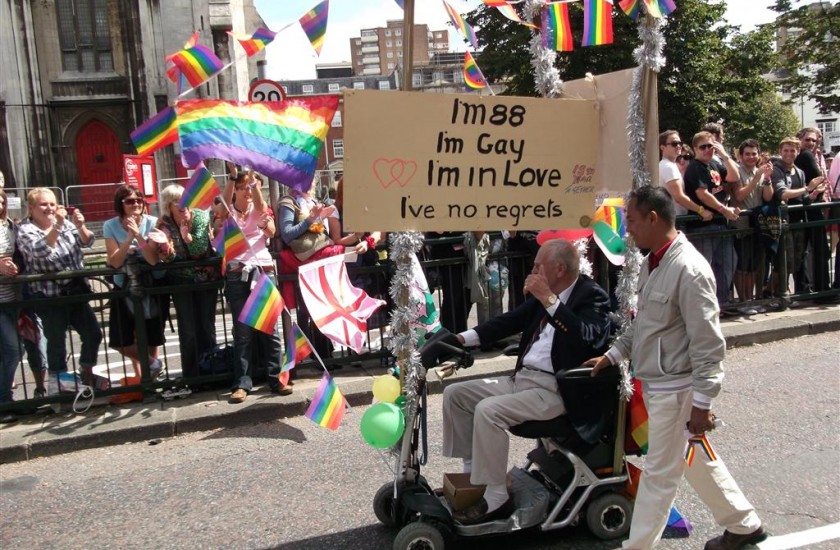 As I was reading you make me giggle again over when you left the stage and telling them to keep the fee. And Prima Donna did come to my mind. So right after I was glad that you had put those words down yourself in the book. Today many expect different sort of acts we put on to be known as "stereotype gay". What about back then if males acted like a famous diva, dressed in bright colors or acted feminine? What would of been said or what reactions would there have been if there was such attitudes among men?

Personally and fortunately I have never had any fem characteristics some gay men do and some girls are "tom boys" it takes all sorts life is less boring that way, I'm sure it's not something they just do, they were born that way and should be accepted and not made fun of.
You joined the forces voluntarily when World War 2 came and you wanted to fight for your country. Many people today wouldn't dream to sign up to help those in great need or defend their country because they fear for their own lives and are scared. But most of these have never felt any wars close to them. Did you ever feel fear or doubt about defending your country against Hitler and his NAZI Germany?
 As I have said in another question I wasn't bright enough to be air crew
Otherwise there was a one in three chance I would have been killed, or severely injured, luck again. It was in no way patriotic, I was nearly 18
 By now a good Pattern Maker, was told I was needed in an important trade contributing to the war effort and as such in a "reserved occupation". But at my age war was exciting, most of my contemporise were being called up or joining up, I wanted some of that.
Before the war was over, many had no idea what devastation and disaster Hitler and Nazi Germany had managed to do from the war started till it ended. Did you guys ever know or heard any rumor about what Hitler was doing to the Jews? And also towards colored, disabled, homosexual people or others back then when you decided to join the forces to defend your country?

I must admit I joined up because at my age then war was an adventure and exciting. Once in Southern Rhodesia, radio was not what it is today no British News papers, we only got to hear about really big events like D day. We enjoyed the climate, just like Thailand really. We played sports every day,
Africa is one of the countries today that still punish homosexuality with death sentences. Tell me how your first meeting with Africa was when you sailed there during the World War 2

I knew nothing of homosexuality I didn't even know the word then I never came across it except for that talk with my fellow Cpls. about "brown hatters"
What other influential people in the LGTB community have you met that has left an impression on you?

Years ago I did attend public meetings of Stonewall and always supported them. I have met Peter Tatchel, I am proud to say he knows what I am doing.
Greatly relieved when there were four gay cabinet ministers, always pleased when the famous "come out"
I was so lucky to have met you during Manchester Pride 2014, I have learned to know since then that you attend many different Prides around, and at Brighton they have made you an ambassador over Brighton Pride. What does people who come up to you to speak to you about?
 Mostly they can't believe I'm 91, it's just that I was always taught by my hero Lord Baden to be yourself and tell the truth having lived a lie for 40 years as an adult it was about time I did just that, I am the luckiest happiest most "out" old gay there is.
Are some thankful for the foundations you have laid out for this generation to be able to live in a more free and accepting world for the LGTB community? Do they see you as an inspiration?
 Without any good intention on my part it seems I have, I am enjoying it all I get adrenaline from it all and will continue to do whatever I can that will help I just hope my family will understand and not disapprove.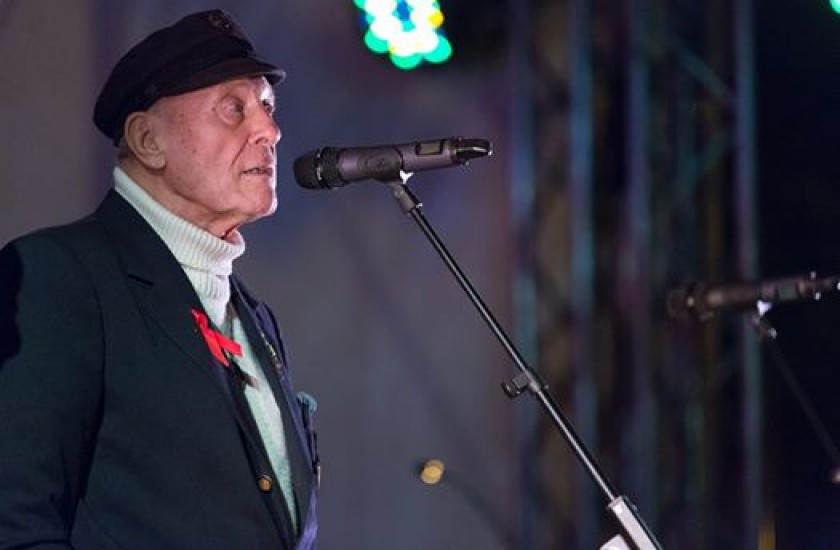 Tell me how your pet dog Bits came to you when you were serving your country during World War 2. 
Just the same way I got the bicycle I had. When posted home these got left behind I was lucky, then did the same thing when I eventually was "on the boat"
I used to work with horses so of course I had to ask when I saw the pictures in the middle of the book. You had your own horse in Rhodesia. Have you kept your interest for horse riding since then? 
Unfortunately no. pressure of work own business, boyfriends, then family but I did love it at the time.
Learning about Ann and your first time you had woman and what happened after. Have you ever consider yourself to be bisexual?
 No. Had not discovered what I was, with those it was just sex. In my view the only true BIs were two of my boy friend's, groomed, raped and introduced to the pleasures of gay sex
In their early teens, married had children, then, in the wife's mid life crisis found me. Rather than be unfaithful with another woman, chose me maybe because I was also married. That's why I hate child abusers so much, for these two were "no other word will do" Fucked up.
Anyone else who claim to be bi, would wouldn't they if they can have sex with a woman, all I say is so could I, but being honest ever since the first night of sex with my first adult boy friend I know I'M as gay as can be.
The love one feels for the love of your life at the time is as intense as any
That any human being can have for another. Why should we be denied that?
Have you ever thought of looking for your son that you and Ann made in Rhodesia? Do you know anything at all about how their lives went after you last saw them?
 No. Nothing at all, maybe that's for the best. I felt every guilty at the time, but when she told me that she now had a coloured boy friend, who accepted the boy, as his own for he was whiter than any he might have
I understood, I gave her as much as I could afford, and discovered that I was by no means the only guy that this happened to, naturally I have wondered about him, but as I say it's best just left alone.
Coming from Norway myself we find it really strange that some people today still express Homophobic discrimination. Because we live in a little peaceful Paradise up here. And we live to accept everyone regardless of races and orientations.
For example in school very young kids bully other children. And also at work places around in the "Modern World" we live in as we like to call it, we hear about people who throw insults and offends other people who are Homosexual. And sadly there have been too many losses, and often too very young people who choose to not be among us anymore due to bullying. What would you say to those who are struggling everyday having to face their Homophobic bullies?
Get the teachers involved, ask someone like me to speak to assemblies.
There is a great deal to do here Teacher training is got to be intensified
It is legal to be gay today in both our countries and no one in Norway or the UK would be punished by the law for being it. But has the bullying and homophobic speech become the modern prison that criminalizes the LGTB Community?
It's All getting better, A public apology for the ignorance of the past will help
What can this generation do to help stop these coward actions?
Keep plugging away more celebs and older gays coming out would
Help, Football it's about time some of them did, there must be many, then clampdown hard on "anti gay chanters"
Reading about the Doctor you had a fling with in the 50s I was really enjoying reading about that till the part where he got arrested for being gay and he closed you off and didn't want to speak to you after. I know you tried to contact him, but did he ever speak to you again after?
 No. I understood, he was a broken man and died years before his time
When you and your first boyfriend Rodney moved in together you mention a pub in London which you said accepted gays on late Sunday nights in the 50s. Is it still there and open?
 Yes Just about the Gayiest one in LONDON called the CHAMPION Earls Ct.
What rights and charities do you hope the future LGTB generation will keep fighting for?
The public apology and more acceptance of Transgender
I looked through some interviews of you on YouTube to do my research for this interview, and I also saw you up on the stage during the Candle Lit Concert on the last day of Manchester Pride 2014. Where you made many of us laugh with your fantastic humor. Have you ever considered to do any Stand-Up shows?
 Thank you for your so very kind comments  I shall as long as I can wave the rainbow flag,
But let's talk about something that happened to you and which also many others in the LGTB community share. You became HIV positive.. What was your thoughts and how did you take those news being HIV positive the first time you heard it?
Horrified at the time but am working on the stigma, there is no need for it it is not really self inflicted, as so many things much more costly to the NHS are. More non gays have it now than gays.
You got a letter from England's Prime Minister David Cameron. What did he have to say to you in it?
 He just thank me for the book and all that I am doing I had thanked him for "gay marriage", which has put up gay friendliness to an all time peak
What do you think the politicians can do more for the LGTB community other then just send out letters?
 An overall Public Apology for the ignorance of all their predecessors during almost the whole of the 20th century being mostly heterosexual themselves they were totally deaf to any experts like Kinsey and others who said it is not a chosen thing to be gay. And for assuming we were Paedophiles, doing practically nothing about those who were, in fact evidence is emerging that many in high positions were perverts of the worst possible kind, all covering it all up and destroying evidence. I look forward to the result of the long delayed enquiry.
You travel a lot to Thailand. Have you found your Paradise there to relax and enjoy life?
It's Somchai's home, his family, my other family, I adore my mother in law, as you age one feels the cold more. Thailand is the most gay-friendly country. So many young guys from all over the country think theres nothing wrong in sex with Faranges, (That's foreigners) they are not really male prostitutes, we call some of them "money boys" but what they get is just "peanuts" they just seem to enjoys our company they are only interested in a good time.
One of them was a long time boy friend of a very good friend of mine for some years when we discovered that he was married with children, so one day I asked him about it and which sex did he preferred, he calmly replied, "I just like sex", I think Thailand is just wonderfully different.
There  is no Thai word for Homosexuality.
When we ran into each other during Manchester Pride you had a jacket with the Norwegian flag on it. Tell me the story again about how you got that?
 I like to buy new clothes now and then it's such a lovely red
and very warm I'm Proud to wear it, unless we find a UK flag of the same size. I shall leave the Norway one on. Bought it in Alesund while cruising in Norway.
You write pretty freely and fresh about your sexual history in the book. Are you the same free spoken man in your daily life as well when it comes to talking about sex?
 No that's private, most gays and yes Hets as well quietly have an open relationship but I have told a little story many times that now seems to apply to me.
A young man asked a 70 year old "can you still do it
Will I still be able to when I'm your age?
"F" off said the old one of course I can.
10 years later the same question was asked.
This time the answer came much slower.
Yes, not often but yes I can.
At 90 the same question.
This time the old man hung his head answering very slowly & said sadly "No not anymore"
My name being George means I must never tell a lie, So I will admit, this has happened to me, I think I have had more than a fair share in life, so I say "get your 'fill' while you can" for if you live to 90 it seems "that's it" But, as the saying goes " sex is great but it's not everything" In a loving relationship, ours is still as good as it gets, I am so lucky, It doesn't matter.
I noticed when I read your book that when you were with a lady you use words such as "making love", and then when you are sexual active with guys you are a bit more fresh in your choice of words. Do you think it is important to be a gentleman with a lady, then it is with men when sex is the subject?
I will not say anything about my dear wife I admired her, so I was as kind as I could be I hope.
Sex is so different, for men I think they just have to relieve themselves,
 Look at a herd. the male has a doz. to choose from I would think the sex  drive stays longer and stronger in men.
What I discovered with my first male lover Rodney, sex with the one you are "in love with" is the most wonderful of all.
When you were a young George what male idols did you fantasies about like we do today with celebrities? Did you fancy Elvis Presley?
I know my mom did after I found her diary with I love Elvis Presley scribbled with hearts all over it.
 Every since Dr. Spock in "star wars" I have always strived for "logic & practicability" in life, what point is there in dreaming about what you can't have.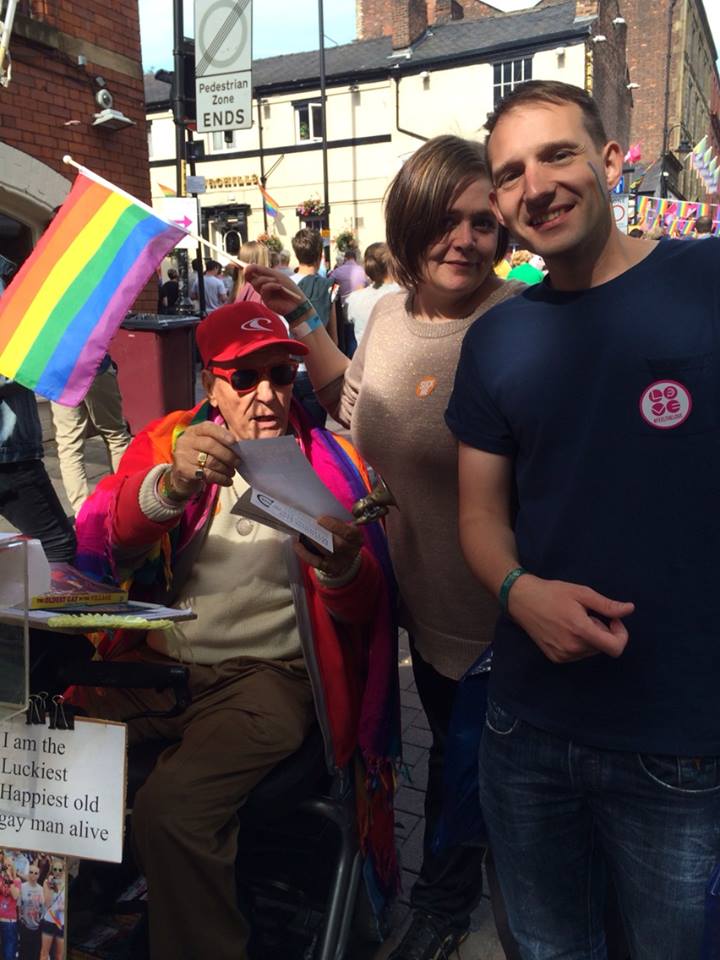 How can today's couple have a happy and long lasting relationship where the spark never dies out?
 If you are lucky enough, as I have been, to have someone young enough to be your son or like Somchai a Grandson who is in love with you, you would be a fool not to relish every single moment, making allowances for their sometimes "not such a good mood" Why do I love a so much older man? You have to "zip the lip" and the good times soon return.
I am a straight woman but I grew up with parents who learned me to accept everyone as they are and be nice and polite. I had the best start in life and I got live in a peaceful country I got myself a good education. My best friends are gay men, and I also get to work with many in the LGTB community in my job as a blogger. But why is there still some in this world today who grew up at the same time as me or later who hates, is a racist or being homophobic in 2015? What sort of people are those who still can't accept it?
We must count our blessings, and be patient, I used to despair, but looking back and remembering how bad is used to be, look how much better it is getting all the time, we are winning. OAPs? That's difficult but they are dying out, it's the Male teenagers, some of them that need working on, and many of the not so well educated men at, and in their work places.
 What responsibility has the parents and the school in this matter when they bring up the new generation? 
Education- everyone who has or works with children must accept the facts, just like some are left-handed, there are differences, all must be allowed to be just what they are, the way they were born. Concentrate on honesty, and being always fair. Teachers in schools have a mountain to climb.
How can this generation help to get your and others before us criminal records deleted for being convicted for by being gay? 
Sign the petition, it's on it's way, an apology in my life time!
 How did you and your partner Somchia met? Was it love at first sight?
 The Quebec Pub Opposite the East door of the Cumberland Hotel Marble Arch. The best known place in the world for a Gerontophile, that's younger men who only want a "father figure for a lover. (there are female Gerontos too). That's where I have asked Somchai to convert our 18 year old now partnership into Marriage on my 92nd Brithday June the 5th . I shall then go into the pub and wait 10 feet away from the door which is where I was all those years ago when I first set eyes on him.
Was it love at first sight? Maybe not, but it certainly was the moment I woke up the next morning with him still asleep next to me.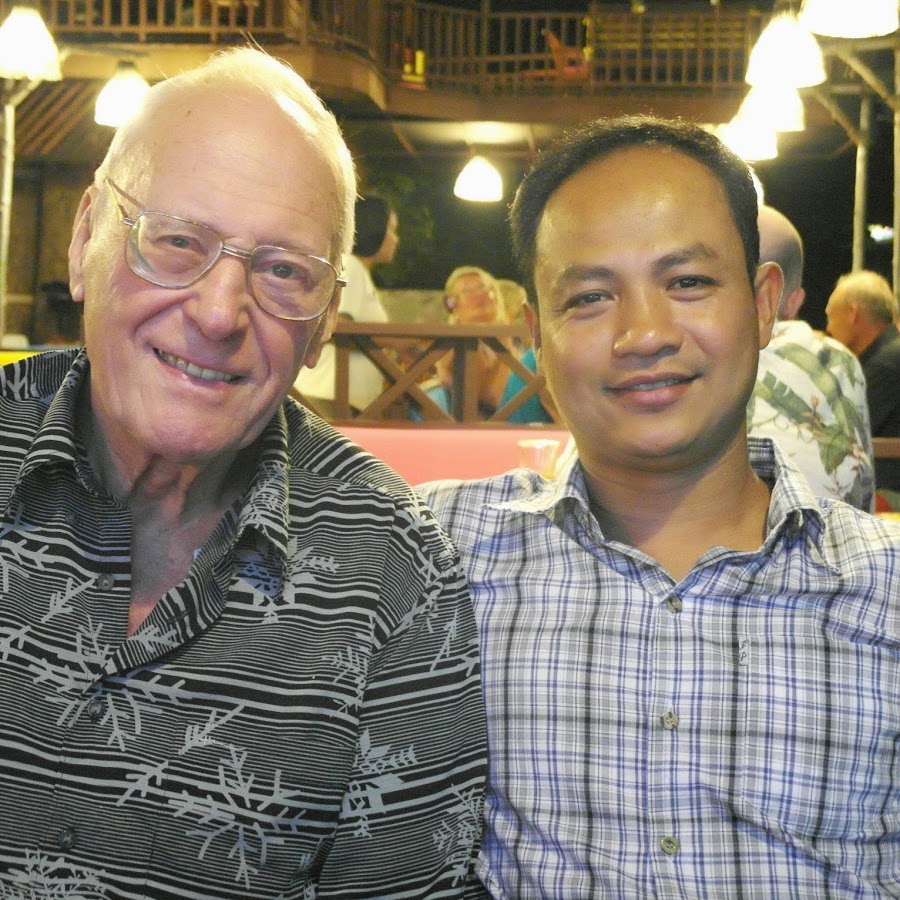 You married a woman please your parents, and you and your wife made children as well. But what made you dare to come clean to Vera right away about being gay even before you got married to her? She must have been an fantastic woman?
 That is an understatement, she was friends with some of my gay friends, a secretary at one of my customers, we became friends she knew I was gay, we talk a lot, I told her I would stop " we knew no better then" she was 29. Most girls in those days married very young,  I was 37, I asked her to marry me if we could promise, if lucky enough to have children, not to part until the youngest was an adult. Some years later she said as a gay husband  I was better than no one a all, at least she knew I would not go with another woman. She enabled me to live the biggest lie of my life.
There is a difference between loving someone and being "inlove" I did love her, and miss her as the grandmother of our three grandchildren
You have children, they must be very proud of you. Have they been a good support for you?
Yes we are very close but unable to see each other very often
What I do is never discussed, it's not so long since I have been in the news so much I have no idea if they are aware of it all. This year it looks like they will see and hear a lot more once the BBC show "Britain's Greatest generation" of which I am just one of ten all over 90, to be shown early in May I think.
And you are also proud a grandpa. How many grand kids do you have? Do they get spoiled by you?
No.  Two grandsons Daniel 18 Simon 13 Sons of my Daughter Paula Unfortunately unable see them often, but I could not possibly be more proud of them, Kimberly 9 My eldest sons daughter is I suppose the "brightest little light in my life".
Do they think grandpa is cool for being famous?
Am I? I don't think they know.
What sort of hobbies do you have? I see you have built your own boat once called "Woody", do you still have it?
No. one can no longer be a skipper of a sailing yacht, unless one is still nimble.
What are you doing today and what are your plans to do?
Going down to the beach where the water is body temperature may be a little swim if Somchia can help me in and out over the very soft sand.
Tomorrow off to Bangkok To our Town condo and to see My Mother in law whom I adore at 12 years younger than I, is not very well.
Thank you so much I enjoyed doing this sometimes at my age time can hang a bit heavy, not as active as I once was, don't put any other meaning on that one.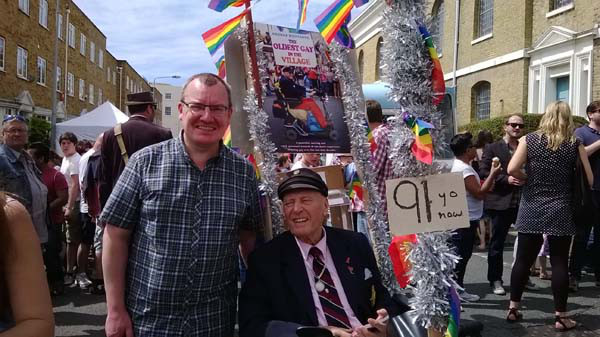 It would be great catching up with you again. So what Pride events can we see you attend this year?
Certainly Brighton and London, If we are invited to Manchester we would not drive this time so would have to come by train without the scooter.
Thank you for taking time to do this interview. I am very honored, and I hope that you enjoyed answering my questions. 
Thank for all your research Yes I have enjoyed doing it, I still love to type and it keeps the old brain cells ticking over.
George Montague " the oldest most OUT old gay"
Follow George Montague Online:
Buy his book:
Follow us on: