Smacky Comments:
Since I am the one posting Toz`s posts I`d like to say that I gave Ann and Toz a challenge a couple of weeks ago. And that was to do her very first interview. I leaked a hint about it on my blog earlier last week that one lucky guy she had picked out would get a message form my blogger about a interview request. She nailed it down pretty well and I am proud of her first interview and that it went so well. Cameron is a cutie pie and if she hadn`t asked him I would of. Thank you for doing this for her Cameron. I hope everyone enjoy Toz and Ann`s first interview with this hot guy. x
Interview with Cameron James
Tell us about Cameron
Cameron is a bubbly outgoing and loud character who always like to make a lasting impression be it for the wrong or right reason.
What hobbies do you have?
I like to spend my time either shopping, horse riding, swimming and clubbing/socialising. When I'm not taking time to groom myself.
What made you enter the industry?
When applying to apply to model, I thought it was to be a model until a realisation came to me when filling out the application with the questions being asked about penis size and status etc. but the curiosity got the better of me and I had to complete the
application and am I glad that I did.
How did you find mega BOYNAPPED?
I really do enjoy shooting BOYNAPPED due to the limits being endless. Also getting to work with some amazing talent be it from models/crew.
How did it feel filming with them for the first time?
When I filmed my first scene for BOYNAPPED I can remember feeling really excited to get stuck in and it was also a very intense feeling blowing my load.
What turns you on during a shoot?
The thing that really turns me on during a shoot is to be working with a dominant top and maybe a little kink involved.
What do you enjoy most about being a model?
There are a lot of things that bring me joy when it comes to being a model, I like the fact other people are getting satisfaction from the work I am involved in and the amazing people that follow my twitter they are such a great support and looking through some comments make me so happy.
Who would you most aspire to be like in the industry?
This is an easy question for me since meeting the Mickey Taylor, who always seems to leave an impression he is definitely up there with them when it comes to my inspirations he is incredibly talented and so versatile in every aspect.
What is your orientation any hope for us girls?
Sorry girls I'm all gay
Where can your fans contact you online?
My twitter page is the best way to contact me @cameronjamesxxx
What was your highlight of your stay in Alicante?
The highlight for me would have to be getting to spend more time getting to know all the guys as I know feel part of the family and finding myself, however the weather was a plus too.
Did you just love the mega Percy?
Of course I'm a big animal lover anyway, but who could not love that little personality he has?
How long do you spend looking so perfect?
I'd say it takes me about an hour to get ready before I leave the house daily.
Are you in a relationship?
I am currently a single pringle.
What models would you like to work with in the future?
There are a few I would like to work with, Theo Ford, Luke Tyler, Mickey Taylor and the list goes on.
What is your burning ambition?
To be amazing and to help inspire others.
Do you have a favourite clothes brand or style?
Eclectic is my sort of style I always to try look different with the clothes that I wear but always have to look smart too.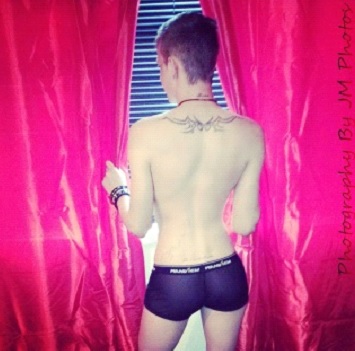 Do you like Smackygirls Blog?
I am a great lover of Smackygirls Blog.
Was the interview OK hope you enjoyed it as much as I did?
Yes the interview was great, thank you for considering me to be of help.
Thank you Cameron x
x
Cast your votes for your favorites to win a Prowler Porn Award
http://www.prowlerpornawards.com/vote/