Yesterday the award show for our bloggers was held in Oslo. Many good bloggers were nominated in the different categories. Sophie Elise is our most popular blogger, and she won the awards for "Blogger of the Year" and the "Peoples Choice" Award. Which are pretty prestigious prices to win for a young lady.  I also I follow her blog and I was happy about her winning those 2 awards yesterday at the Vixen Blog Awards, because she deserved them.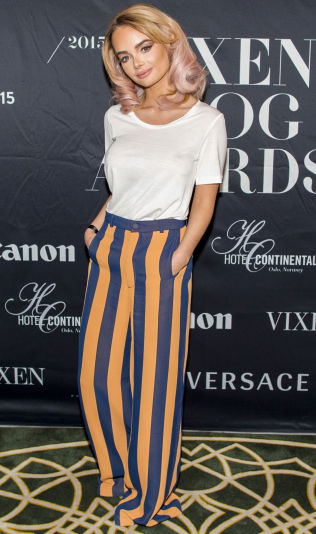 But when she went up on the stage to pick up her award and as we usually are used to winners saying their thank you speech, Sophie Elise decided to do something else that was gonna make the Norwegian population forget all about everything else that happened at this award event to only talk about her showing her tit on the stage..
There has been a lot of noise in the media today and internet trolls have of course continued their harassment on Sophie Elise as they have done for many years. I`v seen a tit and an tatt before in my life so I`m good.  I`m still digging this ladys blog. And wanted to congratulate her with her award and say; Well done!
The reason she decided to dress the way she did and flash her boob up on the stage was because of how the media and the haters are constantly focusing on how women dress and what they should look like, and we never seems to be good enough for many. Specially at awards it is a very big focus on how the females dresses. The guys never get much publicity around what clothes they have on, no matter what if it is an expensive Armani suit or any other exclusive designer suits for men.
Sophie writes about it on her own blog the day after the awards saying that she was provoked by all the insulting comments about her nipples showing through the outfit she had chosen to wear to the award show. Also that the media wrote that she came without a bra at the Vixen Award Show but went home with an award. Making it look like that showing some skin was the reason she won an award. Which everyone who follows her blog and reads how honest and open she is about her self esteem and about things that many girls and women struggle with on her blog would know that is why we love reading her blog. It is good to see that we are not alone about being insecure and unsatisfied about something on our body.
I think she did the right thing, and I support her tit stunt. And as one of the newspapers wrote which I agree with as well was that they meant that she might as well use the massive powers she has to promote equality and fair treatment of women. As she is also said to be the most powerful Norwegian woman in the media these days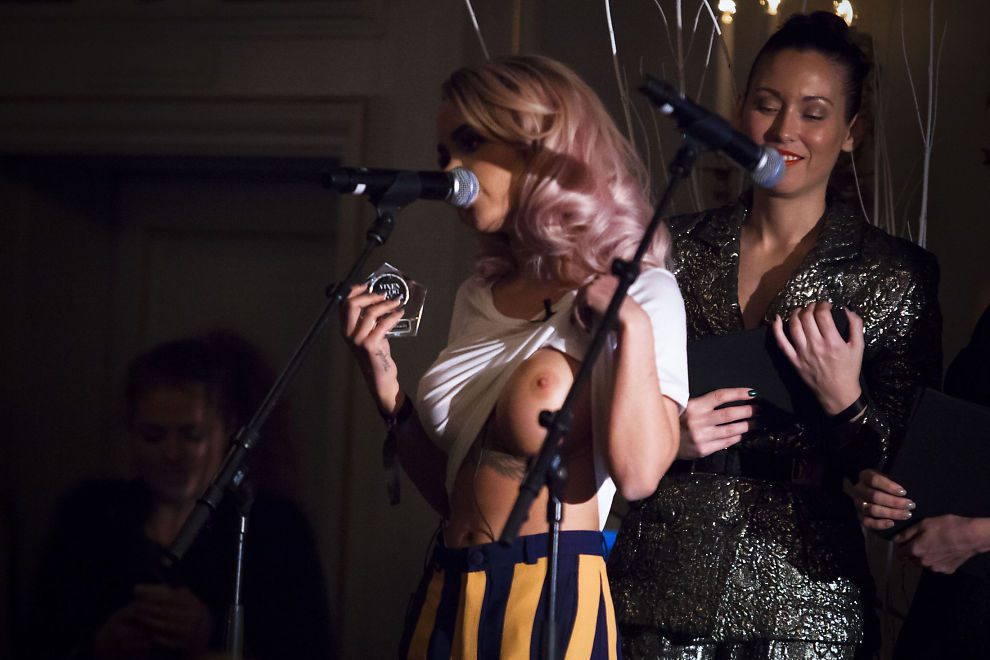 Being a blogger many of us will at some point get internet trolls commenting on our post, but I have done the same thing as Sophie Elise have done with her blog, and that is to turn of the comments via WordPress where they can leave hate anonymously. I have only the option left to comment for people via Facebook hoping that most of those who have used that are real. Since I did that all the comments that has been left using their Facebook accounts have been nice comments.  And that choice also only last till my post is no longer on the front page anymore. I rather have people comment on what is relative now and not something I wrote ages ago that I`m not bothered with anymore or find on topic. Most of the comments that people had left in the past when I had turned on the WordPress comments where people could comment with any email and name they could choose, was often more vile commenting than anything else.
Funny thing is that people always seems to forget that I own this and with doing so that has an advantage and I have your IP adresses, most of the trolls that had left anything on here I found my way back to their Facebook, twitter and many other places where I found out who their friends and family was. Some comments was pretty awful and the thought of sending a copy to those I found to their family was amusing but never something I could picture myself doing.. People would think they are completely anonymous just because you left a fake email and name they forget to hide their IP address.
With one simple trick that Jay thought me many came up with information not only with the IP but also the email they had used to register other places online with. And I found the real people behind those comments. Didn`t surprise me to find who I did back then as it was suspected. That is always fun if I can post on my blog and say haha I found you who left that comment shall I message your relatives or your bosses? And leave a hint or two so they knew that I actually really did find them.
But internet trolls have never bothered me enough to want to do any more about it. I am old school that way and I grew up with other types of bullying out in the real world. Not saying anything is worse then the other because internet bullying is a serious issue that needs to be done something with. But they are just coward keyboard warriors that I feel sorry for in my eyes.
In my days bullies would at least show themselves in school or at work places and not like this. You just make me sad for you if you bully someone online. But also upset that so many people choose to end their lives because of it. That is why I went after someone who promote themselves as supporter of suicide awareness on their social media but they were constantly seen hanging people out on there. That is not someone to look up to. And coward was proved simple as.. And to get thanks from many who had been a victim for that afterwards was over whelming, and I knew I had done the right thing when several media was also following and messaging me the following days. Internet bullying is never OK. Neither freezing someone out when we know what it can lead to. And I hope that the authorities will do more on that front and make it easier for people to report online abuse. And that it gets taken seriously when we do report it. Because we don`t need to loose anymore loved ones to that sort. You sit at home reading horrible things online about young souls that have ended their lives because they got abuse online and wonder how many lives have these keyboard warriors got on their conscience. No one has ever right to ruin peoples livelihood and lives with bullying no matter where it is happening online or in a real situation. That is really low of people if they are trying to cause people to lose friends, family, their jobs and ruin their future, mental health and more..
I`v been on this case many times specially when celebrities are the bullies and I`v discussed Lady Gaga and others on here that has been known for sending their fans to do their dirty work for them. These have very young fans and they need to be a good example and not ruin what their parents are trying to teach their children about always being kind to your next. I was expecting to get loads of hate from people who are fans of artists like that but was disappointed that no one came. But I am passionate about this because it lays close to my heart, and it is something that has made me lose someone I loved to bullying online. So I will see no fear or problem going after a bully or debating my opinions about it on here. And SmackyGirl is a big blog and should address also these type of things and be and ambassador against bullying
Anyway I am giving my support and my thumbs up to this girl, she is an inspiration. I follow many blogs and see no competition in anyone. That`s just silly. We are all unique and doing our own thing our own way.
 Congrats with the award, well earned.
Visit her blog:
As she brilliantly said in her latest blog post, I quote her:
Follow us on: