Well I am back home in Norway again after spending 10 days which included my birthday while I was in England too see my mum in law, who is my my late husband and best friends mum. And also celebrate my day together with Jason and friends at the Nr1 Gay Club in Norwich the 28th of January. I promised you a little picture of the famous son of mine and Jay which name is Jason. He is the cutest guy ever and a really unique person I am proud to call friend.
When me and Jay are together we ignore the whole world, and for many that could be pretty annoying that some didn`t get any attention. And exactly like that is what me and Jason are together when we met. We just enjoy our company together too much. Hopefully it wont be long before Jason comes to visit me. Speaking of visits, my mum in law is also thinking of coming down soon. I really hope she does she deserves a holiday and I miss her when it goes too long.
I had a wonderful holiday and I got very popular with all the cats in mum in laws house as expected of course cats can spot a crazy cat lady from far distance, and I myself is a self declared one and proud to be that.
I don`t have a phone or a iPad at the moment so there are not many pictures from my stay this time. But luckily Jason had some and I sneaked a few photos of Tracy`s cats, as she let me borrow the kindle Jay gave her for Christmas while I was there.
I went to visit my husbands grave a few times while I was there. It got me in tears. Everytime I see it like that it reminds me and makes it so very clear that he is really gone, and that he is laying under there in the cold ground all alone. Glad he has his bestfriend necklace around him that we share half of together. That protects and warms him. And it tells him how much I loved him and how much I miss him.
Me and Jay`s mum went back one last time the evening before I was flying back home. And as we came up to the grave yard it was night time and pitch dark. I can honestly say that I would of never gone in such a place on my own at that time of the day and so did my mum in law agreed with too. There was this one grave stone there who has a massive statue of the shape of an angel on top of it. I kept looking at it and said I swear it moved, and that it was going get up and come flying at us. We laughed a little at ourselves and how easily spooked we are, but I bet a lot of you would of also been exactly the same. I said to Tracy that see how much we loved Jay and what we are willing to do for him. I know even he thought the grave yard that was right outside where he used to live in Halesworth was creepy at night. Because one of the stone cases have lost half of the lid. And walking out at night there is not so much street lights in the UK like I am used to here. I guess they are saving on everything even when it comes to peoples safety and lives. Anyway we made it to Jay`s grave and I was gonna light a candle. It had been very windy every day and pouring rain down since I came the first time. I had already by then laid down 10 long white roses on his grave, left a bottle of Prosecco and a cigarette for him when I visted in the daytime. So we couldn`t light any candles then because of the wind. But that last night it was completely silence not even a little breeze was in the air. Just a very dark and quiet cemetery with me and mum in law.
And lots of dead people!
Eeek!
I`ll be honest and say I kept looking behind me and in all direction while I was in there and proudly came out of the closet as a chicken shit. Because when I tried to light the candle I dropped my lighter on the ground next to the guy who is laying next to Jay, and I couldn`t see it in the dark as it was a sliver lighter. I put my hand on the ground to feel around for it. I swear some skeletons hand was gonna come sticking up from the grave next to Jay`s and grab my hand while I was looking for my lighter. I was ready to start screaming and my heart ready to jump out my chest if any sudden things would of happen right there and then. Haha. Anyway as I managed to find it some bloody birds that were sitting in the tree that is right above Jay`s resting place suddenly moved about in the tree flapping their wings about. ( It is a very beautiful spot he has under a willow. ) I jumped and screamed, so did my mum in law haha. We laughed at ourselves for being such puddings, but haha we are women after all and we are easily spooked.
I found it a bit weird that those birds suddenly made wing noises as we didn`t hear a sound from anything, not even a car on the road the whole time there. All except for that first birds in the tree above his grave, and that bloody owl right after when we sat down on the bench. Mum in law decided to video tape while we sat there to see if she could pick up anything because at home and also at mine we have had strange things happening that we can`t explain. Like several light bulbs blowing at ones, the flames on the candle going mental, large particles and light orbs being caught on camera specially in her bed room, at home I have just had that feeling of being watched and a few times my lights have blinked a lot after he passed. Specially when I am watching movies that has big meaning to both of us and that we would watch together. I think mum in law too has had several feelings that he is there watching over us or sitting by the end of her bed.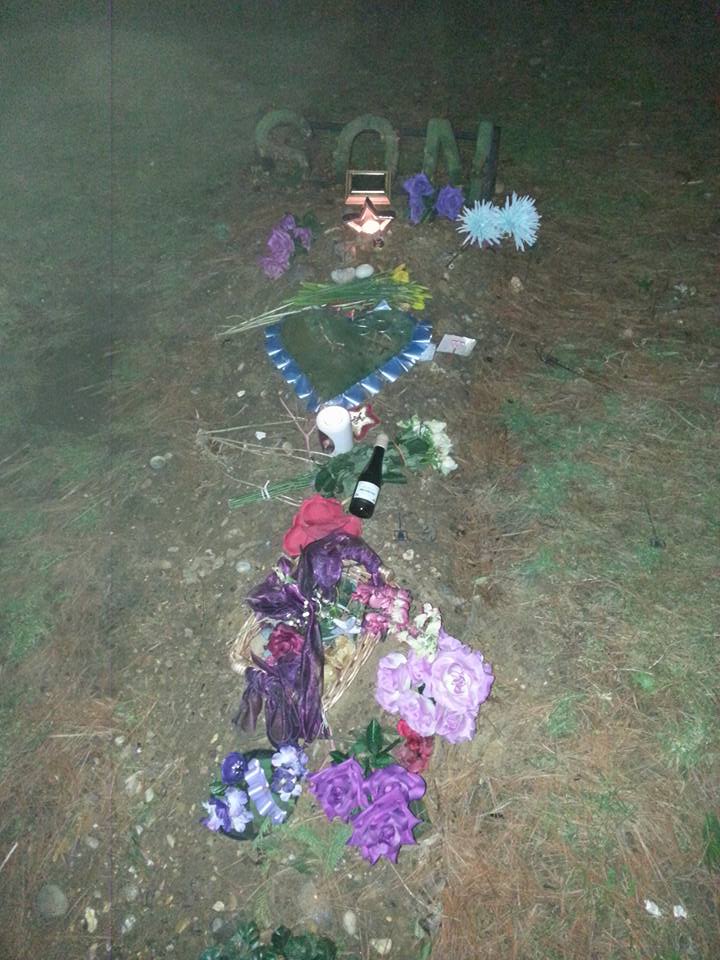 Anyway while sitting down on the bench after lighting candles on Jay`s resting place and mum in law is filming. Me and her are sitting there just talking about how much he meant to us and how much we miss him. I suddenly go from saying that he was the light in my life, when that damn OWL decided to speak up in the woods behind the cemetery very loud. You can hear me on the tape recording going from very emotional to saying "OK we`re leaving now!" What I really was doing that you couldn`t see on the tape in that moment was that I nearly jumped in my mum in laws lap. Haha it was one number before I wet myself sitting there.
We did sit for a little while longer to win back our pride lol but ones out I took a deep breath. What we won`t do for you JayJay. I hope you had a good laugh at your two scared chickens.
I had a really good holiday and shared both laughter and tears. And I got to see Jason again.. Here are some pictures from my stay. You know I can`t and don`t want to share pictures of some in Jay`s family. But you get to see the hairy part of the family that loves the Lady Smacky much and get to know them this time..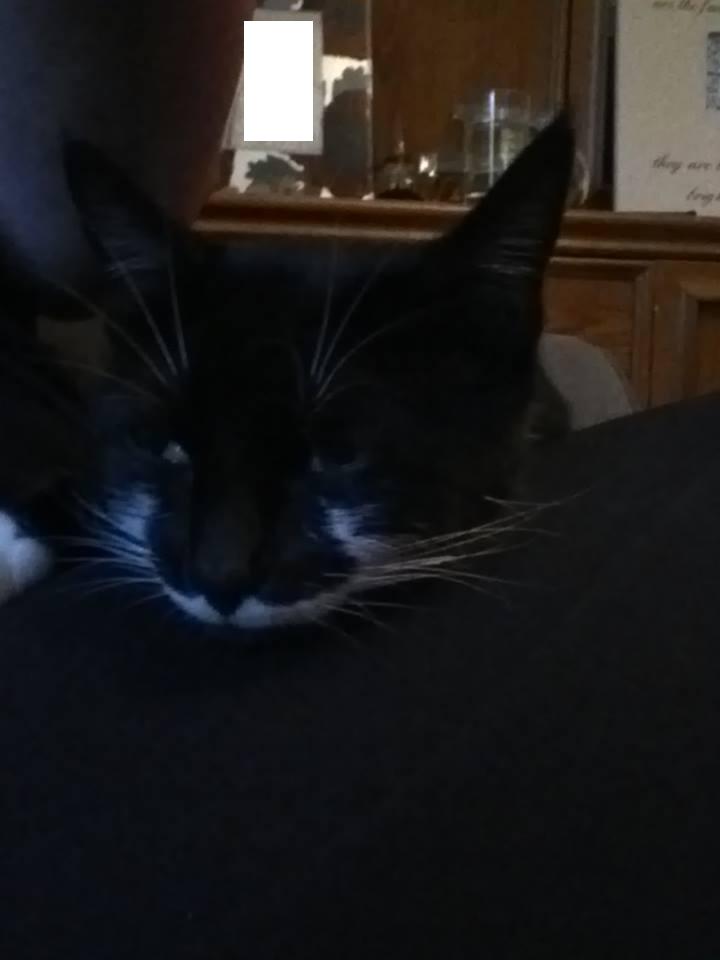 This is Nena, She was pregnant when I arrived, and I kept asking her if she was gonna have the kittens on my birthday. She was right mean sometimes, mostly to the family dogs Tyson and Suey the last few days before the kittens arrived. That cat has so much personality I adore her. She always speaks a lot. I think she found a friend in me too as she kept hissing all the other cats and dogs away to have my lap all to herself .
No kitties came on my birthday but the next day after. I woke up in the middle of the night and heard kitty noises coming from under my bed while I was sharing a room with Jay`s sister. Which is the best roomie one can have. We have a giggle like two teenage girls before going to sleep when hearing Jay`s mum trying to get a spot in her bed when the house dog Tyson has occupied her whole bed. I like Jay`s sister she looks a lot like her brother and she is also so clever too. <3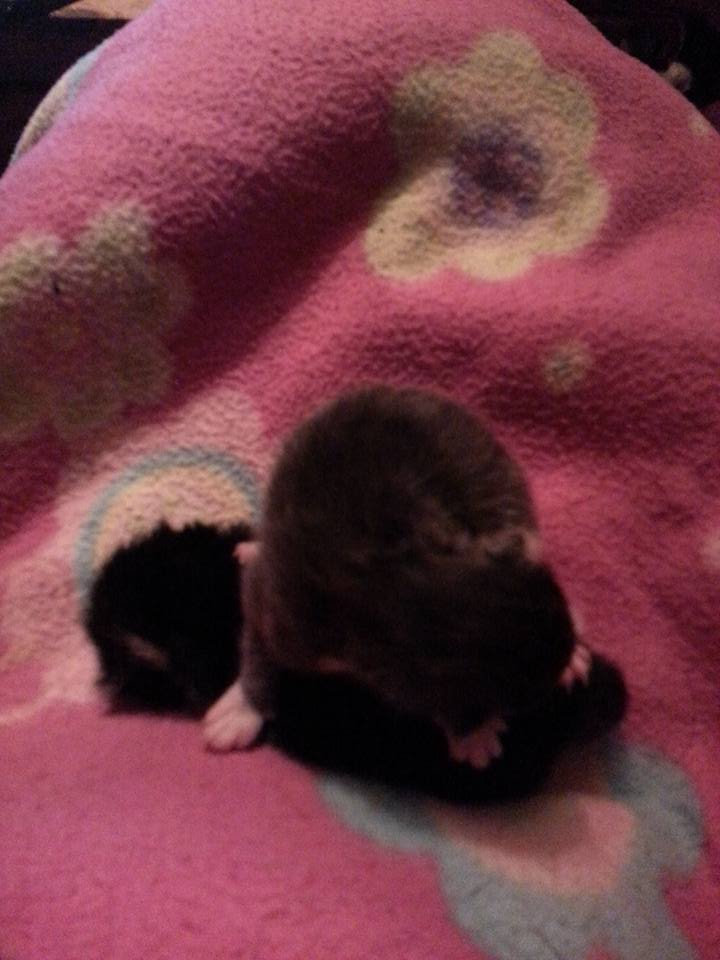 Here is the new arrivals that came with Nena, I heard we are keeping the grey one.
YAY..
They are all named Smacky in my head :p Haha but I am sure they will get named something else with the time when they start stumbling down the stairs and comes to met the rest of the house residents. But for now they are Smacky-Kittoons
---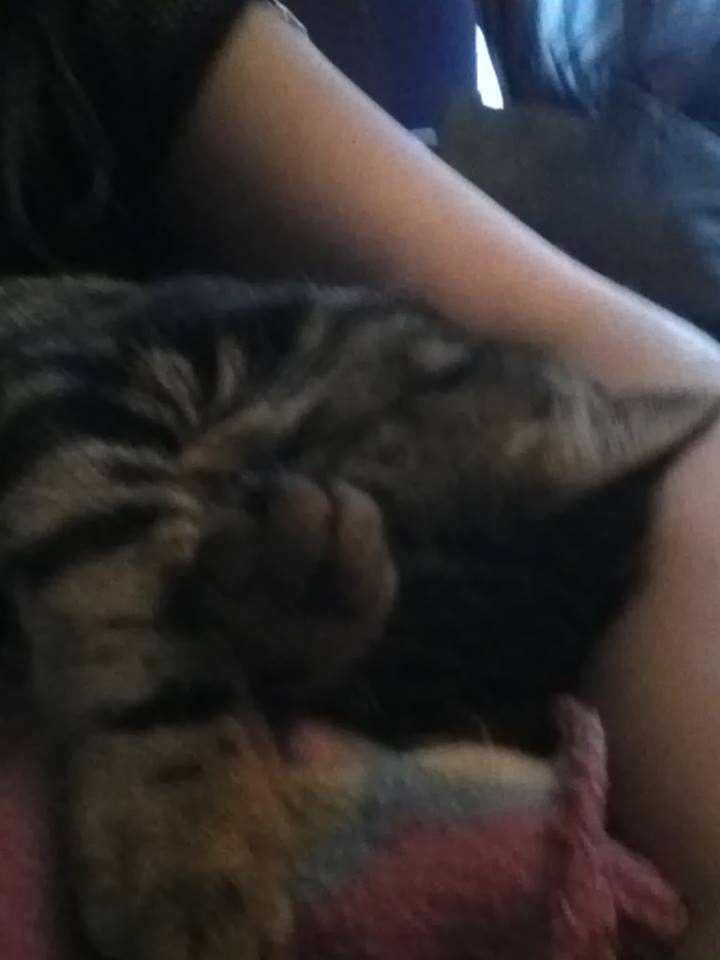 This is Simba. He is Nena`s son from the last kitty delivery. He is the sleepiest cat in the house and one of those cats you can just lift while he is still sleeping and lay him on you chest or your lap without him being bothered. He just carries on sleeping no matter where you move him and just rolls around on his belly which means cuddle me NOW.  Just like Jay used to say to me haha..
---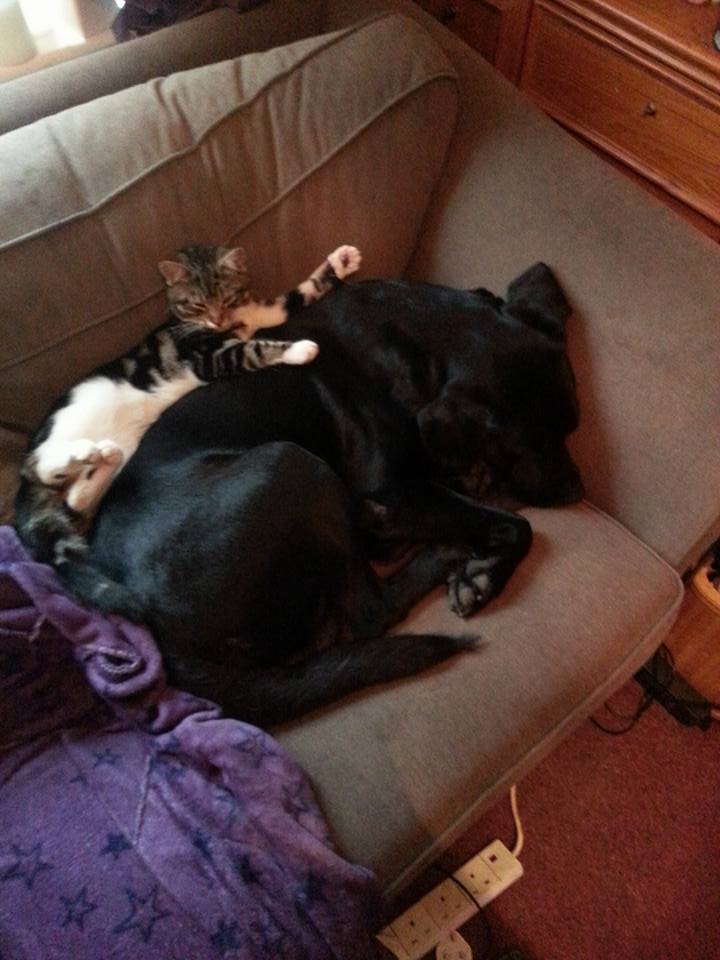 This is Tyson the house dog. And the friend on top of him is Casper. Casper got his name when it was little and they still didn`t know that it is really a girl. Casper is Simba`s sister. Simba has already worked out that this is a girl. I told mum in law she better get one of them two fixed or she will end up with 3 headed kittens haha. Casper is more of a loner and likes to lay cuddling by the window. But on top of the couch so she can see everything that goes on in the house from that angle. She does come some times for a cuddle too but not so much as Nena and Simba do.
Tyson the house dog is always a bit skeptic when he knows what Nena can do when she gets a hormone kick and takes it out on the dog. So every time a cat comes to cuddle him he gives those eyes that tells it all haha "This might be dangerous mum I`m scared". But when he sees its just one of the other cats and not Nena and he breaths out revealed, and goes back to sleep again.
But then just wait till the black and white cat Nena comes in the room and you see he is laying still, and his eyes go back and forth worried and waiting for what can happen next. But Nena sometimes goes to cuddle him right after she has yelled at him so I figured out that is the way she says "I`m sorry Tyson I didn`t mean it, I`m pregnant"..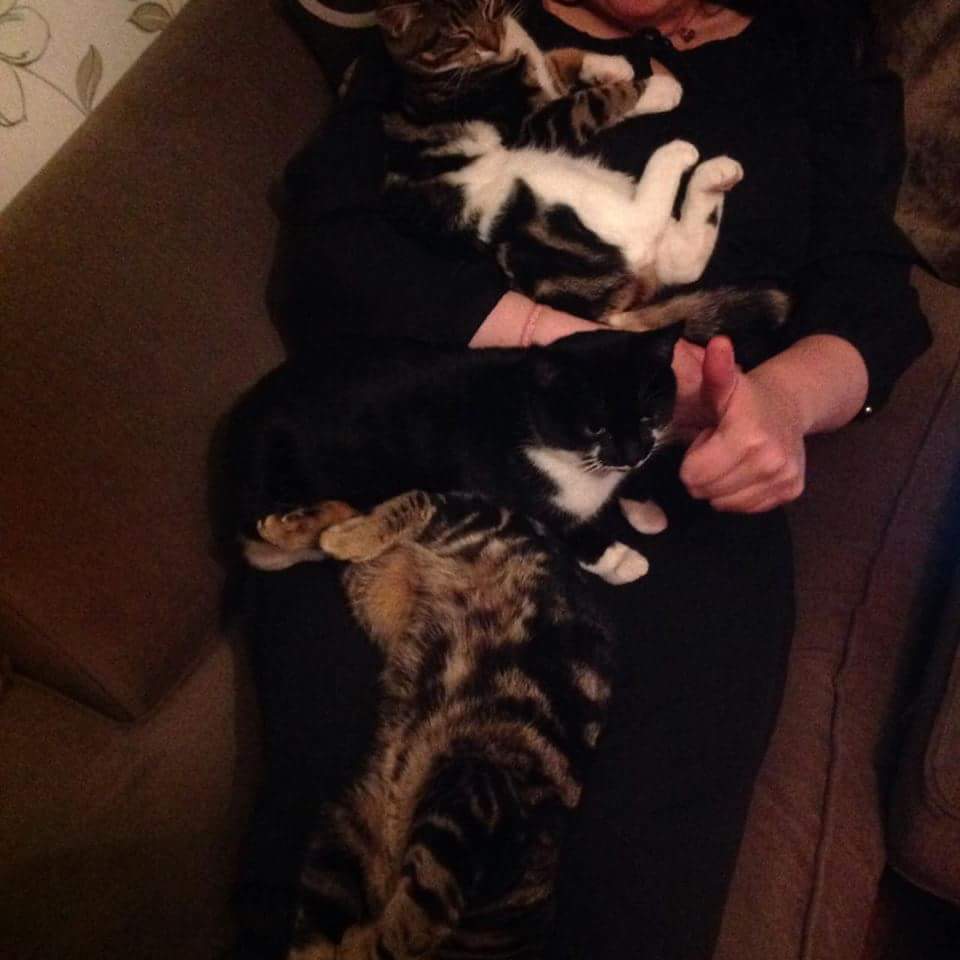 Family picture.
How many cats can you see?
I am proud to be a crazy cat lady. I always had a way with these incredible animals. Even when I`m just outside they come up to me random cats that don`t know me but want a cuddle. I also love seeing animals living a happy life. And that is what they do at my mum in laws house. <3
---
Okey so this is the only two pictures I got from my birthday at the Loft haha. There was more people who came by to say hi. And Heidi was there with us all evening too but missed to be in the picture some how. Sorry haha. Well you know now that when me and Jason are together we have only eyes for each other just like it would of been if Jay was around. I do love mine and Jay`s Jason..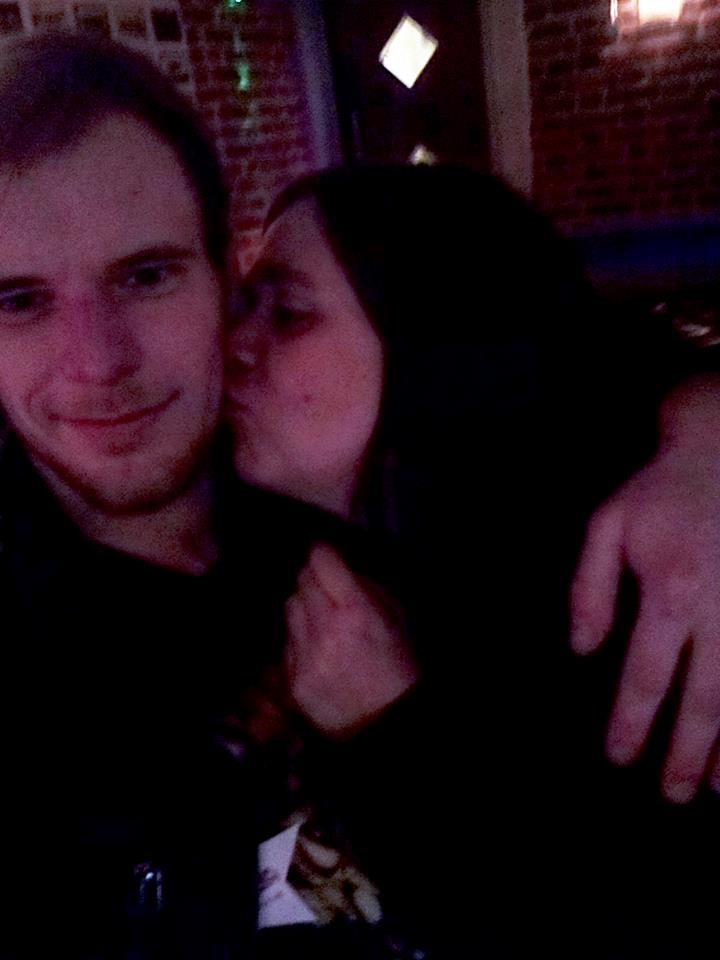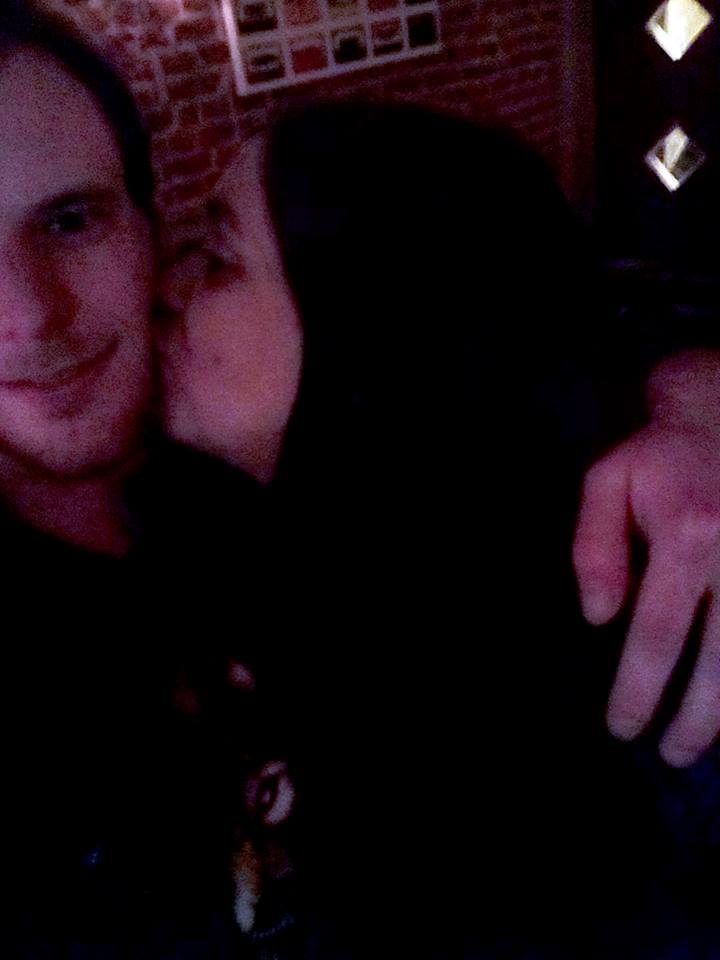 I had a great birthday with some friends out. Jason got the damn tequila out again, and my head was spinning the morning after.
Come see me soon Jasooon. Help me plant my Christmas tree <3
x
Thank you Tracy, her family for having me over again I love you guys so much. Thanks for my Christmas tree Captain
I`ll see you guys soon again.
Wish you made it to my birthday Gummi, that was always your favorite day. But I bet you where there watching over everyone. Here is one from the last birthday I had with you <3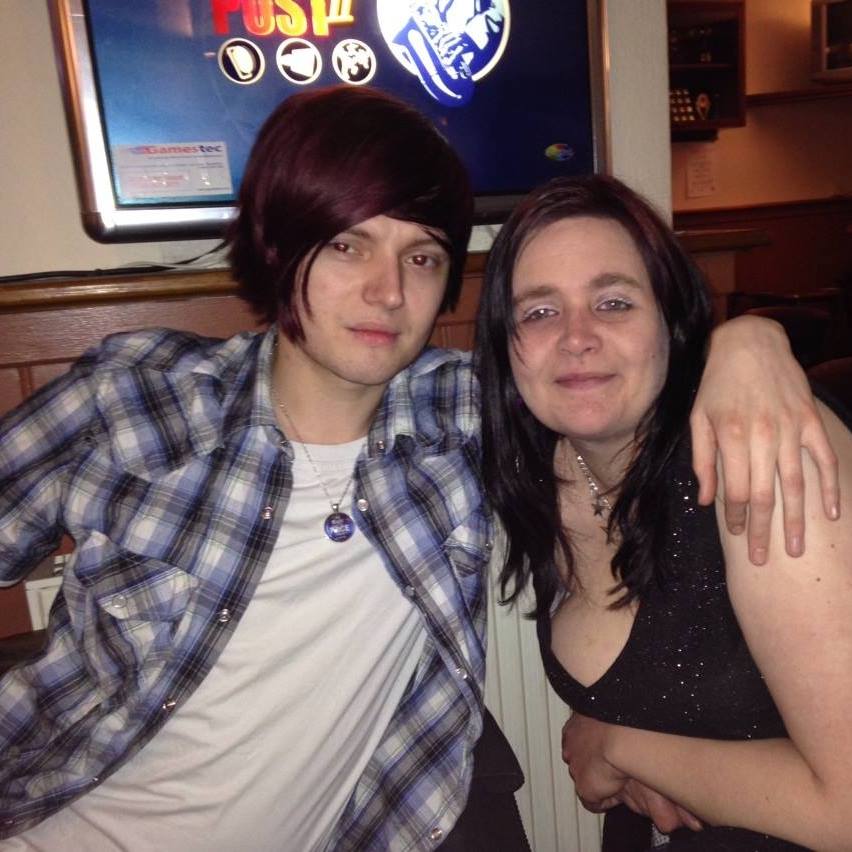 x
With that I would like to thank everyone for wishing me a Happy Birthday on my day <3 Think I managed to thank you all personally but in case I forgotten any and to say it again. Thanks <3
Follow us on: