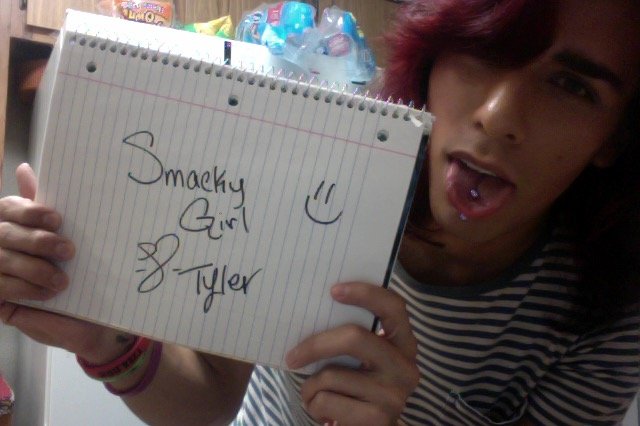 Some might have seen me put my flirt and charm on for Staxus yesterday, and that was so I could interview their new gorgeous beauty Tyler Tremallose.. He is an American model who joined Staxus on their trip to the Caribbean recently shooting new scenes down there. First thing that I liked about Tyler was his sexy hair and he has a very cute face as well. Links to where you can find his work is at the bottom of this interview.
Enjoy my brand new interview with Tyler Tremallose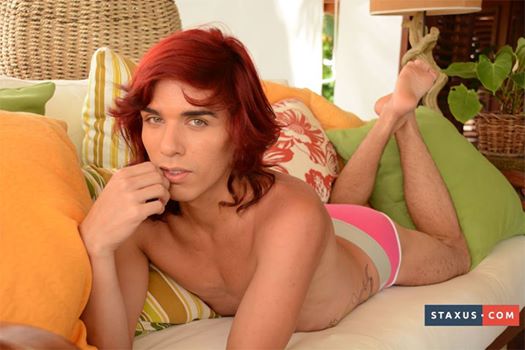 Tell us a little about your modelling history:
Well as the little sexual 17 year old I was at the time, I couldn't wait to be 18 so I could express that. The MOMENT I turned 18, I uploaded my first video to X-Tube.
I used X-Tube as a creative outlet to show my sexual talents. I did this till I was 20.
When I turned 20, I found a local company that was looking for models/actors. I quickly signed up with the thought that finally Ill have my break through, but it didn`t exactly happen that way. I didn't quite enjoy that company, but I was stuck by contract with them so there was not much I could really do. I felt a bit bad about it. However they weren't strict on their contract, but didn`t mean I couldn't film for someone else. I still made X-Tube videos but they had to be free, according to their contract.
When my contract FINALLY ended. I did a few photo shoots here and there with a few photographers and I got with 2 companies. Alternadudes and a new one called University Crush. So far I have liked them and have had non exclusive contracts with them. Although I have done VERY little work with them, I feel like the little work I did helped me in some way helped get me my filming credits with Staxus.
How old are you and where are you from?
Right now, I am 23 years old although I turn 24 in December 😀
Originally, I`m from California, but now I live in Texas.
Why did you move from California to Texas?
It wasn't really my choice. My mom was stationed in the military, in California so when she got out of the service, we moved to Texas, where she is originally from.
So who do you model for today?
I don't really have a set studio where I go to regularly. I have Alternadudes, whenever they ask me to film, same thing with University Crush. Hopefully Staxus will ask me to film with them again!
Although University Crush I`ve done more work with them than the other two, I just haven't seen any of it. I think they are waiting to post whenever they have a website up.
So you must have liked working with Staxus, tell us why and what you learned from modelling for them?
Yes! I LOVED it. That`s why I hope to film with them again soon.
Staxus is one that I've noticed they offer a diverse model field. I like how they don't have just one set look like most porn companies have.
Its always fun to switch things up, in my opinion.
Working for them really made me realize that working with a company thats organized, its much easier and less stressful for the filming process to unfold.
I`m one that likes to get a direct plan and know what`s going on.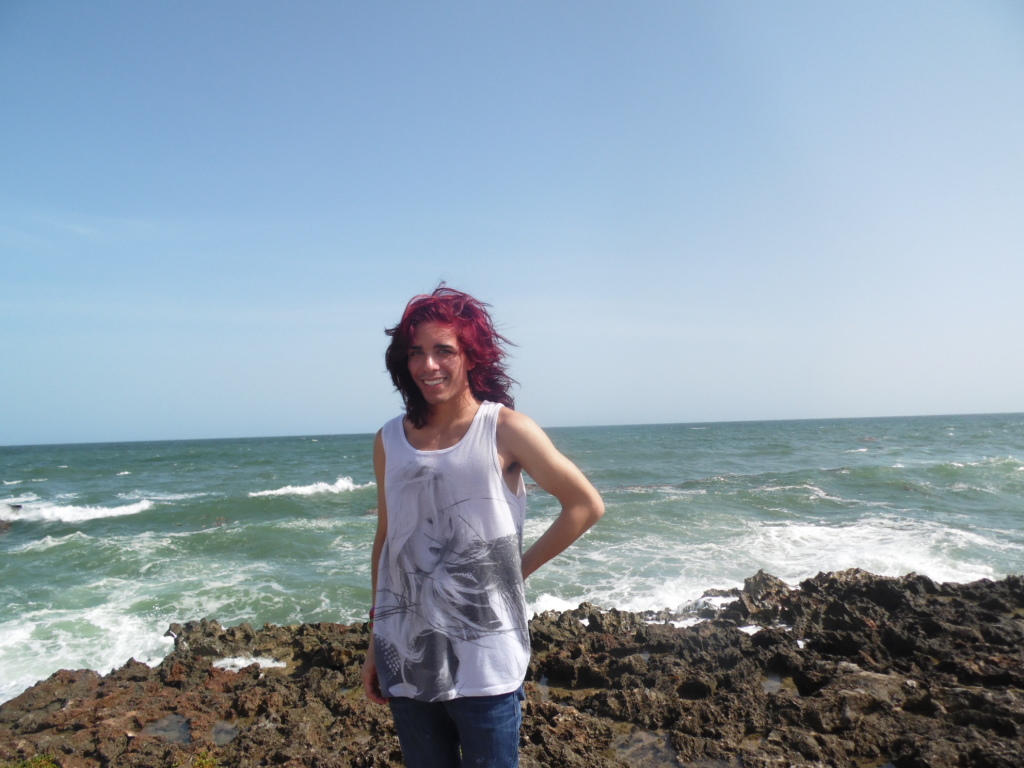 Who did you get to model with?
I would have loved to model with some of the Europeans but I didn`t have a chance to.
One of the guys was brand new model, Enrique Balboa. The other is Devon Lebron.
They were both Dominican models.
Have you seen any of the other models working for Staxus that you would like to have a chance to work with?
Oh my, you're asking a kid to go into a candy store lol
There`s a few. Here would be my top pick.
Chase Evans, Luis Blakeson, and if I were to top, Brad Fitt 😀
Hehe, why Brad Fitt?
Im pretty sure its his smile that captures me. He's just so cute and his body is perfect.
When I first discovered you it was your fabulous hair that caught my attention. Do you get a lot of others complimenting you about the same ?
Well thank you! I get mixed reactions to it.
Some say to have a different hair style, to have short hair, natural color.
Then theres some, like you that absolutely like it.
Although I do have more complimenting than people disliking it.
I loved it its gorgeous.. So what was your first impressions when you walked around in a porn studio or set for the first time? Was it different then you had imagined before hand?
I kinda expected it to be what it was. I didn`t think it would be glamorous, but I was still a bit nervous. As quiet and reserved I am normally, it was definitely a different experience being naked and sexually aroused while there is people just standing around watching.
I was a bit nervous at first, like anyone would naturally would be, but me being the person I am, I fought through that stage and quickly got used to it.
Now I can't wait to get on a set.
How was it to work in the beautiful Caribbean?
Living on an island myself, I`m used to the beach where I`m at, so it was a nice relief seeing something far more beautiful than what I see daily. Just being in a place where the culture is much different than what I was used to was beautiful itself. Everyday seemed to be an adventure of some sort. There was much to explore and see there and I wish I had stayed there longer to see more.
I didn't think I would miss being there but I really want to go back!
The Villa we stayed at was absolutely amazing.
Why do you want to work as a model, how did you come to apply as a model?
I just wanted to branch out from small into a better company. Both Helix and Staxus were two companies I`ve quite admired, although not so much Helix any more recently.
But I just really wanted to work with a well established company after being with small companies for so long.
So I went for it and I was surprised myself when Staxus accepted to me.
I thought they were messing with me at first but when I realized they were being serious, thats when I was very happy.
Although I didn't want to talk about it, because I feel like I jinx myself when I talk about things that haven't happened yet.
So I kept quiet about it until that plane ticket was bought.
What is the best thing about being a model?
I like the whole experience of being able to travel somewhere and meet new people.
So far, everywhere I have filmed has been a different location and has been in a place I have never been to before so I have quite liked my experiences so far.
Its taken me to places I would have never thought of visiting.
Then meeting people that I work with. The US companies I work with, I get to meet people that live in other states than me. Staxus I got to meet people from other countries.
So I would have to say travelling and meeting new people. Its amazing how this industry you can connect so easily with people from all around the world and work with them if it allows. That`s what I like best about being a model.
Where is your favourite place to travel to?
If I had the money, I would definitely go back to Europe. I quite enjoyed it when I was there a few years ago.
But In the states, I find myself going to California or Florida a lot. Mainly because of the Disney parks. I do want to visit Las Vegas again.
Mainly to see Britney's show again.
So you`re a Britney Spears fan, you will get along nicely with Brad Fitt then ..
Ah! This excites me!
I could always use more Britney fan friends. Thats one thing I quite enjoyed about Johnny Cruz. He is a Britney fan as well so we had a lot to talk about!
Had you heard about SmackyGirl before?
I actually came across the site a few weeks ago after seeing someone post about it.
I did a quick glance and saw a few model interviews on there.
Not entirely sure what the site is, but I would love to learn about it!
What work are you most proud of?
I think my Staxus scenes, considering they have been the most professional setting, I think that so far be my work I would be most proud of.
What did you spend your shoot money on?
As lame as it sounds, a new phone and credit card bills 😛
Is there any other companies you like to model for?
It would be my absolute dream to work for CockyBoys. Their guys just have a thing to them that is different than normal US gay porn stars.
Other than that, I can't think of another company to work for. Most likely it would be a European company because Europeans are my favourite 😉
But it is pricey to ship Tyler over the waters.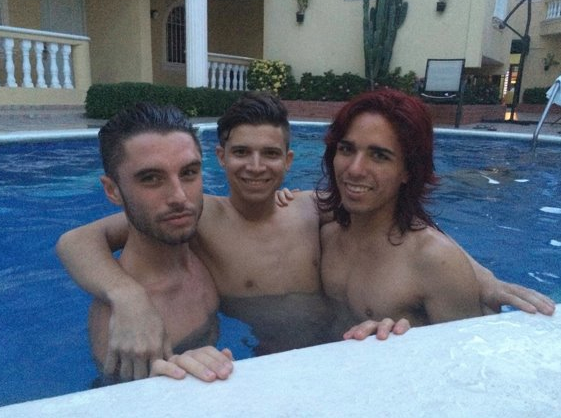 I like your name, how did you pick it?
You are probably going to think this is silly, but when I was in high school, when MySpace was the big craze, I wanted a unique name for myself. Something no one else had.
So I Googled a list of unique words that began with the letter "T".
I narrowed it down to the top 3 that I liked and Googled Tyler XXXXXXX and it turned out, Tyler Tremallose was the only one that had nothing come up under a Google search.
So I chose that so that only stuff about me would show up. Although that doesn't happen now since I have been much more active online since the MySpace days, but thats how my name came about! 😀
You have many followers on Twitter, did they come after you started modelling or have some been there with you all the way?
When I first created my twitter, it was just close friends that followed me.
Then I started reaching out to different people and just talking to random twitter followers and I slowly built a following.
I do want to say that they came after I started modelling but its been so long to remember. All I have ever known is having a large following on twitter for so long.
I guess I could blame MySpace for that possibly.
I had over 100,000 friends on there!
Although I didn`t talk to 90% of them but I`m not quite sure how I got a large twitter following.
It just..happened.
How important are your fans to you?
They are important to me. Its what would keep me going. I wouldn't be trying to do this if I had no support.
I do like connecting with them as well. There are some interesting ones that are quite fun to talk to 😀
So some have made a good impression?
Very much so! There are ones that I have gotten extremely close with, to the point we became friends.
What is your orientation? And are you single or taken? I bet you have both female and male fans who might wonder if there is a chance?
I`m gay.
I remember thinking in high school I was bi, but that one girl I dated, what a mess.
I have never dated a girl since then and will never. LOL.
I`m single too.
There are some that try and get with me, but I politely deny them. Maybe one day.
Unless its Britney Spears.
LOL
Haha, its seems all gays have one celebrity woman they would turn straight for. Is Britney Spears yours?
Fuck yeah!
As a gay boy, I do find her very sexy.
I would date her if I could.
Although I have to meet her first.
She did follow me on twitter, so I think there is something happening there.
😛
It looks like it, I had Justin Bieber following me, that was scary seeing the tail that followed after him and young girls started following me to. Whats your favourite Britney song then?
I quite enjoy when other Britney fans follow me. Its such a nice feeling being able to share thoughts about your favourite artist with ones that like the same person, although there are those super hardcore fans that I sometimes can't enjoy because they act like they know everything and are quick to correct lol.
My favourite song? Its hard to pick my favourited If I had to choose the top 3 I enjoy, it would be..Do Somethin', Mona Lisa and Get Naked.
What type of boys do you like if you one day find Mister Right?
I do like the boys with the piercings and tattoos. Not the sloppy looking ones, but the ones that have a more fashionable look to them.
Any guy that has a fashionable sense immediately wins my heart. Although, character has to play a part too.
Of course, I can't have the guy of my dreams since everyone comes with something you won't like.
But As long as they show that they care for me and accept me for who I am and what I do, then that would be the one for me.
How would you describe yourself in 3 words?
Unique, observative and friendly.
What a weird combination.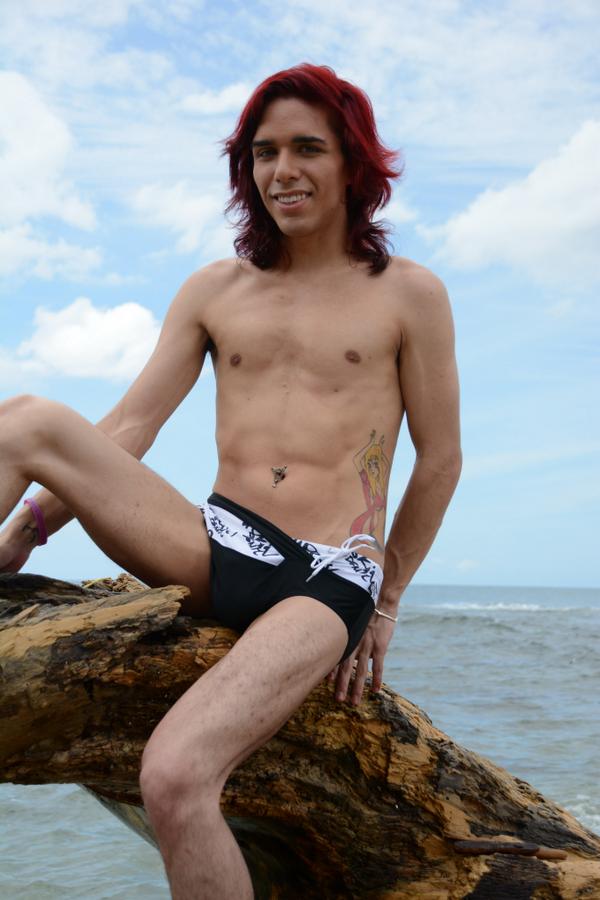 What other job would you like to have if you where not a model?
I would probably still be working at Ralph Lauren or some other retail job.
I would love to be a baker.
Or a personal assistant.
A baker? Why is that?
I went to school for culinary arts. It was a simple basic program. Nothing major. There was only a brief section that had to do with baking…such as pastries and I fell in love. I find making pastries took more skill and passion than simple cooking, but thats just how it was for me. I didn`t really like the cooking part. The baking part is what excited me.
You mentioned Ralph Lauren. Do you have a passion for fashion then?
I do want to become more fashionable in my life. I have friends that study it, and there is some interest to me. I would love to be able to style myself better than how I do.
What do you do for fun when you are not working?
Since I`ve grown up with technology, I`m always on the internet when I am at home talking with others or reading about fragrances, which is another passion of mine.
Not at home, I do enjoy going to the mall, travelling and going to concerts when an artist I like is coming to town.
What do you listen to besides Britney Spears then?
Iggy Azalea, Nicki Minaj, Madonna, and the new artist Troye Sivan.
What type of movies do you like?
Im not much of a movie fan as I once was.
But movies I quite like, when I do watch would be fantasy and thriller movies.
What part of the porn shoot turns you on the most?:
Theres two things. If the guy is hot or really cute, that turns me on and helps me do my scene easier. Or if we do missionary style as one of the positions. Which I warn any director reading this, do that last. Lol. theres a reason why I love that position the most and why it turns me on the most.
Have you experienced bad people working in the industry and how did you handle it?
Yes I have. No recently, but more or less the first company I worked with. I didn`t mention a name for that reason.
Just the whole company itself was bad. I just stopped accepting their offers to work for them and distanced myself from them.
There has also been the random small companies here and there that tell me Ill never get work because of how I look or my name.
Looks like those people where wrong then since the mayor Staxus wanted you. Would you be willing to work for someone who didn`t treat your right again?
That`s how I feel now. I feel like there is those that try and make me feel I won't be successful but I fight anyways to try and prove them wrong, which I have.
No I will never work for someone like that again. It only made me feel bad about myself.
Where does your limit go? What fetish porn would you not do?
I would want to try DP one day. I mean I've done it with my dildos that are considered "life sized" and ones a mold of James Deen so I`m sure I could do it with humans. Just haven't tried it yet. That`s about as far as I would go I would think. Anything else kinda terrifies me.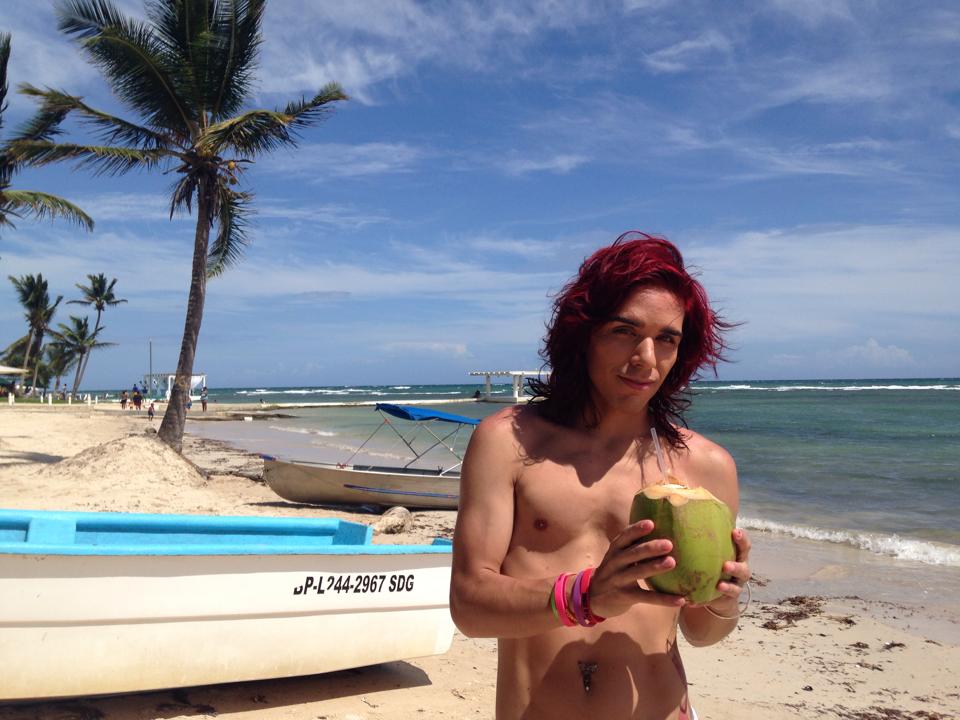 Which model was the most fun to work with?
This would have to go with University Crush. Although he is not a model with them anymore, his name is Dustin Knox. He's just silly and was really fun to work with.
Have you established any new friendship with other models?
Even though we don't live in the same country, I've become friends with Johnny Cruz and Kurt Maddox through Staxus. But through twitter and other social networks. I`ve become friends with Cody Cachet, Caleb Reece, and Sasha Peterson..to name a few.
Will we be expecting anything new from you in the future?
I would hope! I plan on doing more stuff for sure!
You might see some stuff produced by Dean Sage at some point
What do you recommend your fans should check out now that is published?
Even though its not one of my favourites I would say Alternadudes scene. Its a nice amateur POV scene.
Where can people follow you online?
Twitter is where I post my stuff first because I`m much more active there. Facebook would be second 😀
https://twitter.com/TylerTremallose
x
https://www.facebook.com/tylertremallose
So we have reached the end. How was it to be interviewed by SmackyGirl?
It was a nice interview! You are the first to interview me so it was exciting!
x
To find more about Tyler Tremallose
Click the Staxus picture

Cast your votes for your favorite to win a Prowler Porn Award
http://www.prowlerpornawards.com/vote/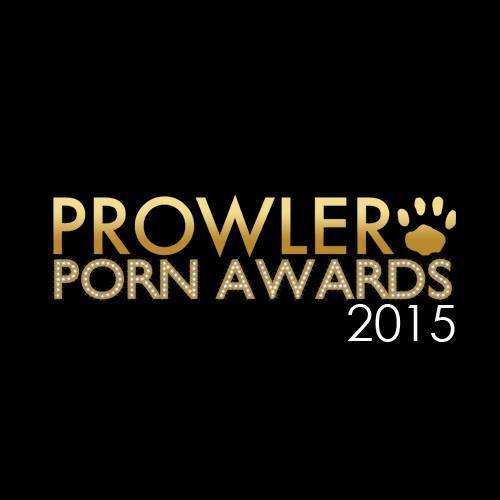 Follow us on: