I have this app that reminds you what you have done years ago based on your activity on Facebook, Twitter, InstaGram and so on. It is fun being reminded what crazy stuff you have been up to over the years and a bit scary not knowing what the app will update the next day. Today I picked out these two to show on my blog and try and make the story short of what went on when that picture and status was posted. Install the app on your phone too it is fun.
1 year ago MzSmacky Posted this on Twitter: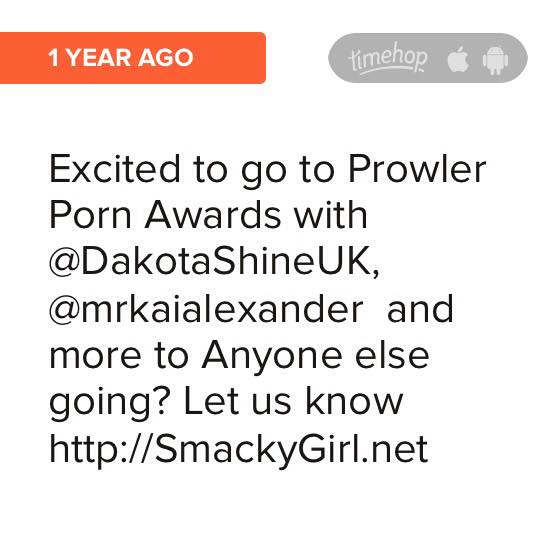 Today`s Comment:
This was last year and the first year the award was. Mister Bambi didn't make it thou. Which I hope he does this year. Not the same without my first blogger with me there. But this year I see so many new that will come and who was not at there last year. That only tells you that you can be very proud of yourself for what you have achieved in only a year, and some have even been in it less then that. And many are nominated for an award too. Thats something to be very proud of.  I can't wait to see who wins in the end.
Go Hugh Hefner…! Em, wait he is not nominated. Haha
---
1 year ago Smacky posted this picture on Facebook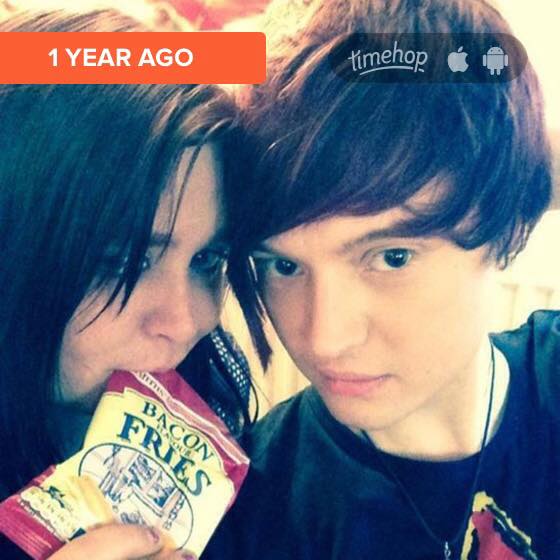 Today`s Comment:
That was a truly messed up day partying hard in the best gay clubs in Beccles, which is none. Well there was a bartender at the WeatherSpoons we suspected was, and Smacky tried to flirt with another guy with hot tattoos but when his girlfriend came in the door I thought it was best to pull back gracefully. Oh well, it was more fun that Dakota Shine forgot all of his boxers at the restaurant and also we forgot to pick up the train tickets for my return home which was the only reason we went to Beccles in the first place. But you know a few drinks later and so on, … dot dot dot.
Dakota and Smacky was like:
What tickets??? We have tickets? For what?
What do we need tickets for?
I don`t know? There was something!
Why you starting on me for? I`m drunk!!
And the shocking things that happen on that train back OMG that poor man next us. What do you call the Mile High club for trains? And it was the day before my journey. So Mister Gummi Bear had to put his alarm on silly o`clock the next morning and we went back and got em. Haha! And don`t think the cheeky Gummi went back to the pub once I got on the train to London and got more beers for himself. I get it it was 3 beers for the price of 1. You wouldn`t say no to that either. All thou Weaterspoon Beccles you make a shitty Strawberry Daiqiri. You`re suppose to mix it not make it two coloured and also crush the ice not serve it in large lumps. Other then that. Had a great time XD
The only times I need a holiday when I come home from a holiday is when me and that shit head are around each other. I went home with my head banging and hammering, and I dived in to my bed hugging it when I finally came home and sworn that I was never going to go back ever again, yet I always come back and stay the whole summer at Dakota`s. And also Christmas, New Years, Halloween, random trips every other month and Easter and spring breaks for over 5 years now. Damn it! Best friends are so difficult to stay away from even if they make you feel like you`re more dead then alive when you wake up after few heavy days "weeks" of partying nonstop. But it was all worth it. How we manage to go outside without a caretaker is a mystery. But our shrink to be left us to go to Uni, so we had to start doing this on our own…
x
I wonder what Timehop will have for me tomorrow..
Too be continued …
Follow us on: