Oh I am a happy girl, spoiled rotten as always by my husband. I have gotten my Christmas gift early this year. Dakota has bought me tickets to come spend Christmas and New Years with him. And to see the lovely lover of mine Tails again of course.
So 18th of December I am back home at my husbands castle and I do hope the time fly fast till then. Wonder what jewellery blingelings he is going decorate me with this year on Christmas morning. I`m always hoping for one of them pink diamond rings that Victoria Beckham has but maybe I should settle for a smaller size then the one she has, so I don`t set fire to Dakota`s credit card :p My gift for him is already in working progress just to make him a bit nosey by saying that.. He is a nightmare to hide present from, and even worse to have him wait till Christmas morning. You`re so impatient Gummi 😛
UK Christmas and Norwegian Christmas is a bit different because all our action goes on the 24th of December while in the UK its the early morning the day after. But thats fine I can adjust easily just as much and enjoy doing something different too. Can`t wait to see you and I miss you very much too <3
Very mushie we are..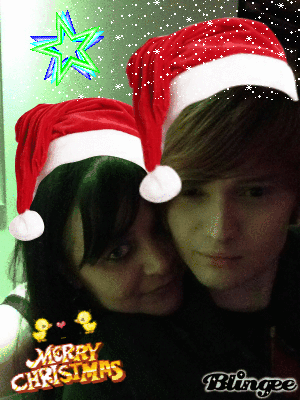 Now back to chit-chatting with my Tails and my Mister Gummi Bear, and watching Indiana Jones movies too. I`v gotten to the 3rd now and kinda figured out that you can survive anything in those movies its kinda funny really. :p I love movies I watch hours and hours every day and I rather do that then go out at do the whole party thingy, I used to but then I settled down a while ago and became a good indoor girl instead. Drinking every weekend, getting wasted and doing partying lifestyle is just not me any more. Rather a movie with Gummi and Tails and with some nice home made food I make for my boys like taco, steak. pizza or other nums then hangovers and hugging the toilette weekend after weekend. What people think they know about me is what they presume, I only share my private life with those who matters, so guessing who I am is what most people do and they fail terribly. And I let them, they are sad people who doesn`t have a single clue and makes me and Gummi laugh over and over again.. The facebook that most UK people are on is not my only or my real personal one, Beate is created for people who doesn`t need to be on my real one before they have earned it.. I have my other where my real life family and friends in Norway are on. And you wont find it nor will Gummi tell you because he is not on it either.. I like keeping business and pleasures separated.
Now I can`t wait to spend the holidays with my UK family, I been there for New Years but this is my first UK Christmas and I am really excited as I love roast too and Dakota`s mom my mom in law is brilliant at making it. I tried that plenty of times. She should open a restaurant with that, its very nice. And its gonna be a bit of a challenge having to wait till Christmas morning to open presents as we do it after the dinner and dessert on the 24th but I think I can manage to keep my hands of the gifts if not I`m sure Master Dakota will have a way to nail down naughty ladies and punish me again. XD
Hope UK gets snow for christmas thats something I`m gonna miss from Norway.. It makes headlines and several pages in the biggest news papers here if we get no snow and people get right depressed and doesn`t get in Christmas spirit without snow… We are a strange but rich, modern and very peaceful country. Might seem a bit selfish when the headlines and most important front page stories are about us having a mass depression due to no snow on Christmas eve in Norway when there are worse things going on in the world. But hey if they tried peace they would have the same luxury to read in the news as well.
Wish everyone a good Sunday
x Mrs Gummi Bear Smacky x
Oh btw a little extra add, I got some anime request lately for some new once that I don`t have here and Ill get to my supplier and see what I can do, anything for my biggest followers <3 I love you Yaoi Smacksters you know that and of course you get what you wish for if I can get my hands on it.. <3
Follow us on: