I`m really laying in it with the flu. One thing is having the flu generally and that it makes you feel like shit. But then you have all the known signs that you really have the flu such as:
When you lay down on one side where one side of your nose always gets plugged, and if you turn on the others side it clear up on that side but corks the other side again.
But oh wait I think trying to roll over and lay on my back is a smart idea. I`ll be damned.
NOPE now both sides will get jammed up. If you can fall a sleep breathing with your mouth open because your nose is too plugged to breath through then you are one of the few lucky ones because I can`t sleep like that or falling a sleep on my back in generally flu or not.
And then when you have managed to calm down in bed, and you have nearly fallen a sleep but you get that tingling feeling in your throat. That is nothing but a cough attack about to happen over and over again, all night, until the very early morning and you look like your dead, but you`re really just exhausted and wish the flu would let you sleep at least.
But if you do fall a sleep you`re gonna have really weird fever dreams that makes no sense in any way! And you`re gonna lay chopping you teeth full of fever, but in the next minute you are melting in bed and you know taking of the duvet is a bad idea when it makes you freeze again with a 100 degree fever temperature.
And then there is eating. No matter what if you could have it all you ever wanted to eat no matter the cost. For a few days, a week or two depends on what kind of flu from Hell you have gotten. Your food is gonna taste like dry grass. If anyone put a blindfold around my eyes and had me taste the difference between grass and a jalapeno today I would of said they had me eat grass twice because I can`t taste anything.
We`re always told to drink a lot of water when we are sick with the flu. And I believe that is effective so I do as told. Only problem with that is when I am trying to get some rest but I gotta be up constantly in the restroom powdering my nose.
And then the cough that is gonna stick with you for much longer after most of the flu is gone and walking up hills and out in rough weather is still gonna be for professional athletes not those who thought they been cured from the flu 2 days to 2 weeks ago and forgot it puts you back to Zero when it comes to being in shape.
So thats Smacky`s life at the moment. But on the plus side some people will wake up with a hangover in the morning and some of those are still million times worse then having the flu.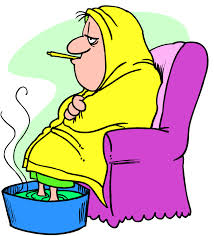 Have a Good Night!
x Smacky x
Follow us on: