Nearly every early morning I go to the Shell 7-11 petrol station just up my road to get the morning paper and sometimes breakfast to go. But sometimes I also grab a interesting magazine with me home. Most of the times I end up with some girl fashion and lifestyle magazines, but also very often I go home with some nerdy science or historical magazines. It all depends on what front page covers appeals to me the most.. I have a really weak spot for history, science and astronomy news. But the thing with Norwegian petrol stations and how and what magazines they sell and how they are placed is the same in every food shop and in every petrol station.
At the bottom on the floor you have all the kids magazines so that the shops can force parents to pay for magazines wrapped in plastic covers with toys in them that the little ones grabbed while their parents wasn`t looking and opened them. The second shelf right over that is the female magazines such as housewife material with baking, knitting patters or pregnant magazines. Then the fashion, lifestyle, wedding, beauty and home decorating magazines. I don`t know maybe the shops thinks of height as well when me and the kids have to go down to floor level to pick up the magazine we want. I am taller then some men. Jeez. Anyway. Then we have the sections above where the really popular ones like Vogue, Bride, Elle, Cosmopolitan and Style ++ are. So now we are closing in to were my post is going. The next shelf are magazines for men such as We Men and FHM, the usual nerdy ones that I like to buy are together with many magazines about MC, cars, boats, sports, fishing & hunting or similar magazines like that are placed with the "men" section.
The next shelf above is when I have straighten my bowing head and I look straight forward. THERE We go. Here comes the hunnies and the babes that unfolds themselves in what is called g-string but to me its so tiny it can only be called a sowing thread. And these babes are winking at you in the most sinful positions and facial expression to draw your eyes and attention towards it. Its impossible to not look if the photographer has done his job properly. This is a trick to get men to buy the magazines if they want to see what the center pages might uncover of these eye candies..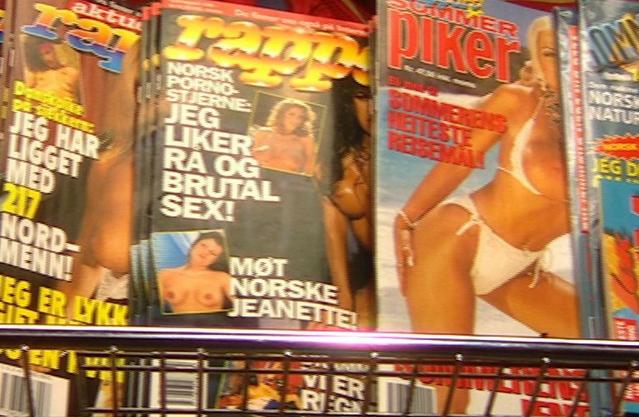 Jokingly I think John Smith has been here! So far there there is only one photographer in the industry that manages to draw me in to the whole picture totally and that is Staxus`s John Smith. The way he photographs makes me want to not only look at a hot guy but also how beautiful John has managed to capture the moments and make the perfect set around each and every photograph he takes.. You know some restaurants have a reputation saying their food is made with love.. I can say the same thing about John Smith and his photographing. Each and every one of them is capture by a man with a passion and love for his job. With that recipe you get remarkable photos. So when these babes draws me to it I think this is the "John Smith style" since I want to look closer. You don`t just only look at a John Smith photography to eye up the guy in it, you study and enjoy the pictures for its whole perfection and professional quality. I think he is a little bit like the Christian Grey character in Fifty Shades of Grey, he likes things to look perfect and in order to make a good product.
All magazines in Norway are covered with plastic now. They didn`t used to be, but people used to stand in the shops 24-7 looking in them and not paying when they were sold without the plastic covers. So I get it these magazines are not a charity and need to sell to survive.  Just like I link people via my blog first if I am advertising someone else. But these front covers are what is going to be the most important detail when it comes wherever they will sell or not. Just like I know that my headline for this post will attract some people thinking that I have posted a picture or done something scandalous, and they will click on it not thinking that it is a metaphor. And for me as a blogger this is just to trick to get you to click on it. Its a simple thing to trick people for us who know business and what sells.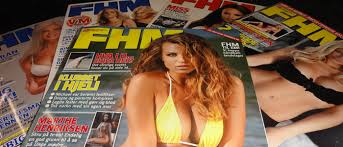 I know these magazines must sell a lot since they get such a prominent place on the store shelfs when my head is no longer bowed downwards looking at all the other normal daily life magazines. I have never in my life witnessed anyone buying these magazines at the gas stations or other shops when I have been in them. Only in pure sex shops. My guess is that many truck and trailer drivers buy them. Which is understandable. Being on the lonely road doing their job must make them miss company and their families at home. I don`t think people should judge their partners that do this. They of course would rather be home with you and their family. But when you drive for miles and miles to make a good income for their family and themselves and they get lonely and wants comfort and company, let them have their porn magazines. I don`t know why I have never witness anyone buy these magazines when I am in the shops. Maybe people wait till no one but him and the guy behind the cash counter is around to buy their naughty magazine in peace and quiet. Which I totally understand as anyone would eye up a guy and even so more if it was a girl buying this magazine no matter how much they say they do not judge others, it is still shocking to the population to show that side of us in the public. Porn is privacy and something we don`t share with others. Just like we don`t share our passwords and bank account details with anyone.. Its a shame, people shouldn`t have to buy these things after dark and when no one is around. There are worse things legal in this world that goes around unpunished then people who wants to eye up a perfect shaped naked body. We are born naked and we are all naked under our clothes.. Don`t see why people still judge.
Modern Society my ass, I think we are being fooled.
Anyway I am nosey! That is human. I am not bisexual or have any drawn towards girls. But because society still is judging and saying these magazines are disgusting and you have them right in front of you like this in a public shop, I want to look because I am a rebel and I find this completely normal. I would have to in my job. Or there would simply not be any SmackyGirl.net with hot boys on.
But you know what, it was only me and the cashier in the petrol station this morning. They all know me up there and they are lovely boys and girls working there who recognize me as someone living in the neighborhood and a customer who stops by often. So they say hello, good morning and a few of them even throws a joke or say more then that because they have seen me in there often getting my smoke, news. Or I have wobbled in at 2-3-4-5-6 am in the morning with my friends drunk, hungover or just hungry getting everything from as cheeseburger to breakfast in the middle of the night. They also know I have a tradition every payday when I stop by to get Ben & Jerry`s. Which even people online has notice I do every month uploading pictures of my ice cream breakfast. So you can say they have gotten used to my face. And since people who runs shops love seeing costumers come back, they will eventually recognize you and say hello.. That is for those who still are bothered to sell hot dogs every day and still work there
So back to Smacky taking a peek on the naked girls magazines.. In Norway we have mostly only the biggest ones only. As we`re only a small country and not everything will sell. So they import what they know will earn money like Danish Lek and Cocktail, Rapport, Hustler, Playboy and the mix/match magazine; We Men or FHM, who does both useful informative articles but has a new center girl every week featuring in the magazine as a treat for those who buy it. So even though these magazines often have articles that will interest me the front covers or the tittle of the magazine says it is aimed at men mostly, specially when you unfold the center pieces in FHM or We Men.
You know when you are standing with your back against other people but without turning around you know they are watching you because you can feel it on you? Yea I knew the guy behind the cash counter was. And as I am the only one in the shop they gotta watch the costumers without us needing to feel offended or targeted. Still people steal from shops. So I don`t mind that they watch over their property. Honest people like me usually doesn`t mind. Sure a thief however would feel targeted. I don`t. And stealing a dirty magazine is something so useless that is nothing you REALLY need to make yourself a criminal over. Anyway I know my head is in a straight position and he has probably worked out already what magazines Smacky is looking at so he doesn`t need to catch me with my pants down further asking jokingly if I am finding something interesting with a grin on his face.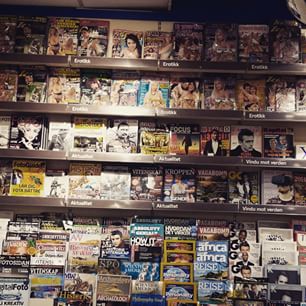 Blushing is not just for the inexperienced, but also for experienced porn bloggers who isn`t usually worried about what people might think of what I do in here. But you know when you get caught "WITH YOUR PANTS DOWN" like in that way and your ears go really warm like they gonna fall of, that is how Smacky felt this morning. So OK Smacky, how are you gonna get out of this one gracefully without being thought of as something "not going to specify" when I leave the shop with my dignity still intact.
There are no gay magazines in that petrol station. You need bigger magazines shops for that in Norway. So me thinking desperately "Staxus Magazine where are you when I need you?" There is only one reason for that: There are none. I need to speak to Dennis about this. LOL At least then I could of had tons of excuses ready  "I just wanted to see how the family is doing" etc…
Picking up a Cosmo as a excuse now seemed so boring compared to what I am caught looking at. Most of the time when I was looking I was thinking OMG what sluts my boys can do better then that! And what is the point of that tiny g-string? Its not actually covering anything except what the law tells the magazines to censure for the daily market shops to be allowed to sell them.
I am glad it was only me and him in the shop. And anyway they are trained to be discreet around these things so I doubt he would of said something if there was others in there.
But jeeze can`t you just let me look at mah babes in peace please 😛
Thanks for the baguette thou<3 Always lush for breakfast. Be back Friday for my Ben & Jerry`s. Maybe Staxus Magazine will be published by then <3 I can always dream.
x The Girl Looking at Cover Babes in Dirty Magazines x
Follow us on: