I had a drink tonight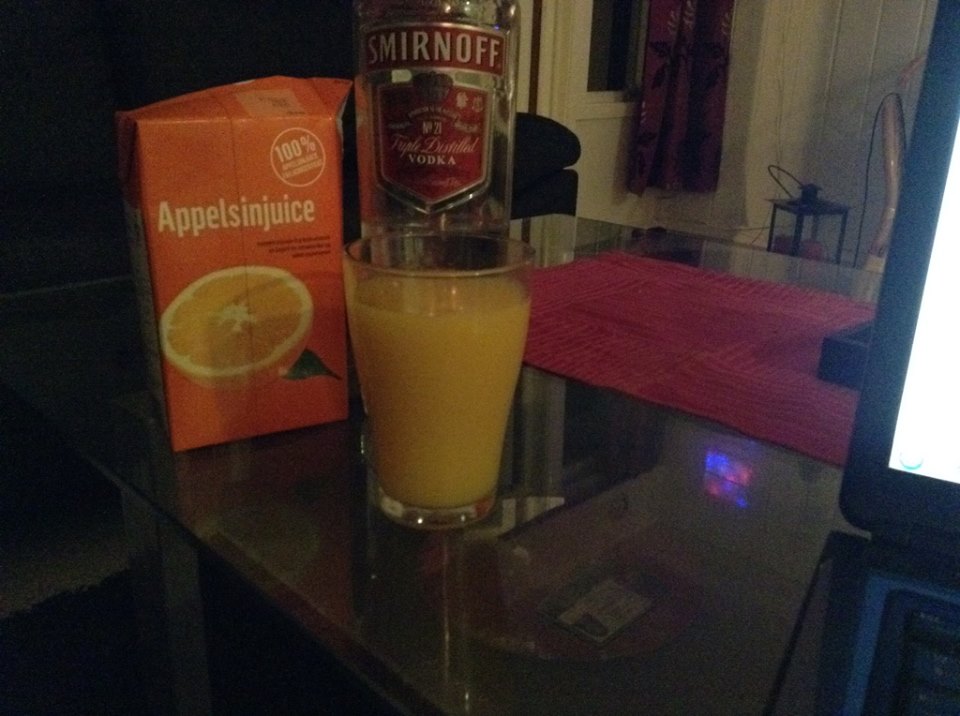 And then Dakota Shine`s mom decided to share some luv on my wall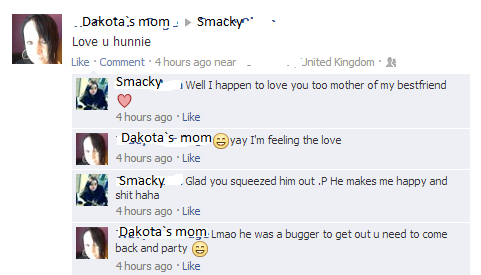 And before I knew it I proposed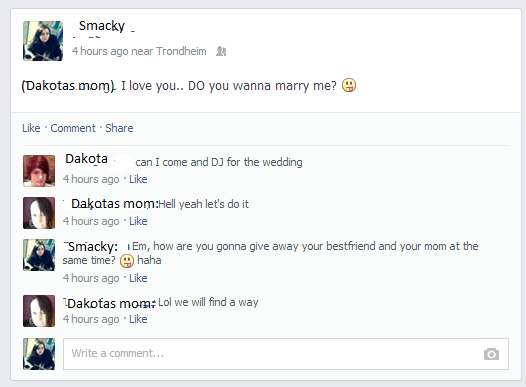 And un the next second I was married

Cheers to a wonderful woman, mom and friend.
Thanks for squeezing out my best friend. I be lost without him.
Hope you all have such amazing people in your lives as I do. Those who never can be replaced.
Those who really care for you regardless of how you mess it up, the bonds grow stronger after every challenge life gives us.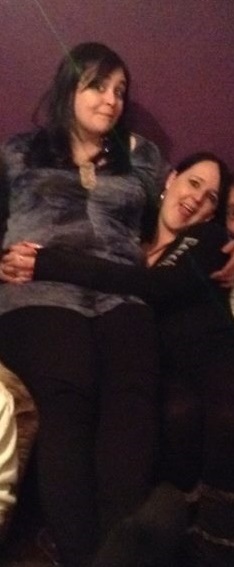 I AM WHERE I WANT TO BE NOW
I had a very good evening today. I have made some choices in my life today that feels very right for me at the moment. These choices should of been made a long time ago. But now that I have finally made them, I feel as if a huge stone has
fallen of my shoulders and I that can finally breath in the fresh air freely for the first time and nearly feel reborn again. I feel no regret or grief because this is for me to grow as my own person and start my own journey without having to try and be someone I am not, for someone else. I am my own person with a heart, a mind and a soul. I am free as bird, and the love of my friends and family that I have around me, makes me so much stronger and more confident now then I have ever felt before. I needed to open the door today, and walk out of it. Walk away and look forward and not backwards. I need to think positive and move on with my life. And now knowing that I have friends, both new and old in my life that really loves me and truly cares for me has made my choices more simpler to make. Even if I fail I know that someone will be there and guide me and help me make it right again. Those people in my life today they make my future look so much better and brighter for me then ever before.  I can start believing in myself and my dreams again. I am never too old to chase after my goals. I am so blessed to be with and among the best people in my life at the moment that I don`t have words for how thankful I am to these people. Only my smile or tears can speak my gratefulness to those people who helped me see, that there was a way and a better one too for me.. I am someone and I have a identity. I am loved and dare to love them too, and show that I love them as well.  I think I found a path where I want to be in my life now.  And who I want to bring with me on my road is those who never judged me or tried to make me be someone I don`t want to be or could ever be.. Every one has a right to live their own good life and to write their own story. Give people compliments as often as you can. If you give too much bad reviews and pick on the smallest details. That can destroy a person for a life time and it make us uneven and full of doubt in ourselves. Giving critic and hurting are not good neighbors. They leave us with a low self esteem and making a person feel worthless and that they never going to be good enough for anyone and just copy of what we want them to be. Let people write their own story.
GOOD NIGHT EVERYONE
Love and Hugs
Smacky
Follow us on:
FACEBOOK
TWITTER
Follow us on: