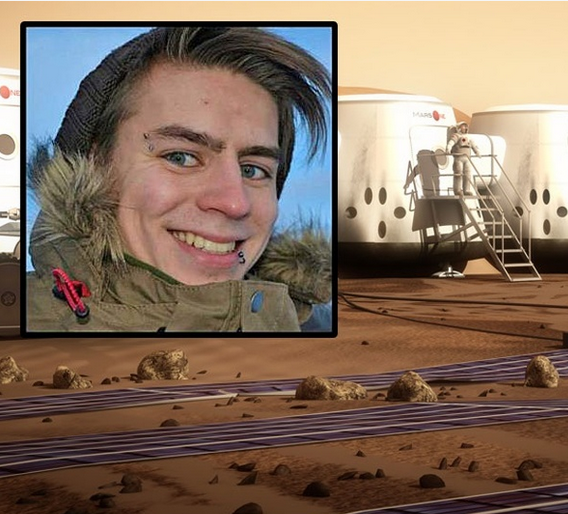 (Reposting from Tv2.no, translated by Smacky and Google)
Robin (19) flying towards Mars
Robin Ingebretsen from Stavanger in Norway is closer to going on the first journey to be the first humans to settle on Mars. The expedition March One are plans to establish a settlement on Mars by 2023. Over 200,000 people had applied to be in on this mission when the application deadline expired last fall, including 686 Norwegians.
When the first election was over by New Year there was only two Norwegians left among the 1,058 people who had gone on to the next round. Now the second round has just ended, and Robin (19) from Stavanger is one of the 705 people who have passed the last hurdle before gravity starts.
– It is absolutely crazy that I'm the only one in Norway that is left. It was a special feeling when I heard it, but this is a childhood dream, says Ingebretsen to TV 2.
The world's biggest TV reality show
Now the Mars One expedition is in a new phase, where the participants that remains will be exposed to a completely different and more comprehensive way than before.
Mars One has recently signed an agreement that lays the foundation for the expedition and will now become the world's biggest reality show on TV and online.
Already in the next round Ingebretsen risk that everything about him will be filmed and distributed.
– I've been told that Mars One has appointed a special committee which will now be interviewing those who remain. In addition to medical tests which will form the basis for the next round deflection, says 19-year-old.

Should be ready in two years
It was in 2012 that the Mars One project was launched and it aims to send humans to Mars to establish a colony there.
According to the plan, the participants that are now screened out so that it will be between 40 and 60 people left in two years who gets to be the first humans to populate the planet Marsh.
Thereafter, equipment and robots will be sent to Mars in 2018. The robots will be putting up housing units, solar panels, battery systems and other necessary equipment.
Then the first four volunteers are to land on Mars in April 2023 and will after that continuously send up four and four more until the first phase is over and the colony consists of 24 people.
– I'm not nervous even though there is a greater chance that exactly I should be involved, says Ingebretsen.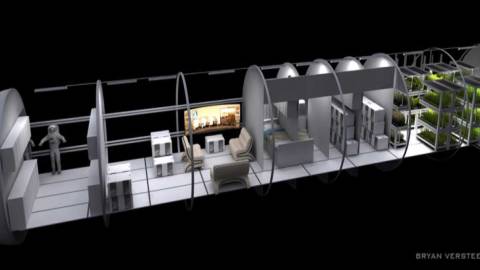 Will be interviewed
He says that although his family is sweating a little that he is still with this operation he also experiences that they support his decision.
– I am very excited about what will happen now. Within two to three months I will be interviewed by a committee chaired by the Medical Director for the project. Where I hope to display my strengths, he said.
Ingebretsen exercises regularly strength and stamina, but believes the mental health also will have a lot to say.
– I have the nerves for this, but obviously hope that I do not screw it up when everything is going out on TV and online. There is a quite scary dimension to it all, he says.

A Norwegian-Canadian is also forward in the Mars One mission
In addition to Ingebretsen is also Norwegian-Canadian Eric SeedHouse (49) further. He is originally from Sandefjord, but resident in Canada.
The 49-year-old is a graduate researcher in aerospace, doing extreme sports and has also written a book about to settle on the "Red Planet".
The most important partner to Mars One is Lockheed Martin, which will utilize the project to develop new aerospace technologies.

Extensive tests
March One is now going to test the remaining participants so that they are well prepared when they eventually end up picking out the final candidates.
– The next two years will be thorough simulations and extensive testing of the physical and emotional aspecting among candidates, says Norbert Kraft from Mars One, to TV2.
– We want to map everything about these people and understand why they want to settle on Mars and how well mentally ready they are to implement it, says Kraft.
Robin is looking forward to this challenge and think he should be fighting to go further on.
– I think and believe that I am ready to travel to Mars, he said.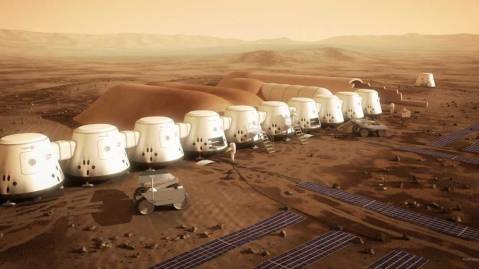 Will stay in dangerous environment
The departure from our home planet will take place in 2022 and seven months later, the spacecraft have covered the distance and the crew can start their new life as "Martians" where they are scheduled to almost be a human answer to Adam and Eve.
– They will stay in a dangerous environment and potential parents need to ask themselves if this is the right time and place to send their loved ones, says managing director of Mars One, Bas Lansdorp.
The crew of the first spacecraft will consist of two men and two women.
– The groups of four and four will be joined already in 2016, and they will stick together during all training and exercises so they are  well known and trust each other, says Ingebretsen.
Two years later, the first four will be joined with others when spacecraft second arriving with more astronauts in conjunction with the colony expanding.
Thou, there will be more company for those who are already there and the life on the red planet doesn't get so lonely
The Long-term plan is that the colony on Mars will be self-sufficient and not have to be dependent on supplies from the home planet.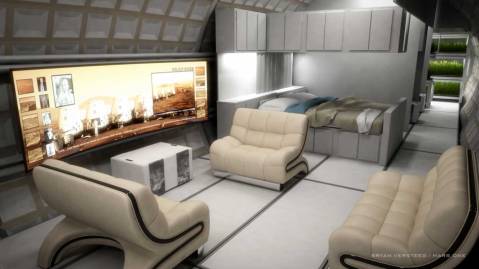 Probably going to have a crematorium
March One plans to start training of future Martians in 2015 and Lansdorp is clear that the Martians may be able to influence more decisions.
Among other things, what happens to them after their mission on the red planet is over.
– There will probably be a crematorium there. It is up to the people on Mars to determine what they will do with their dead, says Lansdorp.
The journey to Mars is a one-way ticket. Taking the place of the spacecraft means it is no going back to Mother Earth.
Can withdraw at the last minute
March One has also opened for others to get into the selection process at a later period. With so many contingencies, they need to hedge against sickness, death and apostasy from the participants along the way.
– I can withdraw from this mission until the very last minute, but then the other three in my group will have to start all over again so it is hardly appropriate for my part, says Ingebretsen.
– You can even get fired so far into the process if they didn`t find you fit for this mission, but If I get that far, I hope I will manage to go all the way, says the Norwegian 19-year-old that may be historical.
Facts about Mars One:
– The crew on the space missions will always be of four people on each trip, two men and two women. The journey from Earth to Mars will take approximately seven months.
– On the first trip, the goal is that all four are from every continent. The selection of the 40-60 participants who will occupy the first 24 spots to go to Mars to be completed by 2015.
– Then you will get seven years of training where they will be able to fix everything from cooking to repair sophisticated equipment to be installed on Mars.
– A portion of the funding is to sell the TV and online rights to the project. March One will be the world's biggest reality series that will last at least ten years.
– Everything will be filmed and posted. From the last round of selection, to training, preparation, trips with equipment, separate live cameras on Mars, and especially following the seven-month long journey through space for the first four to settle there.
– March One has a budget of approximately 36 billion Norwegian kroner.
– The atmosphere on Mars is thin, the temperature can vary between minus 120 and around zero degrees in the summer.
– The seasons last twice as long as the earth and the residents have to go with spacesuits when they move outdoors.
– The units will be about 50 square meters with communications systems that can transmit and receive video greetings from family and friends on Earth.
– March Ones aim is that it should stay 1,000 people on Mars in 100 years.
– There are at least 56 million kilometers to Mars, 146 times further than the Moon. Since both Earth and Mars moves vary the distance, the maximum is the 401 million kilometers away.
– The journey to Mars will take between 150 and 300 days. Travel time is dependent on how the two planets are in relation to each other when the rocket is launched.
– Mars is the fourth planet from the Sun in our solar system, and is often described as the Red Planet due to its reddish appearance. Mars is about half as large as Earth in diameter.
– Of all the planets in the solar system are seasons on Mars most like Earth, because the slope of the rotation axes are very similar.
The seasons are twice as long as the earth since the orbital period around the sun equals 1.88 years on Earth.
Surface temperatures range from an average of minus 87 ° C in winter at the poles to minus 5 ° C in summer.
* x *
SmackyGirl wishes Robin good luck in the further tests and when the day is here we wishes everyone a good trip to Mars and Team SmackyGirl hopes it will be a free and peaceful planet where all colours and and the LGTB community is accepted and can live in peace together without war and hating on each other. I really wish I could join ya and if the chance offers I`m out of here too <3
Follow us on: