On twitter today there is one hash tag that is trending #Ole followed with Hurricane in Mid and Northern parts of Norway.. He is shaking up my house real good today and is a really loud hurricane. Everyone is adviced to stay inside. Which I tend to do as I sadly can't leave the house anyway. But for others who loves storms just like I do. I found a  few pictures and video of how Ole is behaving in Trondheim today. And here it is only  categorized as a strong storm. Up in the norther parts of our country they are feeling Ole as a really bad hurricane. With over 50.000 are now isolates, with no signal on phones, the helicopters not taking off if emergency happen, the ferries are not going and at many the electristy is gone. As the media reporting is on batteries covering the storm i the news. There will sadly be much damages on a hurricane at this level and many have already reported there is, but we will know more when the daylight comes, just hope no lives are lost and that everyone stays safe till Ole is finished. Ole has taken of with our flag pole, containers and anything else he can carry from my street. Still got power and internet, shuldn't of said that it jinx it. He rumbles and shakes in my windows and walls. Haven't seen such a bad hurricane since the big damaging one in 1994.
And here are some pictures from Trondheim and around nearby right outside Trondheim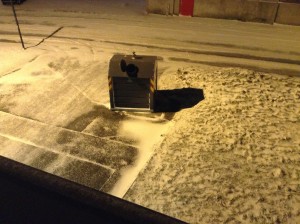 Ole redecorating the containers outside Smackys house. Video below is my own from very early this morning when Ole first came to visit.
Follow us on: