There are many things that Smacky are interested in. Today I am mighty impressed with the Norwegian chef Ørjan Johannesen who won gold medal in world championship for chefs. This is also good for Norway to show of our first class local food. You can't win a more prestigious chef competition then this. And Ørjan has spent over 3000 hours training and rehearsing for the competition. We know we have first class food here, hence why its so expensive. To be anknowleged like this is big for the winner and Norway. We're proud!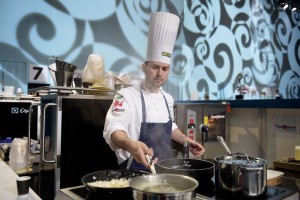 I didin't dare to try and translate this. But borrowing New York Times description of the menu. Just to make it correct
"The Norwegian team's seafood creation included a loin of cod with lightly smoked scallop and cod belly, green pea spheres and brandade, a Playmobile-like construction of peas, prawns and onions; red beet cube with Jerusalem artichokes and black truffles; potato and leek with quail egg; and reisling and horseradish emulsion.
For its meat creation, it served beef ribs with duck foie gras; tenderloin with black truffles and oxtail with celeriac; parsley root with spinach and glazed ox cheek; green beans and artichokes; a brown onion pyramid; potato, black truffle and bone marrow; and beef reduction with bay leaf and parsley." (source)
And here is a few pictures. the winner menu.
Congrats Ørjan and his team on the victory. It looks absolutely heavenly.
Follow us on: