x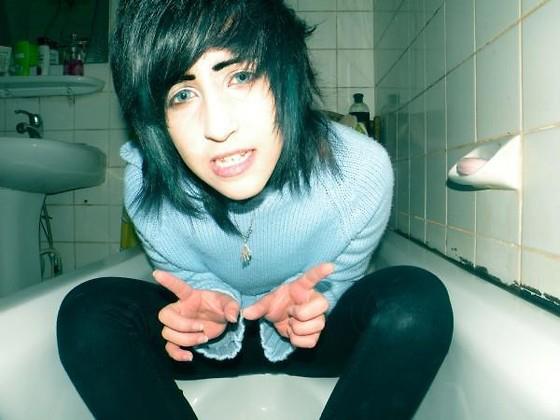 Niko David
How would you describe yourself in 3 words?:
Creative. Intelligent. Loving
Where are you from?:
Brazil
How old are you?:
21
What is your favorite place to travel or would like to travel to?:
I'd love to go to Italy or Sweden a lot.
What are your plans for the future?:
I like to take things one day at a time, but my ultimate plan is to be happy doing whatever it is I do.
What is your favorite movie?:
Gremlins. Giz-Giz all the way
Have you ever done any modeling work or been offerd to do it?:
I've been offered modeling work and I have done some in the past.
What is your orientation? Are you gay/straight or bi?:
Bi
Have you ever been with a girl?:
Once a long time ago.
Are you afraid of the dark?:
Not at all.
Are you religous?:
A little bit.
Who was the last person you kissed?:
He knows who he is 
What do you mostly spend your money on?:
Vegetarian Pizza and canvases.
Ever kissed anyone over 40?:
My mom? Not in a romantic way of course.
Are you a cuddly person?:
I looooove to cuddle! Cuddles for me, plx?
What does the 8th text msg on your phone say?:
"Come outside!"
Do you dance?: I love to dance.
Do you own any make-up?: I own a lot, I don't wear it much anymore though.
Are you afraid of spiders?:
Those big ones in arachnophobia scared the hell out of me when I was younger.
Do you still sleep with your teddybear?:
The cat took my teddy bear
Have you ever been drunk on cider?:
No, but I love cider.
Do you have a favourite artist or a band?:
Right now I'm head over heels for The Catholic Comb.
Who is the most important person in your life?:
He knows who he is
What do you first notice on a boy/girl?:
Their teeth and hands.
What was the last thing you bought?:
My mums Christmas present.
Where did you last get a hug?:
Outside of the apartment.
What does always make you feel better when you are down?:
Listening to music or having long talks cuteroulette.com as well.
Do you like someone right now?:
A lot
What do you want for Christmas?:
Hmm… I don't know. I haven't really thought about that.
*
If you had to select ONE of this what would it be?You can only pick one.
Summer or winter: Winter
Chocolate or Sex: Chocolate
Beer or Wine: Wine
Rock or Pop: Rock
Boys or Girls: Boys
Andy Six or Alex Evans: Six
Thick or Thin: Healthy
Many Children or few: few
Facebook or Twitter: Twitter
On top or On all 4: This one was hard… Top.
Candy or a Kiss: Kiss
Sleep naked or in Pajamas: Boxers
Bath or Shower: Shower
Kitten or Puppy: Puppy
Nightclub or Pub: Nightclub.
x
Cast your votes for your favorite to win a Prowler Porn Award
http://www.prowlerpornawards.com/vote/