So many have asked to see my Goodbye speech I held at Jay`s funeral, so here it is
My Dear Mister Gummi Bear
(( "Find light in the beautiful sea, I choose to be happy
You and I, you and I, We`re like diamonds in the sky
You`re a shooting star I see, a vision of ecstasy
When you hold me, I`m alive
We`re like diamonds in the sky." ))
That was our song that you always wanted me to sing for you. When I sat down to write my last goodbyes to you dear Jay I found myself for the first time in my life lost for words. I have so many memories with you it would fit a whole book not on a tiny piece of paper saying my goodbyes to you. You were my world and my life since the first day I met you. You lifted me out of the dark place I was in and made me feel like I had a reason again to smile and wake up in the morning. Knowing that your friendly light voice was going to be the first thing I would hear in the morning saying "Good Morning wifey", and the last voice I heard going to bed saying "Good Night Smackelina I love you I miss you come see me."  And how you always said all that in one breath. That was always after spending hours and hours on Skype together if I wasn`t there to be with you in real.  And when I finally came to visit you, we could stay up to silly o`clock in the morning in your room chatting about everything or we opened up about our deepest secrets and shared tears and care for the story we had to tell one another.  How do I describe a person who gave me so much memories and wonderful moments in his life on just this little paper. There are not enough words for how wonderful my bestfriend was. He was my most irreplaceable diamond.
(( "I'd promise you a heart, you'd promise to keep
Kiss my eyes and lay me to sleep" ))
You used to sing this song to me and often Jay sent me videos of him singing it when I wasn`t around. It meant that he was missing me. Today I stand here with a tattoo on my arm that I have had done in your name saying:
"Until we meet again, in my heart is where I`ll keep you, friend"
Jay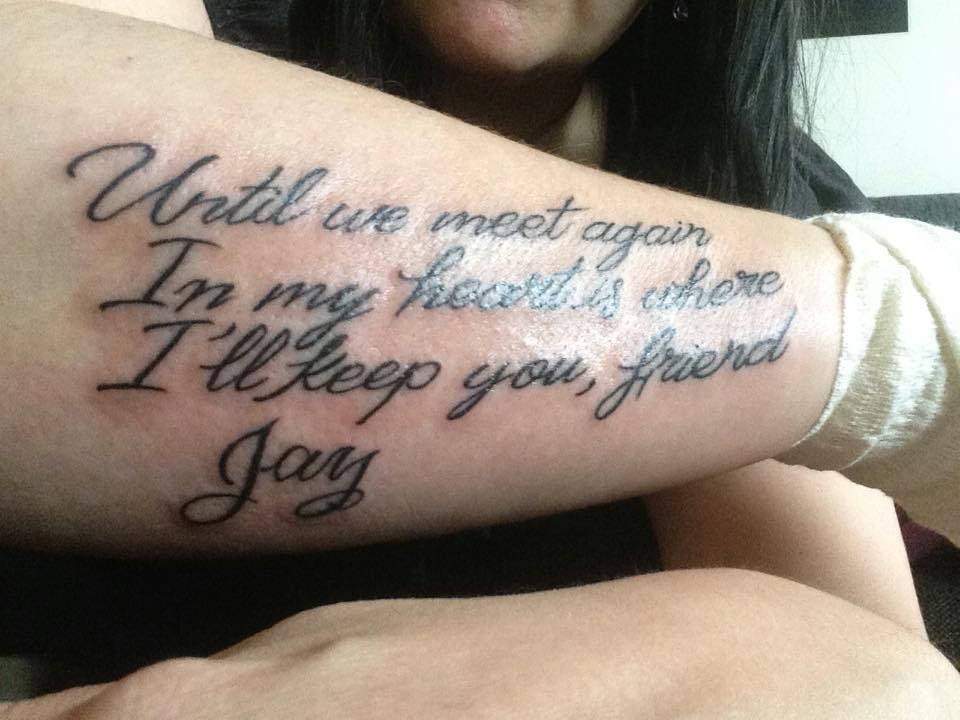 And that is how I feel it. We will met again. But till that day comes I have wondered how do I pick up the pieces and move on after loosing the most precious friend you were to me? When I stand here today looking at your beautiful mother and your wonderful siblings I see so much of you in them of how you looked and how you were. When I look at your friends and loved ones that are here today. In everyone eyes I see the same thing in them that I feel inside me.  We`re going to miss your laughter and smile so much in our lives Jay and things are going to change now, and it is going to be very difficult to get through the days without you in our lives.
I also bring goodbyes from the world that you and I shared and worked in together. Many have asked me to express their deepest condolences to Jays mum and his family. And many have also asked me to say goodbye from them. Jay is leaving thousands of fans behind him that loved and adored him. Curt is missing you dearly and wished he could be here and say goodbye to you. Ben is heartbroken and will remember Jays bubbly and loving personality. Bradley will never forget you and will miss you dearly. And with them comes hundreds of fans that has flocked to my inbox this last week to say goodbye and may you rest in peace you incredibly beautiful boy.
I will keep your memories with me and share what an amazing friend Jay was to everyone I will met in life. I`ll never be healed for losing you so soon. But I`m so thankful for everything you have given me when you lived. Thank you for your friendship, your gifts, the laughter, the deep talks and your tears, our adventures and the memories we made. And thank you for your love. I know you will be here with me in spirit and in every days challenge but now starts the rest of my life without you being there to support and lift me up. I don`t think I`ll be able to ever eat a cheesecake again without starting to cry. I don`t think its ever going to be the same to watch our favorite programs such as Once Upon a Time or Game of Thrones without you being next to me calling me your Kheleesi. And every time I`m again watching the first movie we watched together Queen of The Damned I will remember how you remembered this little detail and how I had forgotten this was our first movie we watched together. But then I remember a little word of wisdom my mother said to me to comfort:
" It`s not the big things that matters in a friendship. It is all the million little things."
And to describe how wonderful my friend was I have found the very first of many Valentine`s Day cards he sent where he had written this to me:¨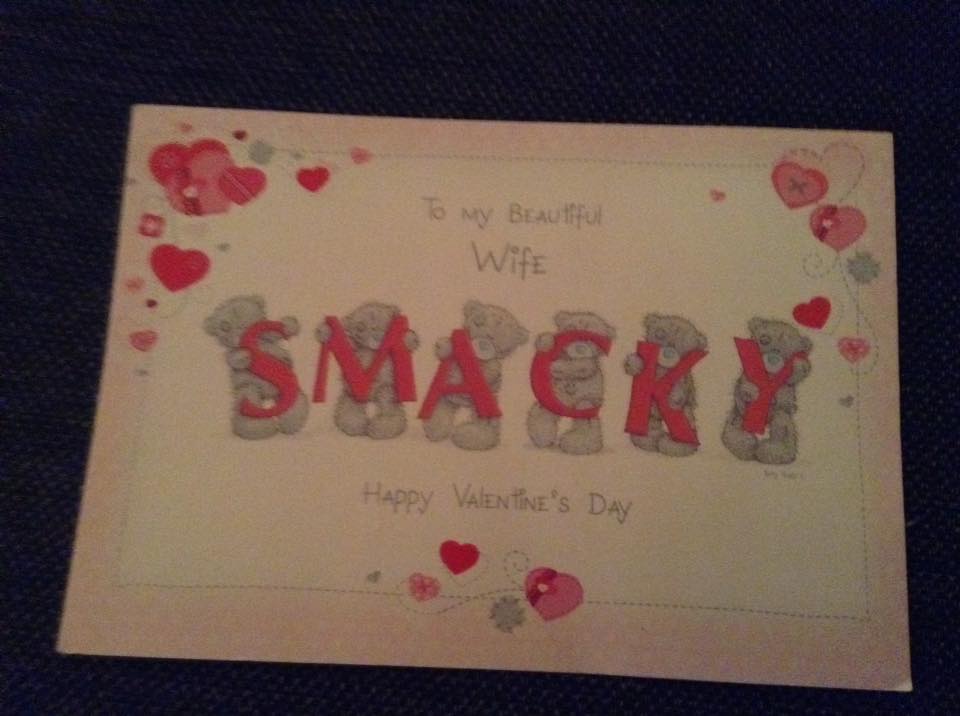 "To My Beautiful Wife Smacky"
"If you`re alone, I`ll be your shadow.
If you want to cry, I`ll be your shoulder.
If you want a hug, I`ll be your pillow.
If you need to be happy, I`ll be your smile.
But anytime you need a friend, I`ll just be me."
All My Love
<3 x JayJay x <3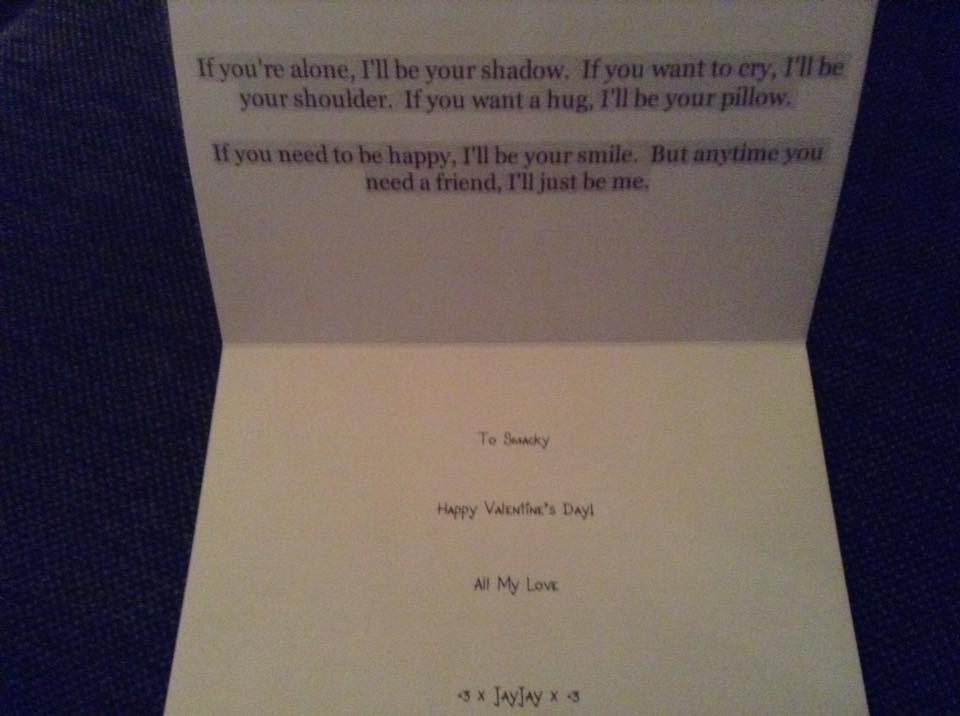 (( "Oh, what I would have given if I could say
Hello Jay in the same old way.
To hear your voice, see your smile
To sit with you and chat for a while..
So for you who still have your best friend
Cherish them with care
For you will never know the heartache
Till the day they are gone. " ))
I will miss you so much. I`ll never laugh or smile the same way as I did with you.
I`ll never find a friend like you again. And saying goodbye today to you is the hardest thing I ever have had to do.
The first day I saw you, I knew I had found my best friend. And now I am left standing here feeling so homeless.  I love you with every beat of my heart Gummi Bear, I`m forever keeping you in my mind
As you now go to rest, I quote our favorite song again
(( "Palms rise to the universe, as we moonshine and molly
Feel the warmth, we'll never die
Jay, you`re a diamond in the sky" ))
Goodbye for now JayJay.
Till we met again.
Thank you for giving me the best time of my life.
Yours always
Mrs Gummi Bear and Smacky
Follow us on: