I got a very nice and funny gift from my friend Ann yesterday. Check out my new fancy singing sweater
Thank you Ann for your present.I hope you like yours from me.
<3
I also got a tea cup to with a picture of my Prince in it with a heart around it. So I will have the best teas every morning with that cup. He knows how much I like my camomillie tea so I got the perfect cup to go with that. Hope the rest of the fam invests in ear plugs the drums where a success yesterday :p hehe..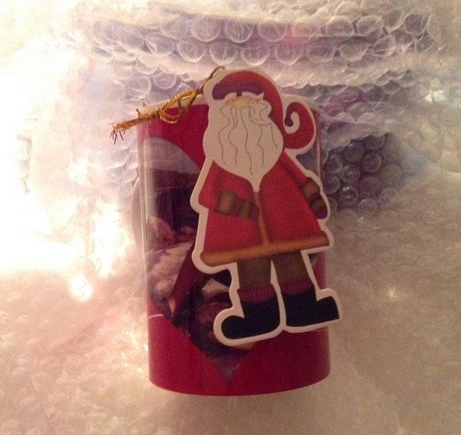 Thanks family for all my other gifts, got everything I wanted and wished for, I`m a spoiled shit still 😛  And for a lovely Christmas celebration
It is freezing cold outside here and the meter is showing minus 25 Celsius, so I had to go get some more cigarettes at Seven 11 earlier and got out thinking this should be a reason to quit for my new years resolution. Brrr damn that was cold.. No promises thou I have tried million times before and failed perfectly. And as I write there was a lighting in the horizone too :S I`m miss scary pants with thunder
I hope everyone had all their wishes come true under the tree yesterday or this morning for those who celebrate it that way. Now starts the party days and gathering with friends for a drink or two. Smacky gotta sit quiet this year as I`m under treatment and next one coming the first week after New Years so only soda woohoo for me. But I wish everyone else fun and have some champagne for me on New Years please and wish me cured.
Wish you all still a wonderful Christmas time
Follow us on: