I am a proper news junkie and I often find myself reading the "cucumber" news more then the main headlines. I read the news before I check anything else on the internet.  The first thing I do when wake up in the morning after freshening up in the bathroom I go make myself a cup of tea, Mango and strawberries tea today. and I read the news online. Mostly Norwegian news papers online. And since we`re such a peaceful and boring country the head story today in the biggest media`s was about Justin Bieber`s new hair colour. Yep gays and girls you heard right. Justin has dyed his hair platina blond. Now there are mixed opinions about this, the media, famous stylists and fashion bloggers are butchering Bieber`s new hair style and some of his fans doesn`t like it either. Over 700.000 people have so far liked his hair and I`m guessing this number will triple during the day.. And I posted the picture to my Facebook which led to a huge success among the gays. They seem to like it.. I don`t think it looks that bad either. Its just that the Belibers and others know how he has been obsessing about his hair and it might have come as a surprise or a shock that he choose to go from natural brown to blond. I think we should let Mister Bieber do as he pleases with HIS hair. He is not a thing we own. He is young and testing things out. You wont believe all the funky colours Smacky has had over the years. All from Green, blue, pink to multiple colours in once.. Playing with our hair is fun. Let our new blondine Bieber have some fun too 🙂
What do you think of Beiber`s new hair colour?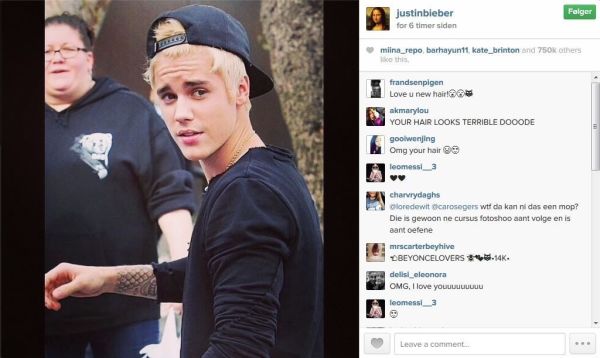 What do models think of Justin`s new hair?

The Staxus boys Milo Milis and Darko Simic seems to be in love at least so goes for our blogger Wade. So then the mayority and the Princes of glamour and glitter has spoken. These guys know good hair 😀
We like Justin Bieber blond!
Follow us on: