I bet Ryan James had the same thought as me when JayCee walked in to Ryan`s studio and said his model name as I did when I saw the handsome JayCee on Twitter. And by first look they do resemble each other too a little. What I am referring to is a model that used to model for HomoEmo when Ryan was the director there. who are mostly know under Josh Osborn, but who later changed his model name to JayCee Swallows, but anyway, I think most fans will always remember him as Josh Osborn.
So we have a new hot kid on the block under the name JayCee Swallows. SmackyGirl and him just finished our interview together. JayCee has had a perfect start to his modelling carrier being tutored by no other then Levi Stephan's and Kale Taylor, whom Smacky has been so lucky to met at Manchester Pride this last summer. The 3 boys seems to be hitting of as good friend very well and they also hope to one day be able do some modelling work together as well. Well enough of my babbling lets go read JayCee`s interview to find out more about who he is, and how you can follow him as a fan or maybe a director looking for new hot guys to work for you.
A Brand New SmackyGirl 2015 Interview With JayCee Swallows – By Smacky!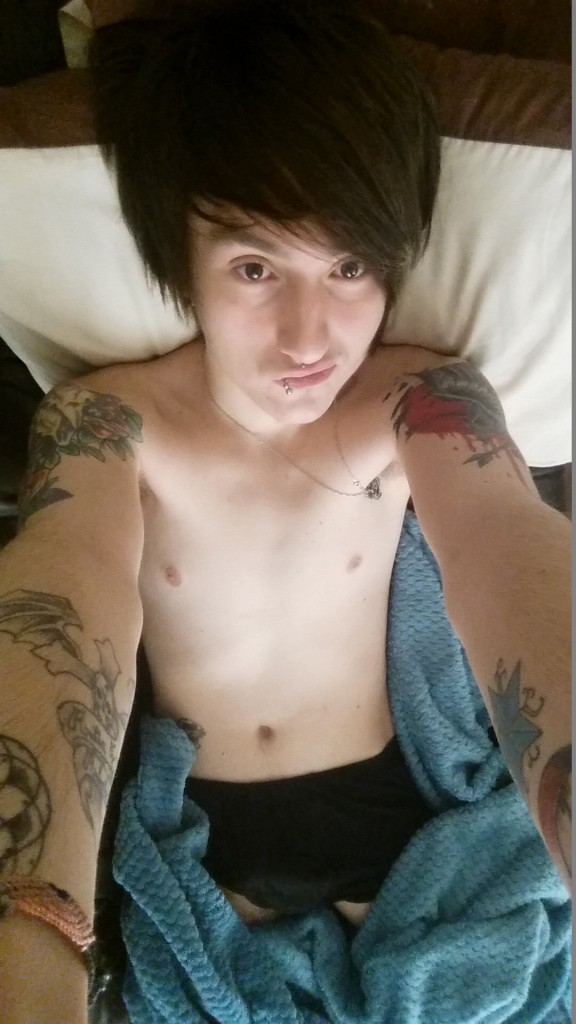 Tell me how you wanted to become a model?
Well before I was in porn I was an alternative model and I was even in last years alternative model of the year competition, and got through to the finals! But when I started hanging out with Kale Taylor and Levi Stephans, they basically convinced me to do porn haha
I know them a little and we met during Pride, have you been friends for long?
Well I`ve known Kale for about a year and Levi about 7 months ish but its only in the last few months we've become really good friends
Have you 3 modelled together then?
Not yet haha hopefully we might soon though
So who have you got to work with so far?
So far I`ve only done 1 scene which was yesterday for Spritzz directed by Ryan James and performed with Jonny Castle
So you are a new kid on the block, were you nervous the first time?
Yeah I was really nervous but when we started it all just went away and everyone was really helpful especially Jonny and Ryan!
Did Ryan James give you any advises your remember?
Yeah he was just telling me that everyone gets nervous on their first time and it'd be weird if I wasn`t haha and just to relax and pretend that nobody else was there just me and Jonny
So for me who has been around for a while I noticed your model name. Are you a fan of former Josh Osborn or is the model industry recycling names these days?
Well actually it was just a name I came up with when I filled in my apply to model application haha it was the first thing that came to mind because its kinda play on words of my real initials haha and I Googled it and nothing came up with that name haha but it was only yesterday that Ryan said to me about Josh changing his to JayCee Swallows for me it was pure coincidence
So who would you like to be able to model with in the future?
Id love to do a scene with Kale and Levi just because it'd be really easy and I certainly wouldn't be nervous about it haha but id love to do a scene with Mickey Taylor or Deacon Hunter because I believe they'd be able to help me out a lot and give me advice on how to flourish essentially
And advice on scenes and tips about how to get used to the cameras!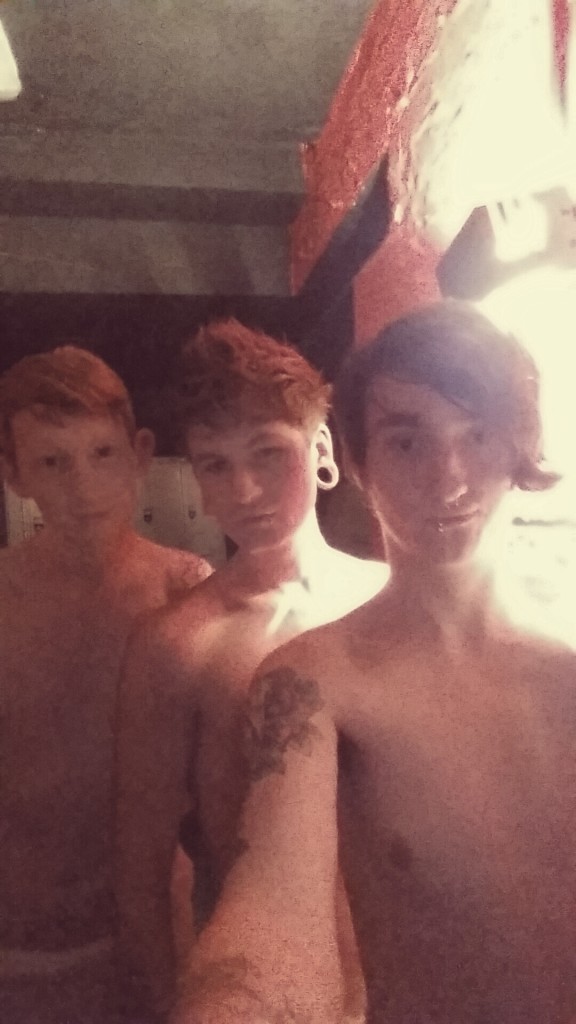 What part of the shoot turns you on the most?
Well its an adrenaline rush because I`m a bit of an exhibitionist so I like the danger of being caught and what better to do that than in a place where everyone is watching haha 😉
Are you in to any kinky stuff? Would you model for BoyNapped if they asked?
Yeah I would! one of my turn ons is rough play like id love to do a scene in a Mr and Mrs Smith esque style haha or should I say Mr and Mr Smith and I`ve always had this fantasy of being tied up 😉
Tell us how it was to work with Jonny Castle?
It was great Jonny was really sweet and he was helping me out the entire way and tried to give me as much advice as he possibly could and he was telling me about his first time and tips on what he used to do when he got nervous
What was that?
If he got nervous he used to go round to the other set and chill for a minute take a few deep breaths and prepare himself and come back round which I did once and helped me out a lot at the time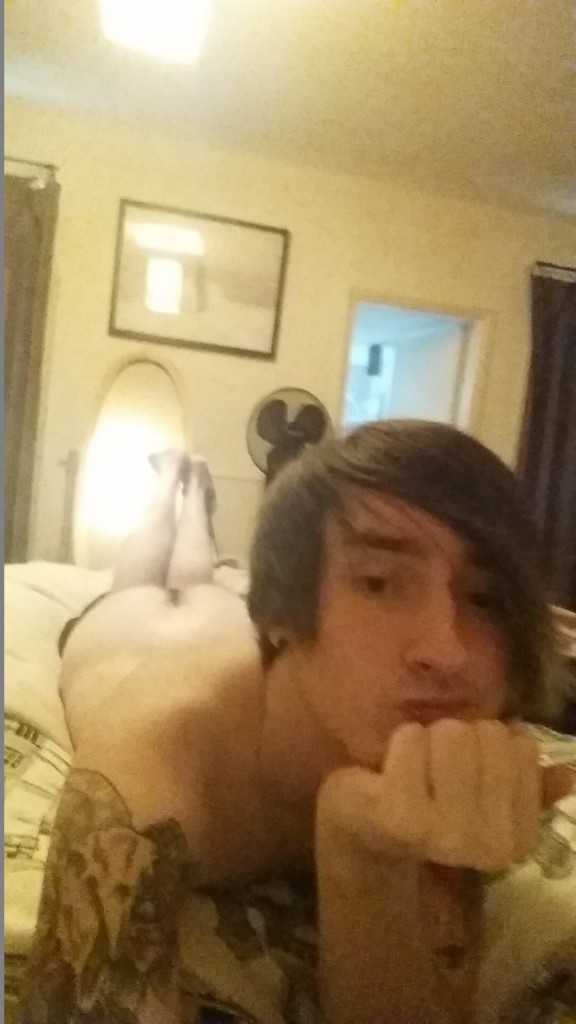 What is the best thing about being a model?:
The thing I like best about being a model is it gives a huge confidence boost and self esteem boost as I was never really happy with my body and I`ve never thought I was good looking so the fact I've got the opportunity to model because people want me to makes me feel good about myself and really brings me up 🙂
It must boost your confidence when companies wants you to model for them and also when fans comes and say they enjoy your work?
Yeah it really does like yesterday I got all positive feedback from the shoot and I made me buzz and feel really happy with myself
Had you heard about SmackyGirl`s Blog before this interview?
Yes I had thanks to Levi and Kale I`d heard all good things from them so I felt really honoured when you asked me to do an interview!
Tell us how old you are and where you come from?
I'm 18 (19 in march) and im from Cheshire x
Are you a student or work other places then modelling?
I'm currently working in a warehouse just to make ends meet but I`m looking on to better things hopefully!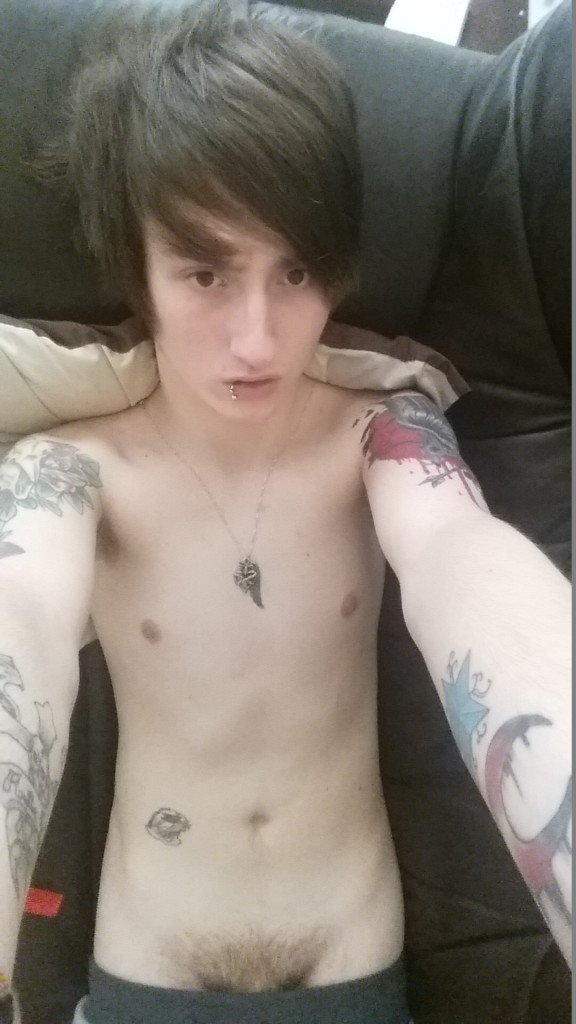 What do you do for fun when you`re off work?
I hang out with kale and Levi and we play on the x-box or we'll go out for drinks or we'll go shopping haha or we'll just chill out in the flat and watch Netflix haha
What games do you guys play?
Mostly Halo and GTA V 😛
So who is worst at losing? 😛
Definitely Kale haha
Is he better to go shopping with then?
Yeah he is haha he always knows what looks good and what doesn`t!
So what movies do you like to watch?
Kale is more of a horror/action guy but me and Levi are more comedy and adventure types
I`m the same, I hide behind a pillow when I watch horror with Dakota, do you do that as well?
Nooo -looks away innocently whistling- I`m manly I swear haha
What swear word do you use the most?
Probably shit haha or cunt :')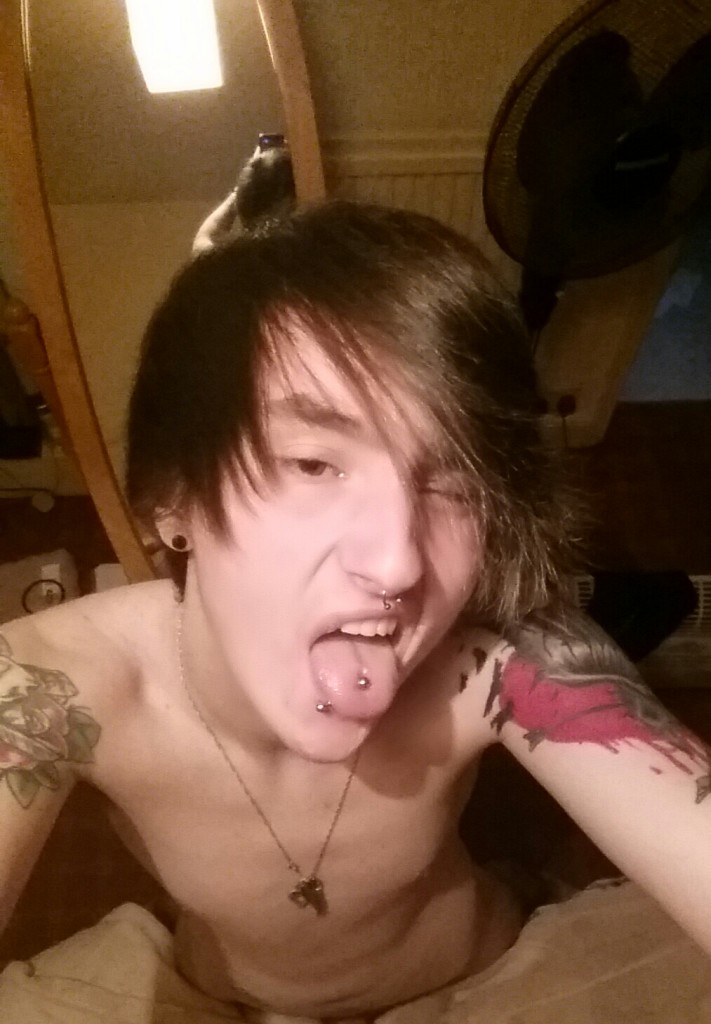 Do you have any other passions in life that your burn for?
I`m also a musician for example I can play bass, guitar, drums, keyboard, piano, synth, trumpet, trombone, violin and I love singing haha
And I did 2 years of music in college 😛
Would you dare to show SmackyGirl`s readers your singing or playing instruments?
I would sing for you sure perhaps we could do a vote on what song haha
I`m not saying it'd be great but id do it haha 😛
So what artists inspirer's you? Do you do any song writing yourself?
I have written a couple and my most inspiring artist would have to be Austin Carlisle from the band of mice and men
What are your own songs about? Any based on your real life stories?
Everything I`ve written is based off of my life stories and real life occurrences and as you expect they're mainly about teenage angst and lost loves haha
Are you in a band?
Nope not at the minute but one day I might start one!
Do you have a boyfriend?
No I don`t x
My female readers always wants to know if you`re gay or if there is a chance for lady fans too?
Well I am bisexual but I`m only really attracted to guys but a few girls do catch my eye! X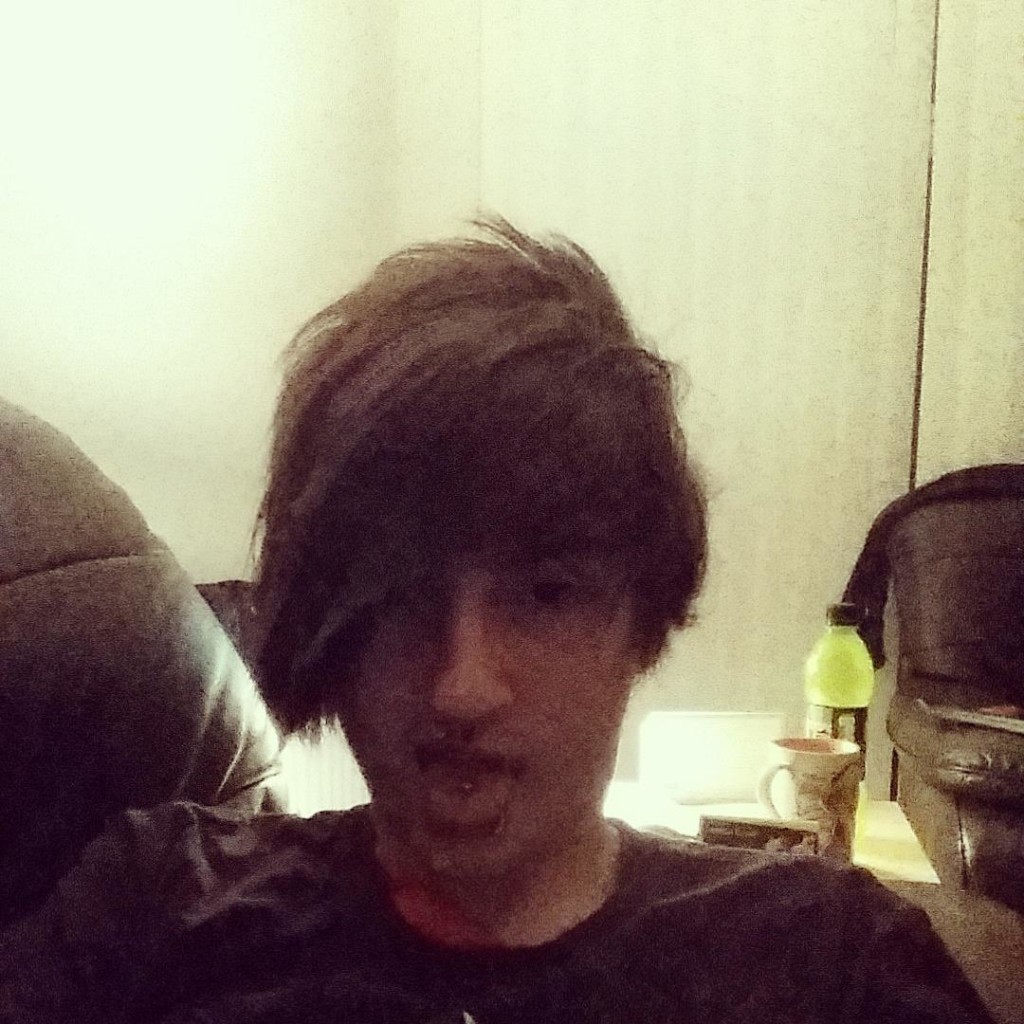 So there is no point of me asking if you have ever been with a girl then?
Oh no I have been with girls when I was younger like in high school and I have had sex with girls as well 🙂
So what will we expect to see from you in the future?
Hopefully you'll get to see a lot more of me in scenes and maybe even a few films and who knows what might happen but you'll definitely be seeing a lot more of me on Twitter 😉
How can people follow you on twitter or do you have other places online they can also check out?
They can follow me on twitter at @JayCeeSwallowsX and they add my Skype or SnapChat which are both JayCeeSwallowsXXX
Thank you for taking time to do the interview for SmackyGirl, I will personally follow you closely for the future and see what your next moves are. I hope you enjoyed the interview!
Thank you for having me hunni it was a pleasure! Hopefully we can do it again sometime and don`t forget we'll have a vote on a song I'll sing for you! X
x
 Cast your votes for your favorites to win a Prowler Porn Award
http://www.prowlerpornawards.com/vote/
Follow us on: