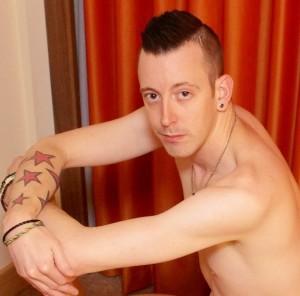 Hello everyone from me Jason Pearce. I am thrilled to be joining the SmackyGirl team to bring you fun and sexy blogs. I want to tell you all a bit about me and what I plan to bring you.
So who is Jason Pearce? I am a London based gayer with a mad sense of humour and an intense love for good looking people especially twinky, sporty and emo lads. I have done my fair share of photo shoots and videos over the years in the sexy world of gay porn. I love fast food (pizza being my favourite), nights out (mostly found in gay bars and clubs drunk at weekends, if you find me please direct me to the nearest night bus), music, sexy lads and yes I will admit it I do love porn. I got into shooting porn when I was in my very early twenties and then took a break mostly due to going off on my travels around the world. I have had a little mini comeback which had not been easy after having a period out but has been a lot of fun. I am now mostly concentrating on blogging and looking to get into pr, marketing and perhaps in the future production within the industry.
What will I be bringing to SmackyGirl ? Well from me you can expect to see lots of interviews from the sexy lads of the gay porn world from around the world. You can also expect reviews of the newest and hottest scenes and studios. Interviews with the cameramen producers and directors who bring you the content. A look at the live appearances the sexy lads of porn make and finally I hope to bring you a little behind the scenes and other news in the world of gay porno.
I look forward to getting to know you all. Please come and say hi. You find me on twitter as well as on here.
Much love
Jason