"ME? what… ME? a blogger for Smacky-Girl?". I'm smiling- as preposterous as it is i am now sitting here tip-a-tappin on these keys and you (yes YOU) are now reading my words…..
HI THERE! it's me Scott- that cheeky little cockney green grocer ( the pun was indeed intended) with the sex drive of….well, I WOULD compare it to the hunger of an Ethiopian :O but someone may question the morality when coining' such a phrase in passing. i'ma do my best to keep you informed of my escapades both on and off the camera and you may be either delighted or subjected to my ramblings on current affairs, celebrity gossip and that interesting sex life of mine!
Big love for my main wo-man (it sounds like Woahh man in my head) Smacky-Girl for indulging me with such a column… MWAH XXXXX here's a picture of how i feel right now (the hears are for you my love)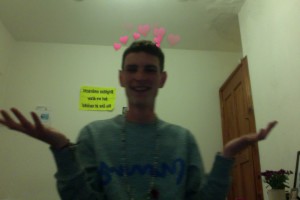 Catch up with chu-guyz soon.
All da best HK
SCOTT XXXXXXX