Celebrating 4 years with SmackyGirl
In 4 years I have interviewed a lot of people who I really enjoy interviewing.. Today I am pulling out the EPIC interview I did with Ida Stroke some time ago… Read it and have a laugh. Ida Stroke is brilliant and really funny..
x
Re adding this interview was damn difficult when I was laying on the floor laughing my ass off. Its one of my top fav interviews I have done. I am lucky to have gotten to know this person in real life for over 2 years sticking around Dakota Shine who works for her. I recommend everyone to go see one of her shows around the UK. You will have a memory for life and a tummy aching for weeks after all the laughing. She is brilliant.. >> GO see her.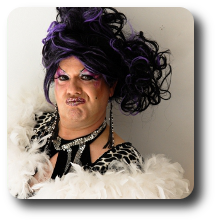 Ida Stroke
How long have you been doing drag?:
What do you mean doing drag are you implying I`m a man in a frock?
How did you come up with the name?:
My mother, Uma Clunge, named me Ida by accident after choking on a sausage roll mid sentence when she was registering the birth. So I was born Ida Clunge but changed it to Ida Stroke when I started performing. Clunge was a bit of a mouthful for people.
How long does it take you to get ready?:
For what?
Are your acts improvised?:
Yes. Being a natural talent I just get up and do it, which is quite lucky really because I am a very busy woman, if I had to rehearse Id never get the time.
What does your family think of you doing drag?:
They've never been sober long enough to find out.
What is your favourite venue?:
I love, LOVE Funny Girls and Frankies Bar in Blackpool, amazing places with fabulous acts.
How would you describe yourself in 3 words?:
Pretty, witty and gay.
What advice would you give to those who want to drag:?
Buy wigs.
Where are you from?:
I came out of my mother, Uma's clunge.
How old are you?
How old do I look?
What is your favorite place to travel or would like to travel to?:
I don't like travelling in case I spill my drink.
What are your plans for the future?:
In the near future I shall have a cup of tea and then possibly go shopping tomorrow, beyond that I don't know.
Are you working on any new projects?
I'm doing a few appearances with Donna from My Transexual Summer (channel 4), look out for us in a second rate venue somewhere in the UK!
What is your favourite movie?:
Depends on my mood, I love comedys. Another Gay Movie is fabulous, Little Shop of Horrors (I can identify with Audrey, the woman, not the plant) and I like a bit of porn too.
Have you ever done any modeling work or been offered to do it?:
I once performed an unspeakable act on a train with a dwarf while someone took pictures, so that's sort of modelling, isn't it?
What is your orientation? Are you gay/straight/lesbian or bi?:
I love men, what can I say…
Have you ever been with a girl?:
I had a lovely afternoon shopping last week with my friend Karen, so yes.
Are you afraid of the dark?:
No, I like men of all races. Dark, light or a bit yellow.
Are you religious?:
Very, I think anyone who isn't should be nailed to a tree.
Who was the last person you kissed?
Smell my breath and guess.
What do you mostly spend your money on?:
Make up, drugs and rent boys
Every kissed anyone under 22?:
No, but that's only because they can run faster than me.
Are you a cuddly person?:
Compared to who?
What does the 8th text msg on your phone say?:
from Karen who plays piano for me and it said, Cool x
Do you dance?:
Try and stop me!
Do you own any make-up?:
Seriously?
Have you ever listen to one of Justin Biebers songs and liked it?;
I have honestly never listened to any JB songs, does he sound as cute as he looks?
If you could date any celebrity you want, who would it be?:
Oh Taylor Lautner, I bloody love him. LOVE I tell you.
Are you afraid of spiders?:
I'm a six foot man in a frock, they are afraid of me!
Do you still sleep with your teddybear?:
Who's been talking?
Have you ever been drunk on cider?:
I've been drunk on everything.
Do you have a favorite artist or a band?:
My favorite artist is Rolf Harris. My favorite band is elastic.
Who is the most important person in your life?:
Myself of course!
What do you first notice on a boy/girl?:
anything from the waist down/what's a girl?
What was the last thing you bought?:
I bought a DVD last night, Bridesmaids.
Where did you last get a hug?:
About half an hour ago when Dakota Shine left my house to go home he gave me a big hug. I had to wash.
What does always make you feel better when you are down?:
Gin and champagne with a friend.
Do you like someone right now?:
I like lots of people!
What do you want for Christmas?:
Champagne and Taylor Lautner on rohipnol
*
If you had to select ONE of this what would it be? You can only pick one.
Summer or winter: Winter
Chocolate or Sex: Sex, not a fan of chocolate, it sticks to my pubes
Beer or Wine: WINE, beer makes me burp
Rock or Pop: Pop unless Im driving
Boys or Girls: Boys
Andy Six or Alex Evans: Oh for God sake, HOW COULD I CHOOSE!
Thick or Thin: I like a thin man thats a bit thick
Many Children or few: NONE they smell
Facebook or Twitter: Facebook, I tried twitter but it was soooo boring
On top or On all 4: Yes. Beggers cant be choosers
Candy or a Kiss: Oh a Kiss
Sleep naked or in Pyjamas: naked (although it depends who's pyjamas Id be in)
Bath or Shower: shower
Kitten or Puppy: Puppy, I like it doggy style
Nightclub or Pub: Pub
*
FOR MORE INFO ON IDA STROKE AND HER SHOWS:
www.idastroke.com
www.sourgrapesevents.com
Follow us on:
FACEBOOK
TWITTER
Follow us on: