You know Twisted XXX Media threw a bunch of naughty DVDs at Smacky`s face when she was in Manchester and visited their studio which you can read about HERE. And 3 of these DVDs have already been sent out to lucky winners all around the world. Since we heard about the award nomination for our friends at BoyNapped, BlakeMason and EuroBoyXXX I thought I would kick of this weekend with giving away 2 DVDs to 2 lucky people out there.. Keep reading to find out how you can win these hot and kinky DVDs.
I have only 2 DVDs left:
BoyNapped – Demolishing Assholes 
Starring:
Milo Taylor
Adam Watson
Aiden Jason
Ashton Bradley
Kyle Wilkinson
Luke Desmond
Lincoln Gates
Maxi Gerard
Leroy Dale
Steven Prior
&
Boys on The Prowl – The Fuck Truck Volume 7
Starring:
Alex Hardy
Jordan Jacobs
Oscar Roberts
Aiden Jason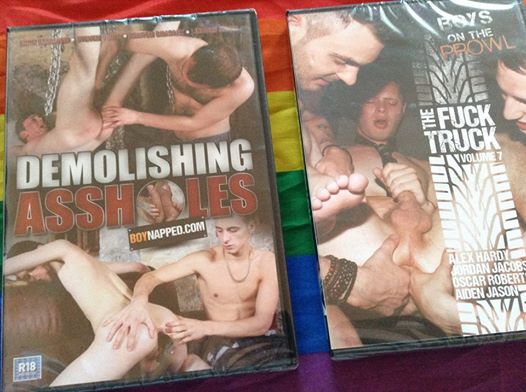 You can win one by telling me which one of these DVD you would like to have and why.
Send your answers to
SmackyGirl@live.no
x
Good Luck
Follow us on: