Aww nooooh another legend goes. How sad!! Something special must be going on in Heaven. First goes Lemmy and now we say Goodbye to David Bowie. Such an inspiring man and one of the best and the biggest musicians ever lived.
My sister used to get my mum shouting "TURN DOWN THE MUSIC" when she was a teenager and blasting out the ears of the rest of the family living under the same roof as her. And that was often because she was playing David Bowie. I think there also was a poster of him on her wall too. And this is how I very early learned about David Bowie and his music.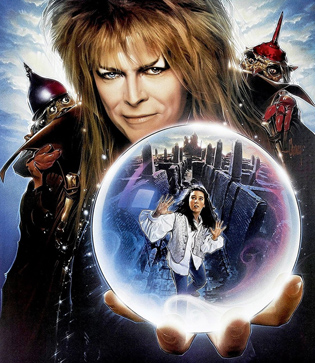 But the way I will remember Bowie the best is for his role in the movie called the Labyrinth. It is because it is a memory of something me and Jay have watched together. We loved these type of movies and we could barricade us inside for days and ignore the whole world. We would tuck in, get loaded up with very unhealthy junk food and drinks sitting next to us, hold hands and just cuddle under the duvet in bed and watch movies such as this all day, just him and I. And we loved that time, we called it JayJay and Smacky time.. In that times we wouldn`t let anyone else come near us and just spend the best quality time together watching and doing all the things that was one of the reasons for being bestfriends. And liking exactly the same things when it came to movies. We always ruled the majority because we never objected to it or had any arguments over any movies the other wanted to watch, knowing that we liked the exact same type.  It was the best time. And Labyrinth was a movie we watched plenty of times and David Bowie passes away leaving me wanting to thank him for being a part of a very good time that I shared with my bestfriend who is also another legend in Heaven now 🙁 And thank you for making that into a very beautiful memory for me to have till I see my bestfriend again when I pass over.
Because me and Jay would sing along and wiggle dance our toes to every song and dance in this movie. I really recommend watching it.
David Bowie was also know for being a down to earth artist and after battling cancer for 18 months and releasing his last record only 2 days ago on his birthday named Blackstar David Bowie dies at age 69. David Bowie Official on twitter announced that he died peacefully surrounded by his family. His son said on Facebook that he is very sad and will be offline for a very long time to grief over the loss of his father. Norway has also made a site where fans can sign their condolences and share stories about Bowie on this link: http://www.vg.no/protokoll/david-bowie-er-dod-send-din-siste-hilsen-her/1940/
Many of the condolences are in English so feel free to go and read what impact this legend had on celebrities and fans all around the world.
My thoughts go out to Bowie`s family and his fans all around the world.
Rest in Peace David Bowie
Follow us on: