I went out on my balcony to hang up a Christmas light thing around my balcony front. Today is that exception in Norway where shops have allowed to keep open on a Sunday because of Christmas. Usually Sundays here are pretty dead. I live in the city and really close to the main roads leading to massive shopping centers. Not just one but 10+ and its usually pretty much heavy traffic here in the day time so, Sundays for us who lives in a city is heavenly silence you learn to love about Norway.
But not the 3 last Sundays before Christmas Eve. Then everything is open from after church time 2 pm til 11 pm.. So I went out on my balcony to hang up this thing and OMFG what a stress there is out there. Cars are nearly running into each other or almost running over poor people taking the risk of walking on the side walks in these days. And some are even honking the horn on old ladies walking too slow across the road. Yes because we are polite here and every car stops for us passing over the roads. But in these days people in the cars are so stressed to move on that its more "hurry hurry get over the road bitches I gotta go".
And then there is you poor souls running on the ice from one shop to another with hundreds of shopping bags to drag with you. I`m sure they are gonna slip on the ice any minute or have a heart attack stressing about like that.
What is the stress and hurry dear world? Time to calm down and enjoy the holidays not lay exhausted on the couch sleeping when the big day is here because we have worn ourselves out on shopping and stressing over what to get people and making everything in time.
It is the thought that counts not what the price tag says. I am glad I am done so I can enjoy this time with my friends and family. Chat, watch classic movies and enjoy good food and family time.
Oh yea and yell at that light thing that turned out it didn`t work when I was done twirling it around my balcony and put the plug in .. Since mum got it for me yesterday I was sure it would work being new and all. Thanks for that after freezing my hands off and then the shit is not working lol..
Piece of Junk XD That`s it I`m running back to mine and Jay`s magical world.. Nothing is working in this world even if its new XD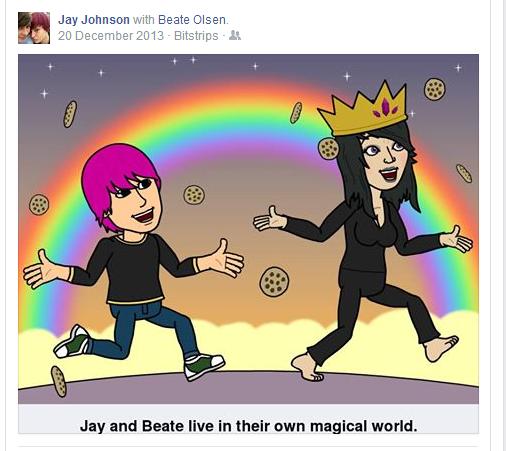 Anyway I`m happy that so many of you comes to me and wanna talk about what memories you have had with JayJay that made a good impact and made you smile. I guess its the holidays remembering those who are not here with us. And I am honored that so many come to share good times and memories you had with my bestfriend, even if I didn`t know all of you you sure have found your way to me. I know Jay was an expert at telling the tales of his Smacky to everyone known or stranger, so its nice to see that you find your way to me to share what an amazing trace JayJay has left in your hearts that you want to share them with his Smacky..
He is with us all in spirit. Just leave an empty chair and glass of sparkling bubbles on the table at Christmas Eve and he will come sit with you all and fill your house with laughter and fun <3
Have a good and stress free Sunday
Follow us on: