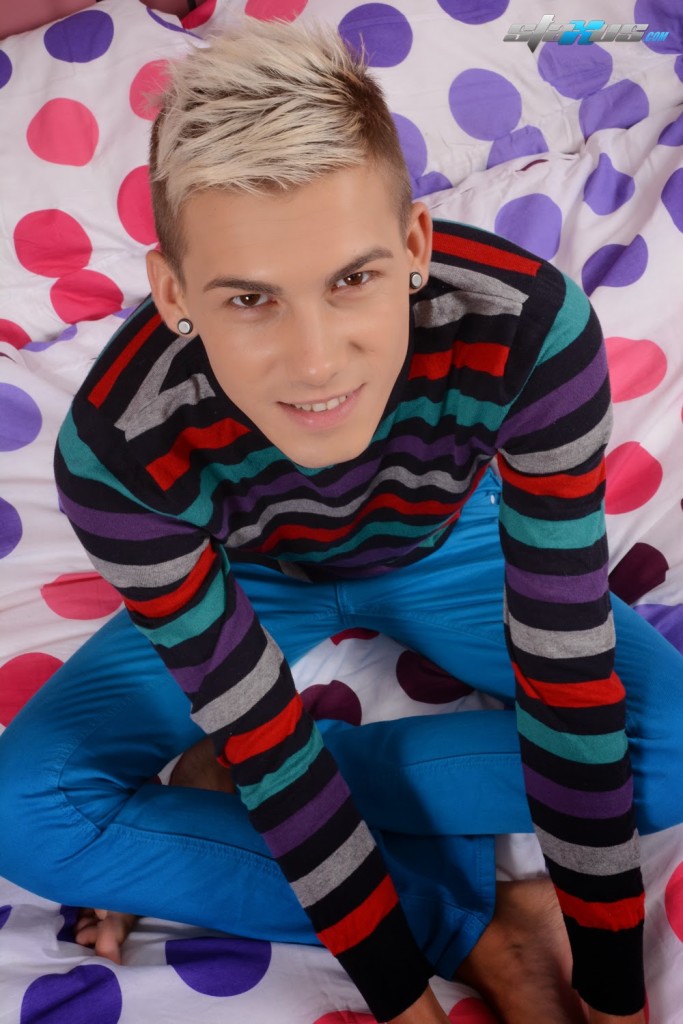 (Picture source www.Staxus.com)
Brad Fitt
Why do you want to work as a model?:
heh it´s easy …. when i was a small boy i had a dream and now is that dream REAL! i love to look sexy, hot, amazing, be the center of attention…
So have you only worked with Mikey or have you tried out others as well?:
Well , i started my carreer with Pepa in Prague (same company) and now i´m working primary for Mikey not only like a model, i´m his PA as well
Have you ever been on a catwalk?:
ehm… no, but i really want to because i know how to do it and when i see that girls on Fashion TV i wanna cry because they can´t walk
Whats the best thing about being a model?:
i´m quet selffish so i really looove to watch on my self many my pictures, videos etc.
Are you patient? Are you friendly? How open are you to clients' requirements? Is there something you def would not do during a shoot?:
… good question … there is a looot of things what i don´t wanna do i think sometimes it must be really hard to work with me for Mikey and Pepa buuuuut i´m trying to do anything what they whant from me
How do you practice your modelling?:
heh it´s easi get naked, get hard, kiss, suck, fuck, cum off
What work are you most proud of? Why?:
my first scene ever it was my first time in porn and Pepa said me that he can´t believe that i neve befor did it
Where are you from and how old are you?:
i was bor in Bratislava, but i was growing up with my familly in small town neaar Bratislava. but now it´s about 1 year what i living here in capital city of Slovak Republic
Do you work or are you a student?:
when i started my carreer as model for Staxus i was working in 5* hotel as a bartender but they fire me because one of guests sent them e-mail with my videos stupid man
What do you do for fun outside of work?:
when i have my "fun mood" i have no other choise then go to Apollon club it´s only one gay club here in Bratislava buuut the most of my time i´m somewhere out of country then i go quiet every evening somewhere out for some drink or more
What games do you play then?:
game ? how u can know it ??? well from 2004 to present playing only THE SIMS 2
Do you do any sports or go to the gym?:
heh i tryed to do few sports when i was student, but now i´m too lazy or too busy for do something i have some gym things at home so sometimes when i have nothing to do i will take my gym clothes and working on me at home it´s better because in public gym it was really hard for me. u know i´m gay and there were many sexy muscles
What is your favourite place to travel or would like to travel to?:
i really love summer and hot weather so i preffer seasides places for holiday
Do you have a favorite movie, what type of music do you like to listen too? Any favorite artists?
my favourite movies are "View from the Top", "Titanic" and not forgetting to "The Planet 51". i can listen everything but really looove Nicki Minaj, Madonna and Britney Spears…. and i can´t stand LADY GAGA ! she make me sick
What is your orientation? Are you gay/straight or bi?:
ohh …. i looove this question look at me, do u think that i´m a straight ? no i am the PRINCESS 110% GAY
Have you ever been with a girl?:
true ? ….. i had a girlfriend when i was pupil on primary school i was about 12 but no sex only holding hands together, few kisses that´s it but i don´t wanna talk about it no more
Ever kissed anyone over 40?:
i have a friend he is 42 and he is from some Russian country and in his countri when u welcoming somebody it´s not like in europe hello come in u must hold hand and 3 kisses on cheek "right, left, right"
Whats your favorite smell?:
i love fresh good meal, then i really love smells of petrol no it was fun and ofcourse love parfums my favourite is Pacco Rabbane 1 Milion
Are you afraid of the dark?:
yes, all night (when i´m alone) must be turn on light or TV
What do you mostly spend your money on?:
the most in drugstore, then clubbing and i really love expencive places so i´m visiting good bars and restaurants
Are you a cuddly person?:
ofcourse i love when i can be in hold with somebody nice and sexy
What does the 8th textmsg on your phone say?:
I´m on a way from my best friend
Do you dance?:
ofcourse i love when i can move my body on the dancefloor, but mostly i´m dancing at home with loud music
Do you own any make-up?:
i have maaany makeups
What about female clothes?:
NO ! (only few tops i have hehe)
Have you ever listen to one of Justin Biebers songs and liked it?:
heey Smacky ! as i told u i don´t like justin bieber because he is GAY and he still talking about something like he is straight WTF look at him !
Are you afraid of spiders?:
i hate u Connor Levi ! u revealed it ! yes i really scared of them … i must have still some spray what killing bugs but they know where i live so they don´t visiting me
What do you first notice on a boy/girl?:
on a girl hair and on a boy eyes, lips and hands
What was the last thing you bought?:
i don´t know … i think my new iPhone was the last one for now
If I take a look inside your refrigerator what would I find?:
bottle of wine, gin, coke, some sauces, toast bread ham and cheese
Do you still sleep with a teddy bear?:
no i don´t have any i leave all my toys for my small sister
What do you want for Christmas?:
new BMW Z4, noo it was joke i will buy it when i will have enough money i don´t mind … i will surprise of all pressents
x
Cast your votes for your favorite to win a Prowler Porn Award
http://www.prowlerpornawards.com/vote/