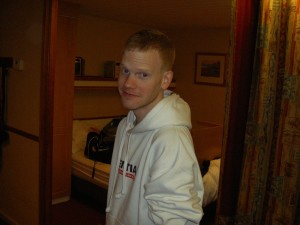 I was quite taken back when smackygirl asked me if I would like to make a guest appearance on her famous blog. So anyway here I am, the next problem what was I going to blog about "anything you want she said" but there are so many different things I could talk about I'm quite a qwerky complex guy.
Then it came to me like a message in my inbox, why not talk about being ginger and my ginger experience. It's what everyone knows me for and one of the main reasons photographers contact me for my ginger look. But before I go into all that, I'd just like to say I was reading a recent post by Kai Alexander (confessions of a (not so) teenage pornstar – It's all about sex!) and he is right porn is all about the sex or in my case the gingerness. Doing a porn shoot is very much like going to the GUM clinic, very clinical and set. This is where I want your leg this is where I want you ass cheek  that's where I want you to shoot your load right there in his eye lol and so on. At the end of the day it's all fun and it's what we get paid to do!
Anyway back to the gingerness, surprisingly I haven't always been ginger I was blonde until I reached the age of six and then my hair started turning. I'm naturally curly which I hate with a passion, when I was younger my hair looked something like an afro mop, ginger curls everywhere. At school I was bullied for a long time about my hair so as you can imagine grew to hate it. I was often called carrot top or ginger pubes by my peers.
Once I'd left school things changed, no one was bother about my hair so much. In fact it was the opposite, once I'd come out as being gay at 16. Sorry that's another story but anyway, I found most guys liked ginger guys so outlook changed I began to like my hair more. When I was on grinder yes I had a grinder phase I would get lot's of messages from guys and I quote "I love gingers" "I have a thing for gingers" "wow your ginger" but all the same I'm still a single ginger waiting for his ginger lover to appear. I kinda believe that, that will happen when it happens. I'm in no rush for a relationship been there done that as they say. Although odd I know, I do have a thing for gingers myself. That would be odd me with a ginger guy, hmm so sir would you and your brother like to follow me for you evening meal lol.
There are many ginger miths and legends, we are said to have "no soul" is this true? I don't know. It is said that ginger people have high pain thresholds and are strong lovers in bed. Personal I would agree with this, my pain threshold is high and yes I love being in bed 🙂 Gingers are also supposed to have fiery tempers and short fuses, I wouldn't say I lose my temper much I'm quite a laid back guy. Although if I do get angry I suggest you stand out of my way, I breath fire you know.
What makes gingers, well ginger. Ginger hair is a recessive genetic trait caused by mutations in the melanocortin 1 receptor a gene found in chromosome 16. To get a ginger child or ginger person both parents must have the ginger gene to be able to get a ginger person. My mum is naturally ginger but my dad has black hair, but he has ginger in his beard hair hence why I turned out ginger. So the odds of getting a ginger child are quite mixed. Scientist have said that gingers/redheads are going to be extinct in the next hundred years. Don't worry though because Ireland have set up a "ginger reproduction centre" so looks like ginger are here to stay.
Some things that are definitely true about us gingers, we sun burn very easily and are high on the risk of getting skin cancer because of it. We are freckley or most of us are. We come in many shades strawberry ginger, carrot ginger oh and many flavours to. We have very pale skin. We stand out in a crowd and can't hide.
Photographers mostly ask me to shoot because of my ginger hair and pale skin, oh and because I have a big wanger of course 🙂 Unlike other models who often get asked to shave there pubes off so they look like chicken. I don't get asked to do that much because they say my ginger pubes set the image on fire, oh dear so many puns.
So there you have it, you will never look at a ginger in the same way again. Well you might if you fancy them but well anyway. I shall leave you with some photos from my shoots and some photos of my younger self with many different hair cuts.
Remember! behold the gingerness! 
You can follow me on twitter: @ashleyhayesxxx or check my website out at www.ashleyhayes.co.uk 
click here to Contact me 🙂