Lately there has come a new set of attacks on WordPress blogs. For the last week I am having over 100 attacks in the hour of robots and hackers trying to break the password on WordPress sites. Just now as I have been adding up these last 4 post from me and Toz this morning, we have had over 100 attacks on our sites from robots trying to work out my password. The funny thing is that when these new attacks started, all the password attempts was starting on A and the other day many password tries was on B, now they are moving on to trying words that starts with a C to try and get access to WordPress blogs. I recommend that everyone install these two plugins:'
IP Blacklist:
Which lets you see the failed password attempts and the IP adresses for those trying to hack your blog. Most of these are mostly robots and hackers but SmackyGirl have from time to time spotted others who have tried passwords such as my real details and words that only people who would know you can come up with which does not regard robots and the average hacker. This plugin also allows you to blacklist IP`s that are trying to access your sites by guessing the password.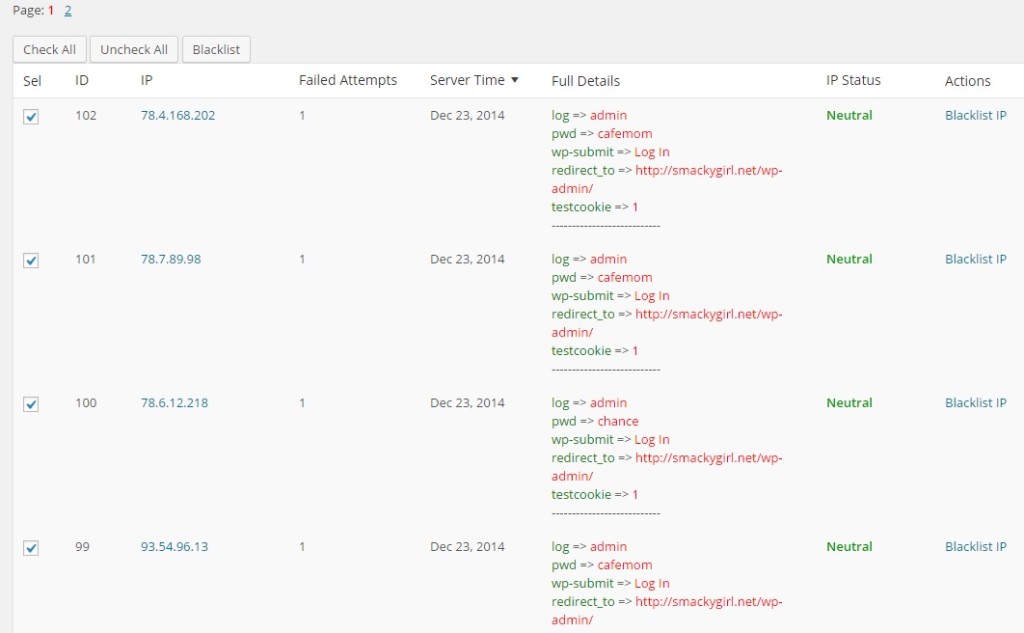 (Sample of my log this morning, as you can see that only less then an hour we are having 2 pages to go over and blacklist 103 attacks)
Don`t let hackers take your blog, arm yourself to the teeth with plugins that prevents and helps attack on your sites. Just hatch of the IP addresses that are trying to hack you and choose blacklist, then empty your failed log in log.
WordFence:
Free Antivirus plugin for WordPress blogs that works like e.g Avast, Norton or AVG would on your computer. And lets you scan your blog for threats and viruses for free. This plugin is free but you have an option to pay for a better and more secure us of the WordFence plugin as well.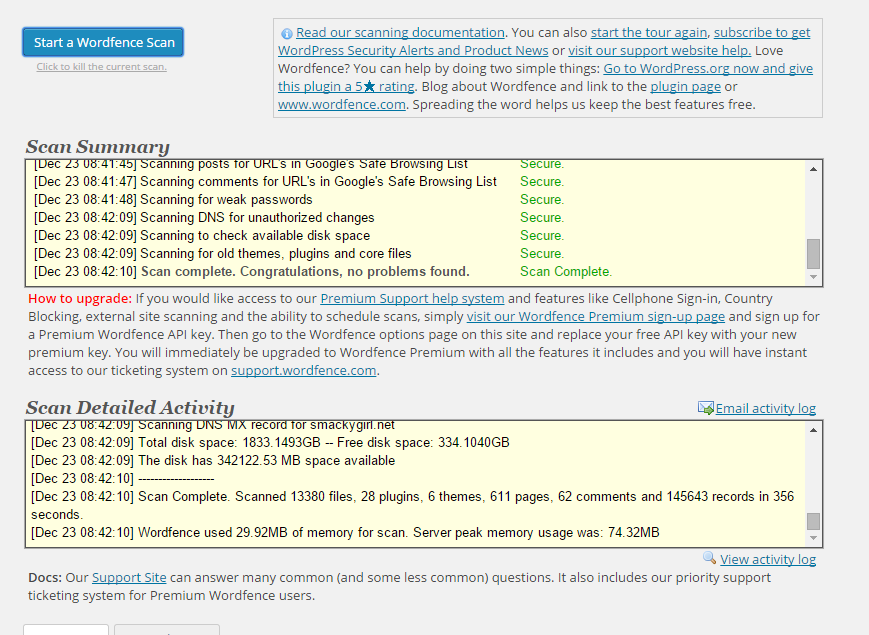 (Here is a sample from SmackyGirl how WordFence works when you scan it for treats and viruses)
WordPress is the worlds biggest blog platform and attacks and hacks happen everyday to those who doesn`t arm themselves for it. What these attacks do to you site is delete everything including your backup and completely takes control of your page where you will have a nightmare trying to get access back to and get rid of the worms. Take cautions and install what you can to prevent losing all your work and your site. For mayor blogs and sites such as SmackyGirl and other it is extreamly important that you watch over your site carefully, because other is going to want the traffic that goes to your site to redirect it to their own scam sites and continue ruining others sites by linking the hacked blogs to dangerous links that people will click on, and this will go on in a evil circle from the one hacked blog to another.
Give your blog a christmas gift and get it armed to stand strong against the hackers
Follow us on: