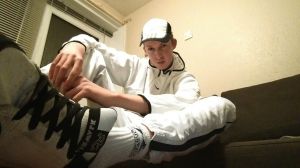 How did you get into modelling?
Back when I was at uni I had a rebellious time and discovered a social site and was approached by the director of a well established adult model agency who stalked me over a period of six months to do a shoot. I eventually gave in when I realised I could use the funds to finance my fetish collection 😉
Have you only done adult modelling?
No I have done some fashion modelling as well but mostly adult modelling.
What advice would you give to someone who wants to get into the adult industry?
That is difficult to answer because it's been five year since I started modelling and the industry has changed a lot over recent years. I would say it is an individual choice and no one should influence your choice. Keep your head and don't get swept away by 'fame and fortune'.
To be a model you have to be young and "twinky" do you agree?
Not necessarily we have all seen the intergen so there must be call for older models however I don't know much about this side of the market. Or where I could advice an older person to apply. I have definitely seen adverts for 50+ men to star alongside twinks anyone between 18 – 30 depending on appeal can stand a chance on becoming a model. The trick is to find your USP ( Unique selling point).
What would you say is your USP?
Bezaly to me it's the number of freckles I have on my body that the director found cute I also have an big kinky side to me. Which I have explored over the years and am very knowledgeable about different fetishes I have even advised on safe practises in other models shoots.
What do you enjoy doing when you are not modelling or getting kinky?
Nature is a big part of my life I am a naturalist no… not a naturist… I enjoy studying wildlife and have recently found the technique of macro photography interesting and have developed this into a hobby.
Where can your fans and prospective agents contact you?
Through my Twitter page: @Paws_TM  or  Facebook: www.facebook.com/paws.callumfoxx
Where did the name paws come from?
It happened by chance during a pup play session I couldn't keep my paws where they should be: D   the name stuck and after being constantly reminded paws paws ect the name stuck.
Are you single at the moment?
I am single yes; however I currently have my puppy eye on someone (who also happens to be a model).
You have been away from the industry for a while are you planning on making a comeback?
Whist spending time with Ashley Hayes and advising him since he was 18 I would like to make a return to porn and mainstream modelling.