Looks like Connor Levi`s memory wall is coming along quite nicely, not sure what I think of ApplyToModel making me bottom in this picture thou XD As I like to whop people around not the other way around. Might have to have a chat with my husband Connor about that lloll hahaha. No, really hunny it looks great.. I would do the same at home and I often do it here on my blog. Brag your wonderful time and those moments that really made it matter for you, we only live once and Connor Levi is absolute one of the proudest moments in me and my blogs life along many others.. This is what its is really about workig as a model. Not about getting on any high horse saying "I am a model I am beautiful, now worship me".. But remembering those moments that other people gave you that made a reason for why you felt loved and respected in the first place. Combined beauty with a warm heart, you get a lot further. Bitchy or Diva, Princess or Prince attitude can work along with it too. But as me and Connor some things come easy when we know the right recipe. Don`t ever forget that your fans loved many of you all for something that impressed them. Being nice and building something to look up to, admire and wish they could be just like you, now THATS is something to be more proud of then to be remembered as the star who did it back wards.. I`m super proud of making Connors memory wall <3 I always had a weak spot for that boy <3 Even before SmackyGirl started the Connor advertising circus I always knew that there was something about him that would make a lot of people love him… Its just my intention, and Connor was made to make people admire him.. On Connor`s side and along with many other modes, that I met and has made an impact on me are many. But some stick to your memory and heart forever, those are what I famously call "My Diamonds" on SmackyGirl because Connor once song that song to me… We are diamonds, we help each other and we get along.
<3 I promote beauty <3
Connor Levi, Kai Alexander, Rhys Casey, Roxas Hail, Reece Bentley, Draco Simic, Roxy Red & absolutely EVERYONE at Twisted XXX Media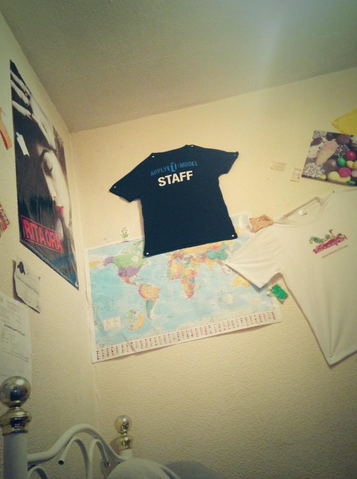 Now see, everyone was suppose to deliver these Staff t-shirts back after the Prowler Porn Awards was over, but of course me and Connor Levi are such famous that people throw things at us everyday 😉
I`m more or less half fan girl honoured to be one of the few in a very exclusive circle to know that new categories is going to be added among many others at the next Prowler Porn Awards 2015 event next year:
Best Porn Blogger.
That is what I have been told so far is one of their plans to expand and make the Prowler Porn Awards better then it already was awesome in Marsh. How I know this is a secret because sadly I have to keep something to myself even thou you all know me as being out spoken, but not about this stuff. When I found out under a chat with the right set of people that handles the event Prowler Porn awards, I asked how I could start bribing people who handles it to win one but I got no further at it with anything. The Prowler Porn awards is very much keeping confidentiality to a higher level, and no one not even I can break in to it, but they do know what they do when launching a few hints here and there to a blogger of my level in this industry. And that is to bring glamour and glitter to the event and to make everyone just as excited as just as any guest, press, staff or model what they can expect for next years Prowler Porn Awards. It gets the excitement for fans who wishes to come get a picture, autograph and a chat with their favourite models or it gets your competition spirit on for those who think they might be able to make the nominee list of the different categories. Anyway if SmackyGirl gets nominated or not we will still be there as the VIP press and cover the event. But anyway keep your fingers crossed for us, maybe you will see SmackyGirl being nominated for an award, and if you where. "Damn it Smacksters" if you do not vote for us I will from here on only post blogs about what I had for dinner!? HAHA just joking.. We better get started doing my work properly for once then and not just flirt around with sexy models all the time if we want to win this award! XD
Being hard at work sometimes pays off!!
www.ApplyToModel.com
Follow us on: