Howdy and welcome to the first part of an on going series I plan to do looking at the best studio producers of Twink Content from the USA. To kick off part one I decided to bring you my personal favourites (its such a hard life) Helix Studios.
Helix Studios was founded in 2003 and after ten years in the business has amassed an amazing 2140 videos and counting. That's enough porn to keep anyone (even me) going for a while and they are adding to that library every week. Helix are one of those studios where you really can use that normally overused term "HIGH QUALITY".
What makes them High Quality? Why can you say that? Are they just another pay site ? I hear you ask.
1) If you are a bit of a posh porn snob the quality that the videos is shoot in is very impressive. They are all now filmed in HD and the site is support on PC, Mac, Tablets and phone devices.
2) The locations – As much as the camera work is great the locations that the videos are shoot in give Helix something extra. They have videos in cute romantic indoor settings, videos in or by the pool, a range of outdoor locations and some very kinky locations.
3) The Helix guys are stunning from the very Twinky skinny lads to young lean muscled studs these guys are incredibly easy on the eye and sure to get you hot. Helix also have white boys, black boys, Asian boys, Latino boys its a real mix of hot guys.
4) Helix studios is actually a mega site it's a combination of 5 studios so there is something for everyone. There is 8Teenboy Fratboy Hot Studs and Spankthis that make up Helix Studios. Not too mention the mankind Videos store for the DVDs and merchandise. Then lastly there is the Helix Live, now these really are hot.
The helix Guys
This is what really makes Helix studios amazing. There is such a connection between the featured/ exclusive/regular models in particular appearing for Helix and it really comes across. These guys enjoy showing off, actually get into and at times get intimate. It does not look to fake like some porn can. Most of the guys are very good friends off camera, they hang out at the Helix Mansion they party together on and off the gay scene and some are or have been boyfriends in real life. Most of the guys are on Twitter (who isn't these days) they are funny, friendly, seem to be having an amazing time and share their real life fun and friendships.
Just check out the connection between Evan Parker and Casey Tanner in one of this weeks members updates My First time.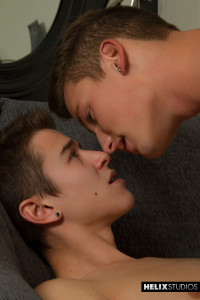 Due to twitter I know full well I wont mention some of those I follow or worse yet some that follow me back and I am likely to hear about it… Sorry in advance and here are some of my favourite current Helix Boys.
Just four I am afraid if I list them all I will actually crash the server as there far too many fitties on Helix. Now moving swiftly on… Lets look at what else Helix has to offer so I mentioned that it's a few different studios as one kind of mega studios.
Firstly is 8Teenboy that's the site where you mostly get the very sexy smooth and skinny legal teen lads and early 20s. Then your move up to Frat boy where you get the bigger slightly leaner but still young and attractive all American college Frat boys that are so legendary in gay porn from the states.
As for SpankThis well its certainly not everyones thing but some of the Helix Twinks are very naughty and very kinky and that is what SpankThis is all about. Naughty twinks being spanked and it's something Helix are legendary for. Don't worry it's not all older guys spanking younger guys, there is plenty of that with the legendary Jeff Sterne (founder of Helix) mostly giving naughty twinks a warm bum but also plenty of twink on twink spanking and sometimes mixed with hot kinky sex. Fans of the UKs very own BoyNapped should love SpankThis.
So I said it's more than just a pay site, what does that mean ? Well most pay site you pay a membership you get a few updates a month maybe a couple a week if you are lucky and you can either Stream or Download. Helix studios are currently averaging three updates every week on top of th huge back catalogue. Plus they offer two tiers of members. There is streaming only or full membership for both streaming and downloads. What's more members get access to Helix Live to watch Live Solos, duos and even group scenes and these shows are interactive. Check out Helix Live now for past shows and for details of the next Live show.
Finally there is also the Mankind Video store. Oh yeah you don't have to be a member to see the mind blowing Helix Boys in action you can also buy them on DVD through the Mankind Video Store and if you are a member of Helix Studios there is another treat from Helix of 30% of DVD purchases. or you could get yourself a Helix Studios vest
If you don't believe me then get over to the Helix Studios site and enjoy. I certainly do.