Live Smacky Quits Smoking Updates. 24h Log..
Hours since last smoke: 24 hours
Day 1 Status Update – February 3rd 2015
02.00 am: Had my last smoke. Hid and threw out all temptations around my flat.
03.45 am: First hour went by fast and with no problems. Kept myself busy. I played HayDay on my phone, sent messages to Alex Silvers, Connor Levi, Reece Bentley about the award voting and said congrats for making the next round. Tweeted and blogged about this mission. Didn't have any problems or thoughts of smoking. Offered the nurse my jaffacakes to go with her tea, as its going to be a long night and days a head. Least for me. She knits just like my good friend Jonathan does and I told her about my Joni when I saw that, and what he is making for me, my Prowler award dress. I said no thanks to Jaffacakes, which only tells you how ill I really am. I luv them jaffas. I hope the bitch saves some for when I'm done lol. Jk* I didn't mean it that way my humour can be really raw and bizarre. She can have the whole box of my dear jaffacakes. This is a wonderful resource for us under this when they come home to us and help me change sheets a million times a day, wash, clean, shower me, take my hand when I'm afraid and be a chat buddy about subjects that are taboo for me to talk to my friends and family about. Such as like death, the disease and the fear. And I am so thankful I live in a country where we can have this opportunities and luxury when people get ill. And I was also happy it was a nurse in my generation this time. More to chit chat with about stuff in between the suffering.
04.45 am: Two hours gone by. I have caught myself thinking automatically its time for a smoke and remembered no you're quitting Smacky. Even that is a habit. We have a timer inside us telling us when its smoking time. This thing will no longer be allowed to decide when its time to do certain things for me. I'm the boss of me not the smoke alarm inside me. I am having small cravings but will go on for 5.45.. One step of the time. They say the first 1-3 days are the worst. Just like a broken heart, if you can get past the first days you will come back wondering what the heck you saw in that person in the first place and move on to something better. I think its going to be harder to quit smoking then getting over a heartache tbh. The Nurse nagged me in to the shower again. Now hygiene is extremely important during chemotherapy. It was my nurse who suggested I should keep a log because it might distract me from thinking too much of the smoking. And so far it does. I love blogging and writing is my big passion. So great idea! Got a message from Scott Williams while in the shower asking if "babes are you there?" I said "yea!" when I returned "whats up hunni?" But then he poffed letting me sit here and wonder what was on his mind today. I like Scotty he is great.
05.45 am: 3rd hour came fast when I have been busy writing and spell checking myself in here. So far so good. I guess some people are starting to wake up soon now. In the morning I usually look forward to catching The Davey James Show on my Facebook, he is my favorite status uploader and he always brings a smile to my face. Sometimes very loud laughing too. He is brilliant!!! So hopefully he will keep me occupied from thinking of smoke with his normal morning routine on Facebook. And many will soon wake up to see they are canditates to win an award too. Will be exciting to see the reactions from people around. Specially a few of them who I work very close with promoting and also consider my personal friends. I'm not allowed to leave my bed. The Nurse is in my livingroom watching TV I think, or she is on her phone. I hope she doesn't find out about my blog, I let her use my WIFI. If so will have some explaining to do about the naughty guys in here. Lol. Going for the 4th hour now. These have been 3 easy hours so I am guessing the war is about to begin for real now.
06.45 am: What I am most interested to see in results when you quit smoking, is, well at least it is interesting for me who have had this as a heavy habit since I was a young teen. Is, if some symptoms that only smokers and passive smokers can develop will improve for the better. Such as bad coughing, short breath or rough troath. And weaker taste when you eat food or drink. I hope I get that far so I can see any changes and positive results out of this. At the moment I am starting to feel the craving build up and my left foot keeps tumping in the bed matress slightly quite often, like if it was a cats tail. Or like it is impatient or something. I'm a bit sleepy but still throwing up and out all my insides and have really painful aching in my muscles from my treatment. So I am not sure if next log update will be in an hour or after my rest.
07.45 am: Found this of our late Frank Wolf on his memorial page. Made me drop my jaw and forget smoke even excited. Rip you beautiful flower. *Does the Pikachu wop*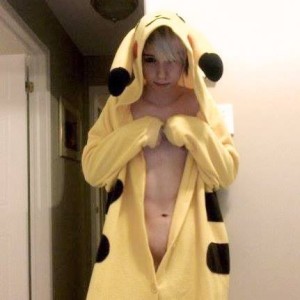 I am definitely starting to feel the addiction to smoke. But at the moment I am too exhausted from being a hero all day getting through this nightmare. I will make this. But need my rest first. I notice I am more thirsty then usually and more dry in my mouth too. My Nurse has given me my 3 vivals now , which will kick in any minute. These are those little pink pills that kicks in really quick. I best put away my phone before I fall into deep sleep and drop it on my face. Did that once with my iPad and landed in my upper lip. Hurt like hell and got swollen for days. so I try avoiding doing that again. Wish everyone a good morning or good night depending on where in the world you are. Smacky Quits Smoking will be back with new log updates later. Lets see if the moody bitch in me appears or not after a while without nicotine.
14.36 pm: Just woke up, bit funny going in my livingroom seeing there is a new person sitting in there as the old nurse was done with her shift and got released with a new one. I gave my keys so they must have knocked me out real good,with the sleeping pills  because I didn't hear a quack. I am having cravings for my usuall first smoke in the morning. Bit grumpy because of that but trying my best. Got some really good and exciting news from Darko Simic when I woke up which I am on to get more information about and learning to know a brand new company to follow by sending them a message saying hello. My Darko is about to become a very big star in the model world, it's unbelievable. And I know he is bringing SmackyGirl on his lips with him. Maybe we will flag out to Eastern Europe too. Fingers crossed. I am back into my bed found out there is no reason to get up when I can't have my lovely morning smoke, so I went grumpy back under my blanket. Connor Levi is a happy boy too, he made Best British Twink category so don't forget to vote for him. I hated that category, both him and Alex Silvers are nominated. My two good friends. Thats mean! How on earth do I pick between them, it's impossible. Right grumpy Smacky going for next hours with no smoking.
16.00 pm: Half day without smoking is completed. I am really starting to struggle. On the plus side I think my breathing seems easier and fresher since I had my last ciggarettes 13 hours ago. Getting harder but going for making it to next check point.
19.00 pm: I think I have been doing pretty good. And it also looks like some of my friends out there are following my mission too. Hehe they are probably waiting for me to say mission failed on here, but not yet. Sometimes I feel this suction if I come to points where I have nothing to do. I try keeping myself busy, so since last log now I have been chatting to Ryan James on Skype about my press pass. I sent him an email with my home adress to ship it to. Really have all my fingers and toes crossed that he will win Best British Director 2014. He is the clear and only worthy choice in my eyes. And I hope I'm well enough to see him grabb that award in March. I like to see when hard work finally pays off. Now I am just watching TV in the livingroom, haven't eaten but who can blame me in this condition? This nurse is rather boring and just reads her book and follows the plan when its my time for things. Hope the blond one comes back, she was nice to talk to. I have also found a guy selling a laptop online since both mine are dead. So I asked him if he could wait til next Tuesday when payday comes. Waiting on reply.. So yea  as you can see I am keeping myself busy including playing games on my phone. And Thanks to Antonia and Sky James for cheering on me. It really helps when people do this because I get more strenght knowing that people are hoping and cheering for me along the way.
23.09 pm: Been smoke free for 21 hours.. Not gonna lie, its a hell at the moment, but I had a new interview to edit and it kept me busy, now its done. Theo is such a hot hunk. As my best mate Råger complained once I needed to put real men on my blog. Not sure what he meant with that, my twinks are gorgeous ladies lol. But now someone needs to give me more work. In 3 hours I have gone 24 hours. You can do it Smackey!! Still not eating but drinking some fluid but not much. I'm alone now I can manage throwing up on my own and shushed everyone out of my house. Bit of dignity is importat when you are in this special condition and they understand when enough is enough I want to be alone. And the nurse left couple of hours ago .. Lets go for my main check point 24 hour smoke free!!! Go tweet Smacky and show support …
01.00 am: On twitter now @MzSmacky: I have been smoke free for 23 hours. Proud of myself.
02.34 am: 24 hours without smoking COMPLETED! I am so proud of myself. Crossing my fingers when Day 2 will start and try to make it to 48 hours .. Thanks for all the support I got on facebook. I feel like I have a bunch of cheerleaders with ponpons routing for me. This ends this post of my first log on Smacky Quits Smoking.. New one coming soon called Day 2
Hours since last smoke: 24 hours
**Obs: I can't post pictures of my Nurse, she is a professional high educated nurse in her job at St.Olavs University Hospital in Trondheim who specializes in cancer patients, and she deserves respect. She will be kept anonymous as I got a question about it. But I will tell how I am depending on her and why she is here because of my current needs. But not identify her in any way. So before anyone else asks.,I just wanted to make that clear and hope you'll understand that.**
Follow me every step of the way to quit smoking and under treatment to cure cancer and what goes on in Smacky's life during the process.
#SmackyQuitsSmoking
Follow us on: